Donald Trump's cabinet full of trouble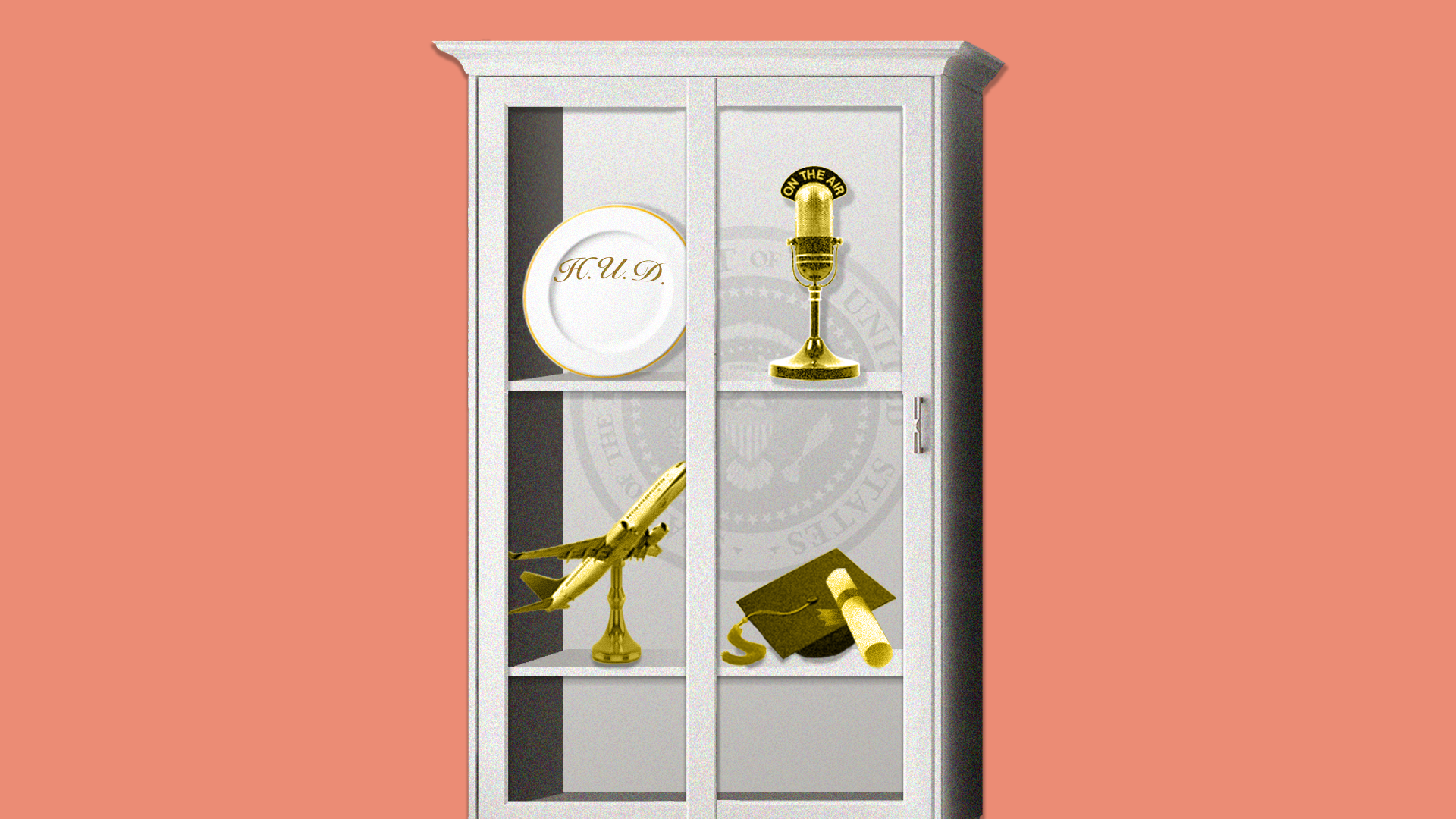 Coming into office, President-elect Trump boasted his cabinet had "by far the highest IQ of any cabinet ever assembled." But these days, Trump and his chief of staff John Kelly are more likely to privately question the basic intelligence of their cabinet officials than shower them with such praise. The problems go far beyond Rex Tillerson, who clashed with Trump repeatedly before being fired today in favor of CIA Director Mike Pompeo.
Why it matters: As we have said before, all habits, good and bad, flow down fast in any organization. It should come as no surprise that cabinet officials are improvising, understaffed, and are ignoring precedent, procedures and in some cases the law. Expect more — not less — of this. 
Sources familiar with Kelly's thinking say he gets especially aggravated by the stories of cabinet secretaries traveling in style on taxpayer funds:
Kelly can't fathom why cabinet secretaries keep making unforced errors that tar the administration and mock Trump's claims that he hired "the best people" to "drain the swamp."
As CNN reported, the White House held meetings last month with four cabinet-level officials to discuss damaging stories about questionable ethical behavior at their respective agencies. (A White House official tells Axios that the meetings weren't dress-downs, but "positive" discussions about "smart ethical judgment," and are expected to happen with all cabinet secretaries.)
Even the cabinet secretaries credited with policy wins for Trump — such as Attorney General Jeff Sessions with his hardline law enforcement policies, and EPA administrator Scott Pruitt with his aggressive deregulatory agenda — have either fallen out with Trump or caused unnecessary problems for senior staff.
And on Sunday night's "60 Minutes," Education Secretary Betsy DeVos, who has largely stayed under the radar since her tortuous confirmation hearings, struggled to provide answers when asked for evidence to back up her school choice policies in her home state of Michigan.
White House officials quickly leaked that they were "alarmed," upset and dumbfounded by her performance.
Here's a sample of damaging stories from Trump's cabinet:
Veterans Affairs Secretary David Shulkin is warring with the Trump political appointees in his agency and has infuriated Kelly by playing his own press agent and repeatedly going directly to the media to declare he has authority to fire the disloyal staff. The Shulkin controversy erupted after the VA's inspector general reported the secretary used taxpayer dollars to pay for his wife to go to Europe.
Housing and Urban Development Secretary Ben Carson, per N.Y. Times, was "attempting to cancel a $31,000 order for a customized hardwood dining room table, chairs, sideboard and hutch the day after the chairman of the House Oversight Committee announced an investigation."
Pruitt, the EPA administrator, created terrible optics by flying first class on the taxpayer dime, and per WashPo, using a "military jet, at a cost of $36,068.50, to catch a plane to Rome."
Interior Secretary Ryan Zinke has been under scrutiny for charter flights and angered Trump and senior White House officials when he made a surprise announcement — which was legally and politically problematic —that Florida would be exempt from offshore drilling. (The press reported this as a political gift to Florida's GOP governor Rick Scott.)
Sessions — or, as Trump called him, "our beleaguered A.G." — has kept his head down and delivered major policy wins, but Trump will never forgive him for his "original sin" of recusing himself from the Russia investigation, according to sources close to the president. Sessions' latest misdemeanor was being photographed having dinner with Trump's arch-nemesis, Deputy Attorney General Rod Rosenstein.
Tillerson has been on the wrong side of Trump on most major issues — from the Jerusalem embassy move to the Paris climate accords, to his approach to North Korea. 
Treasury Secretary Steven Mnuchin is one of Trump's favorites — unfailingly loyal — and helped deliver the ultimate policy victory in tax reform. But even he has been associated with media missteps. He still hasn't appointed a deputy, and provoked rare on-the-record scorn from Republicans over his handling of the debt ceiling. His wife, Louise Linton, recently told Elle Magazine she was "super-duper" sorry for all her self-presentation missteps.
Former Health and Human Services Secretary Tom Price, whom Trump once lauded as "a star," resigned over his misuse of private planes.
What's also true: The cabinet secretaries who are safest are the ones who've remained most invisible. Some have told us they keep their profiles extremely low, deliberately.
The Under the Radar Club includes Agriculture Secretary Sonny Perdue, Transportation Secretary Elaine Chao, Labor Secretary Alex Acosta, new HHS Secretary Alex Azar, trade representative Bob Lighthizer, and Small Business Administrator Linda McMahon.
The four exceptions are cabinet officials who are all visible, well-liked by Trump and have not contributed to the recent headaches: Defense Secretary James Mattis, Budget Director Mick Mulvaney, Pompeo, and U.N. Ambassador Nikki Haley.
Be smart: Similar to his selection of Vice President Pence during the campaign, Trump's installation of Pruitt, DeVos and Pompeo in his cabinet gave a lot of comfort to the conservative movement. 
But the flights and other unforced errors have been a big problem for the White House.
Some senior officials believe White House Cabinet Secretary Bill McGinley should have done a tougher job policing these officials, particularly since the behaviors kept repeating themselves and receiving bad press. 
A White House official said in response: "Bill McGinley is an ethics attorney, is empowered to educate cabinet secretaries on ethics, and is doing an outstanding job."
Go deeper