The oily path to tackling climate change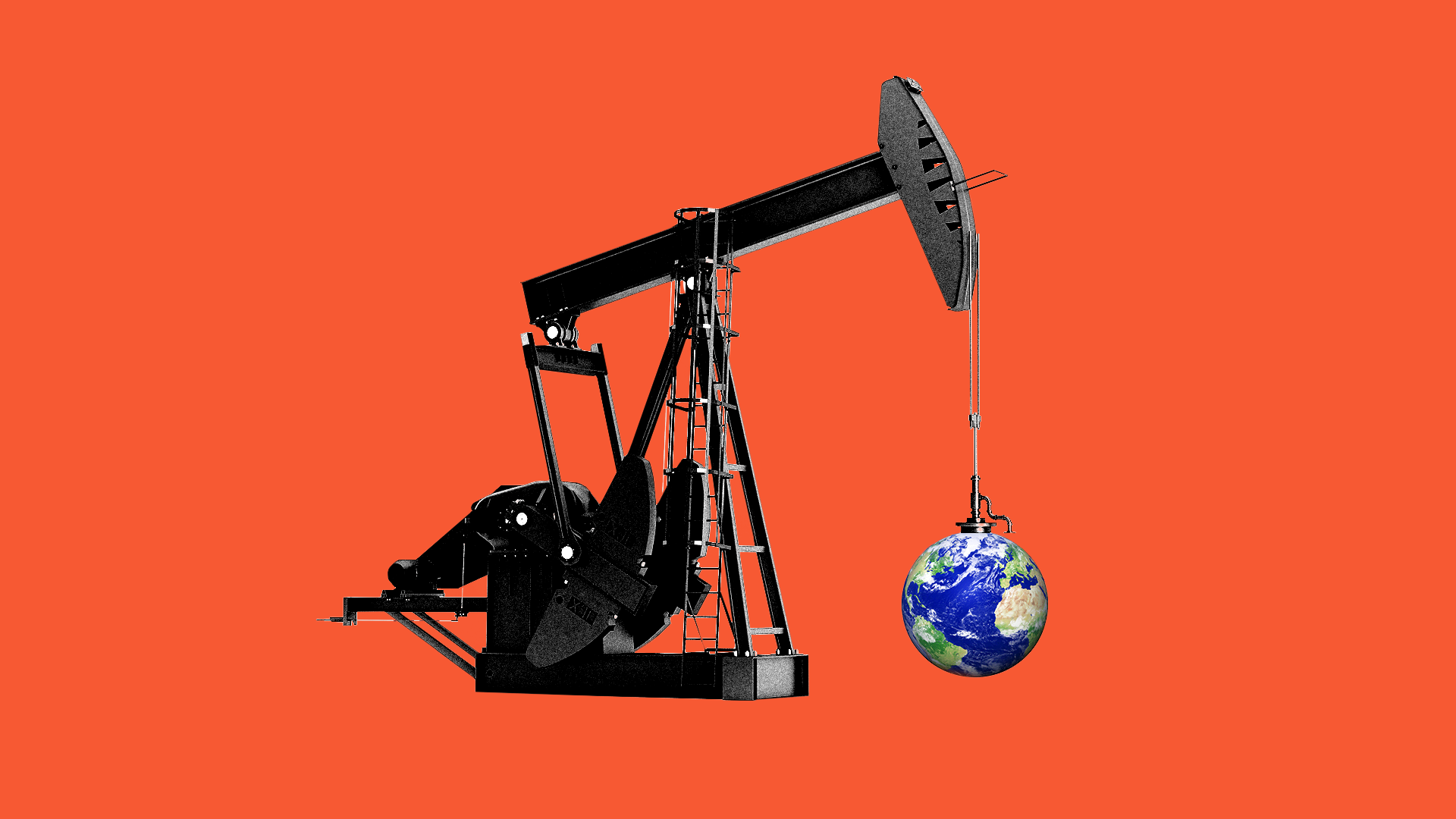 HOUSTON — On the outskirts of America's oil capital is a carbon capture project poised to reap hundreds of millions of dollars in new federal tax credits. There's a catch, though: it uses the carbon to extract oil.
Why it matters: Capturing carbon to extract oil seems counterintuitive to addressing climate change, but experts who have crunched the numbers say this technology is a necessary, if controversial, step that's helped along by these kinds of projects.
A new report by the International Energy Agency shared exclusively with Axios that is being released today finds a provision in the recently passed budget bill is poised to drive a record amount of investment to carbon capture.
The twin incentives of extracting oil and the new federal subsidies provide a foundation for commercializing carbon capture. That's important because the United Nations (among others) calls the technology essential to cutting emissions to the level scientists say is necessary.
The provision championed by Sen. Heidi Heitkamp, a Democrat from North Dakota, greatly expands an existing credit. It puts two different prices on captured and stored carbon, for either direct storage underground ($50 a ton) or for re-use, mostly oil extraction ($35 a ton).
IEA's new analysis of the credits:
U.S. capacity to capture carbon would rise by between 10 and 30 million tons of CO2. That would increase total global capacity by two-thirds.
U.S. oil production would rise by 50,000 to 100,000 barrels per day, which is marginal given America is now pumping over 10 million barrels per day.
Cost to U.S. taxpayers is less than $800 million per year.
The technology would be most economic at industrial facilities near oil and gas operations, not power plants.
85% to 90% of the projects would be used to extract oil.
Who stands to benefit from the tax credit:
Petra Nova, the project on the outskirts of Houston, is the first of its kind in the country and likely the first to reap the tax credit. It captures between 7% and 30% of the CO2 at an adjoining power plant. It's then piped to a nearby oil field where it's used to extract oil and then stored underground. That's an average of 1.4 million tons of captured carbon a year, which equates to $49 million in annual tax credits it can claim for 12 years.
"Our focus was not to build this to be a carbon emission reduction system. Our focus was to build this as a business that turned C02 into a financial commodity with an environmental co-benefit."
— David Knox, spokesman for Petra Nova, during a recent tour of the facility
NET Power, which just completed construction at another carbon capture demonstration project near Houston, is poised to receive a total of up to $300 million in tax credits through the next several years, its CEO, Bill Brown, told me at the CERAWeek conference in Houston last week.
Occidental Petroleum, which has made extracting oil with naturally stored (not human-captured) carbon a key part of its portfolio for decades. Occidental won't receive the credit directly but benefits by having more CO2 to use. This process is also central to its new carbon-reduction strategy, according to a climate report it released a couple weeks ago in response to shareholder pressure.
The technology "has to be put on more facilities, and it won't be unless [carbon] has a place to go and provides an economic incentive. … We need to be able to use [carbon] for sequestration that then creates value for our shareholders."
— Vicki Hollub, Occidental's CEO, at CERAWeek
Some environmentalists oppose the idea and the Natural Resources Defense Council dropped its support for the bill, arguing it amounts to a subsidy for oil and gas companies. They support captured carbon directly stored underground and NRDC experts said using captured carbon for oil extraction "would conflict with the need to reduce our dependence on those fuels."
The IEA has two answers to this criticism:
IEA has previously found that a barrel of oil recovered with human-captured carbon is responsible for 37% less net carbon emissions than a conventional barrel of oil.
The analysts who wrote today's report agree the ultimate goal isn't to extract oil with carbon, but such a prospect is decades away and may never be achievable if the technology isn't affordable now. The oil industry's desire for the oil plus the new credit make the economics work today.
Bottom line: "The tax credit is a stepping stone to a bigger [carbon capture] industry in the U.S.," said Tristan Stanley, an IEA analyst who wrote the report. "it helps bring down the cost and normalizes it."
Go deeper