Shell CEO: Climate deal would help oil demand peak early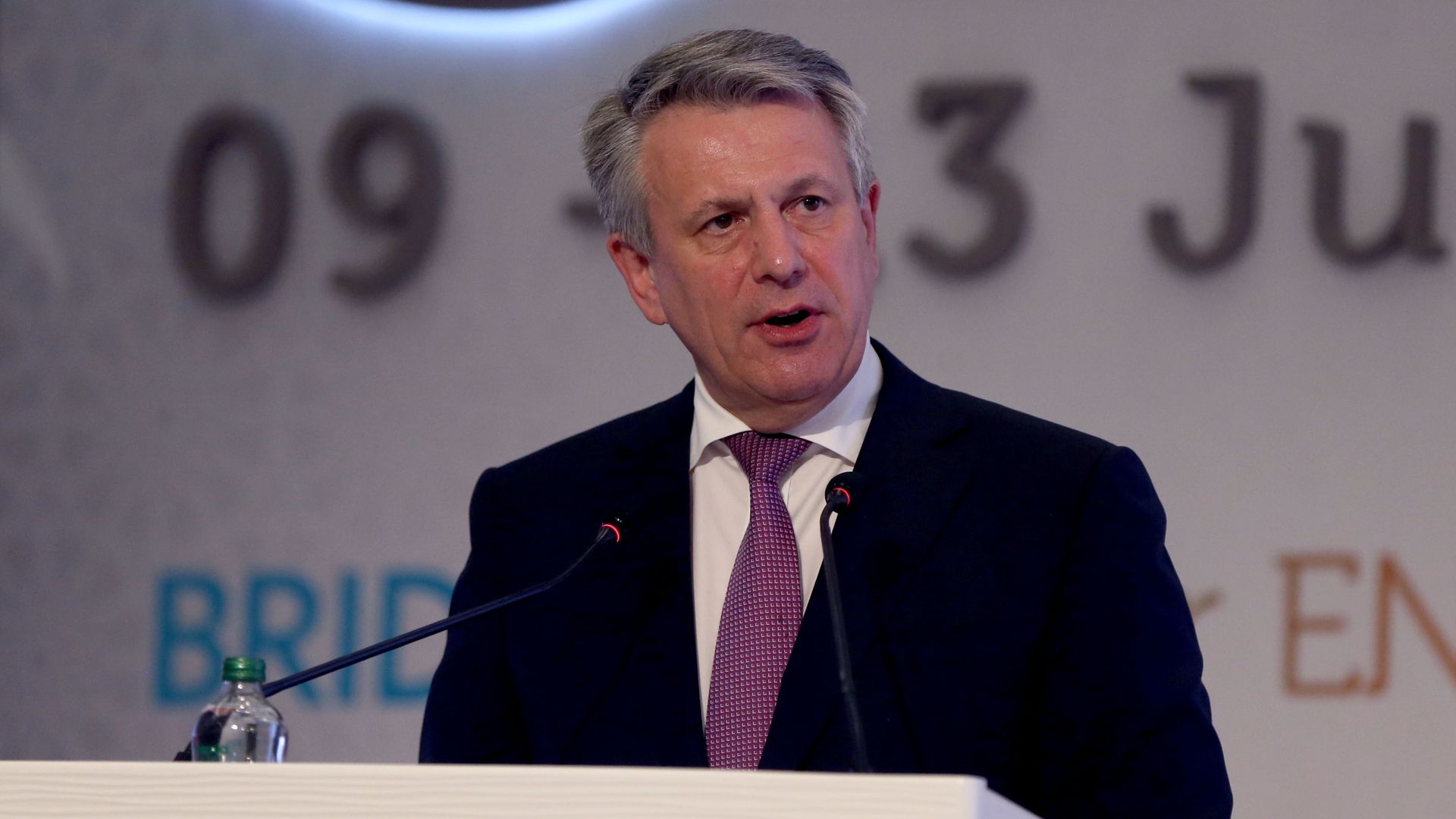 HOUSTON — The world's demand for oil could peak as soon as 2025 if nations keep to a global deal curbing greenhouse gas emissions, Royal Dutch Shell CEO Ben van Beurden told Axios in an exclusive interview on the sidelines of an energy conference here Wednesday.
Why it matters: van Beurden's comments on peak oil demand appear to be the most aggressive by any oil and gas executive on a topic that is central to the industry's future profitability — and climate change.
Shell is at the front of a trend within the world's biggest oil and gas companies to invest in lower-carbon technologies in response to trends like climate policies and electric vehicles' growth.
Yes, but: van Beurden's remarks assume that nations would actually follow through on the rhetoric of the 2015 Paris climate deal — which is a big "if." That deal is not legally binding, and its force is in question given that President Trump has vowed to withdraw America from it.
"It depends on what you want to believe. If you believe that Paris is going to be a success, that somehow the nations of this planet are going to get our act together, are going to be effective in devising and enforcing policies that will decarbonize the energy system, my expectation is then that oil demand will peak in 2025, 2026. That's the Goldilocks scenario. It all needs to come together."
— van Beurden
Gritty details: In the interview, van Beurden laid out why he supports the climate deal and thinks society's thinking on this issue will shift drastically in the next decade, and thus will force change within oil and gas companies.
The Paris deal's current goals wouldn't reverse greenhouse gas emissions — they'd just slow the growth. But the accord does call on countries to tighten their reduction goals in the coming years to reach a point where cuts are more aggressive.
Van Beurden predicts the initial goals will fall short, which will prompt political pressure further out.
"On the political pressure of their electorates, I think in 10 years' time we are going to see a completely different attitude towards this. That's the power of Paris. I therefore still believe that maybe not quite a Goldilocks scenario, but something pretty close to it is going to be a possible outcome. And that's what we have to also therefore plan for in our future business decisions."
One more thing: van Beurden said he remains disappointed that Trump is pulling America out of the Paris deal, but said a shift to lower-carbon energy is "inevitable."
Go deeper