Chaos at Veterans Affairs has Shulkin on the edge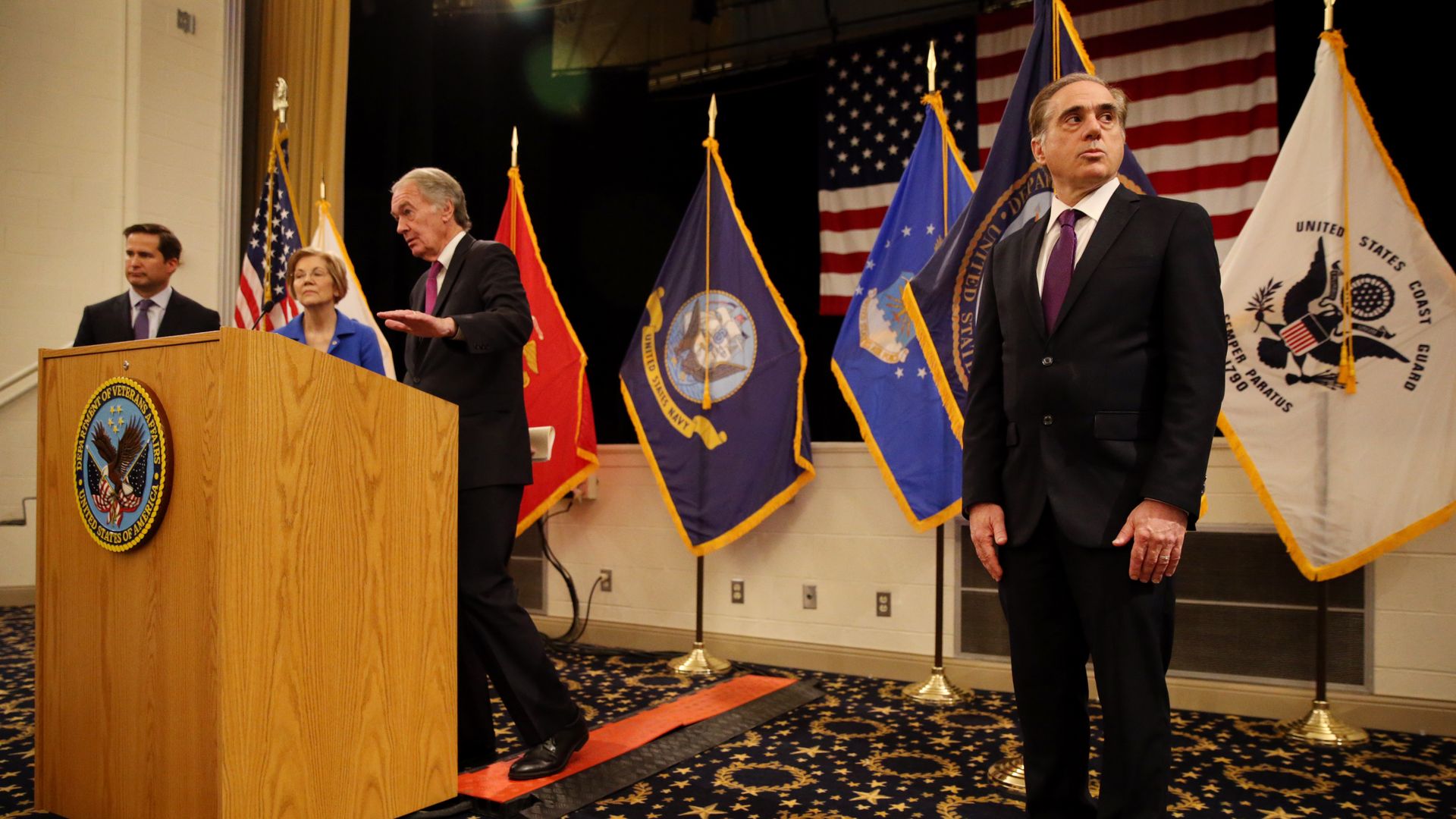 The chaos in the White House is overshadowing the chaos at Veterans Affairs — which is truly extraordinary, since what's happening at the VA right now is NUTS.
The short version: After the VA's inspector general reported that VA Secretary David Shulkin used taxpayer dollars to pay for his wife to go to Europe, the VA secretary has been telling anyone who will listen that Trump appointees in his agency are conspiring to undermine him.
He started handling his own media relations because he doesn't trust the agency's communications staff. And he told Politico the White House gave him the green light to "purge" his agency (a senior White House official told me they did no such thing, and aren't letting Shulkin fire Trump appointees).
Senior White House officials are losing confidence in Shulkin. One told me it would be "an understatement" to describe Shulkin's position as precarious. "A small, little, tiny breeze would push him over the edge," the official said. "If there's any hint of anything wrong" in the next inspector general's report, "I don't imagine he hangs on."
The White House has been befuddled by Shulkin's media appearances. Senior officials were especially furious when he told Politico that he had their blessing to clean house.
A senior White House official told me it was nonsense that Kelly authorized a purge, and that the White House made that clear to Shulkin when it blocked him from firing Trump appointees John Ullyot and Curt Cashour.
The Daily Beast reported last week that another IG report may come out in the next few weeks that could also damage Shulkin. The White House will have little tolerance for even a whiff of further evidence that Shulkin has been improperly using taxpayer funds for personal activities.
Behind the scenes: Last Monday morning, some of Shulkin's allies who lead veteran service organizations visited the White House armed with arguments to defend the secretary. They met with Kelly in the Roosevelt Room.
About halfway through the meeting, Rick Weidman, the co-founder of the Vietnam Veterans of America, told Kelly he thought political appointees at the VA were undermining Shulkin.
According to a source familiar with the meeting, Weidman tried to appeal to Kelly as a fellow military man. He compared Shulkin's situation to that of a military unit and said you need cohesion and proper chain of command, and that you can't have subordinates undermining the leader of the unit.
After listening to Weidman, Kelly didn't give him the response he was clearly looking for. "From my standpoint," Kelly replied, "you just made an argument to fire Shulkin."
Kelly told Weidman that every time he was in command of a unit or leading a group, he was always able to get people on board with what he was trying to do and get them to accomplish the mission together. He wasn't impressed by the notion that Trump's political appointees were to blame for Shulkin's fate.
Bottom line: The meeting ended with Kelly telling the veterans group leaders that the president still has confidence in Shulkin.
White House deputy press secretary Hogan Gidley gave this response to details in this story: "The President has confidence in Secretary Shulkin. Under the President's leadership, the Secretary has worked to reform the VA so it can better provide our nation's heroes with the care they rightfully deserve."
VA press secretary Curt Cashour told me that "nothing will distract the President, the Secretary and the Department from finding the best ways to provide care and benefits to our country's heroes."
Why this matters: Of the federal agencies, only the Department of Defense is larger than Veterans Affairs.
What's next: Shulkin, his deputy and his new chief of staff are meeting Monday with Kelly. They will have plenty to talk about. I've yet to meet a senior White House official who genuinely believes Shulkin is long for this world.
Go deeper