Destroying Jared Kushner: a five-part play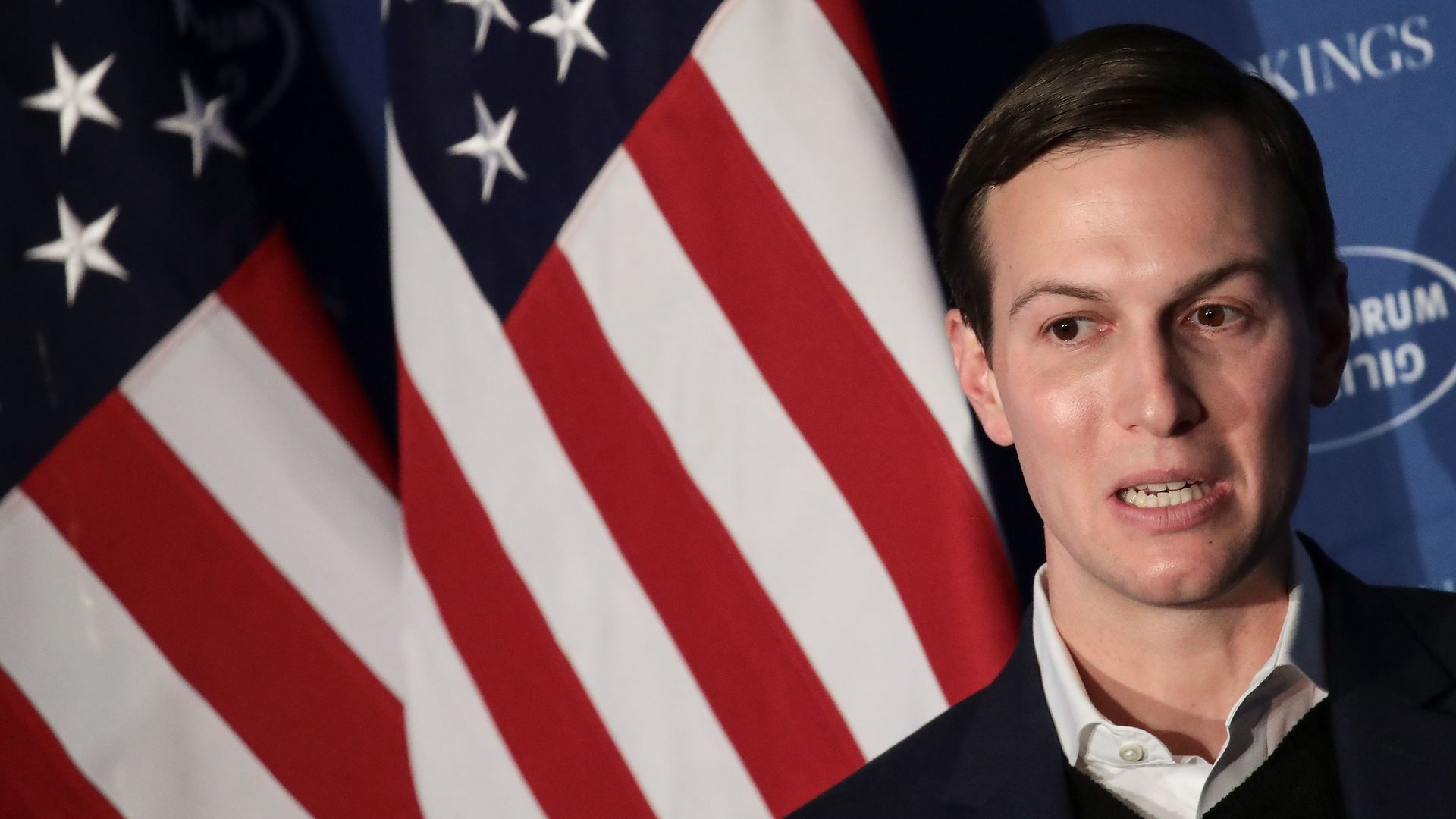 It's no secret a lot of people inside and outside the White House want Jared Kushner gone. They think he's too inexperienced, too compromised by conflicts of interest and the Russia probe, and too ineffective. 
The big picture: Their revenge against him this week has been brutal, sustained, at times brilliant, and potentially lethal. What has unfolded is not the work of coincidence: it is the slit-by-slit slow bleed of a top adviser and son-in-law to the president. 
(Worth noting: Jared and Ivanka have outlasted many before — Corey Lewandowski, Steve Bannon and Reince Priebus, among them. And there's been a rule to not cross the family. But that rule is cracking and they now face their greatest test of survival yet.)
Act I: The knee-capping
The public humiliation of losing his top security clearance was telegraphed and then executed by Chief of Staff John Kelly. It was promptly leaked. Kushner, who fancied himself a de facto Secretary of State and peacemaker, lost access to the power of information. 
White House staff instantly turned unafraid to leak against Jared to reporters. He's no longer seen as untouchable. Actually now seen as almost frail. They say he's naive and has dim political insights.
At the same time, he lost his top image-shaper Josh Raffel, just when he needs him most. (Kushner has known for a while Raffel is leaving, but that doesn't make the blow any easier.)
Act II: The humiliation
Nothing's worse for ego and perception than to be seen as easy prey.  Cue the leak to the Washington Post: Foreign governments reportedly discussed ways to manipulate Kushner, "current and former U.S. officials familiar with intelligence reports on the matter" told the paper. They said his business dealings left him vulnerable. 
Act III: The Godfather turns
Rupert Murdoch, the master of Fox and the Wall Street Journal, has advised Kushner for years. They are allies, friends, mentor and mentee. There was nothing friendly about the lead editorial in Murdoch's paper politely suggesting the "knives are out" and it's time for Jared to skip town. "Giving up their White House positions would be a bitter remedy, but Mr. Kushner and first daughter Ivanka could still offer advice as outsiders."
Act IV: The plot
You can't execute family without cause. The whispers, which turned into constant conversation, which turned into screaming headlines, is that Kushner mixed too much personal business with official governmental work.
Kushner, the New York Times revealed on its front page, took White House meetings with private equity billionaires and his family business benefited from their loans afterward. There is "little precedent for a top White House official meeting with executives of companies as they contemplate sizable loans to his business."
Act V: Tortured Trump 
One thing Jared and Trump have in common: they read Maggie Haberman and the New York Times. Nothing says family love and I've-got-your-back like this: 
"Mr. Trump is also frustrated with Mr. Kushner, whom he now views as a liability because of his legal entanglements, the investigations of the Kushner family's real estate company and the publicity over having his security clearance downgraded, according to two people familiar with his views. In private conversations, the president vacillates between sounding regretful that Mr. Kushner is taking arrows and annoyed that he is another problem to deal with." 
The End?
Go deeper