Lake trout are making a comeback, and no one knows why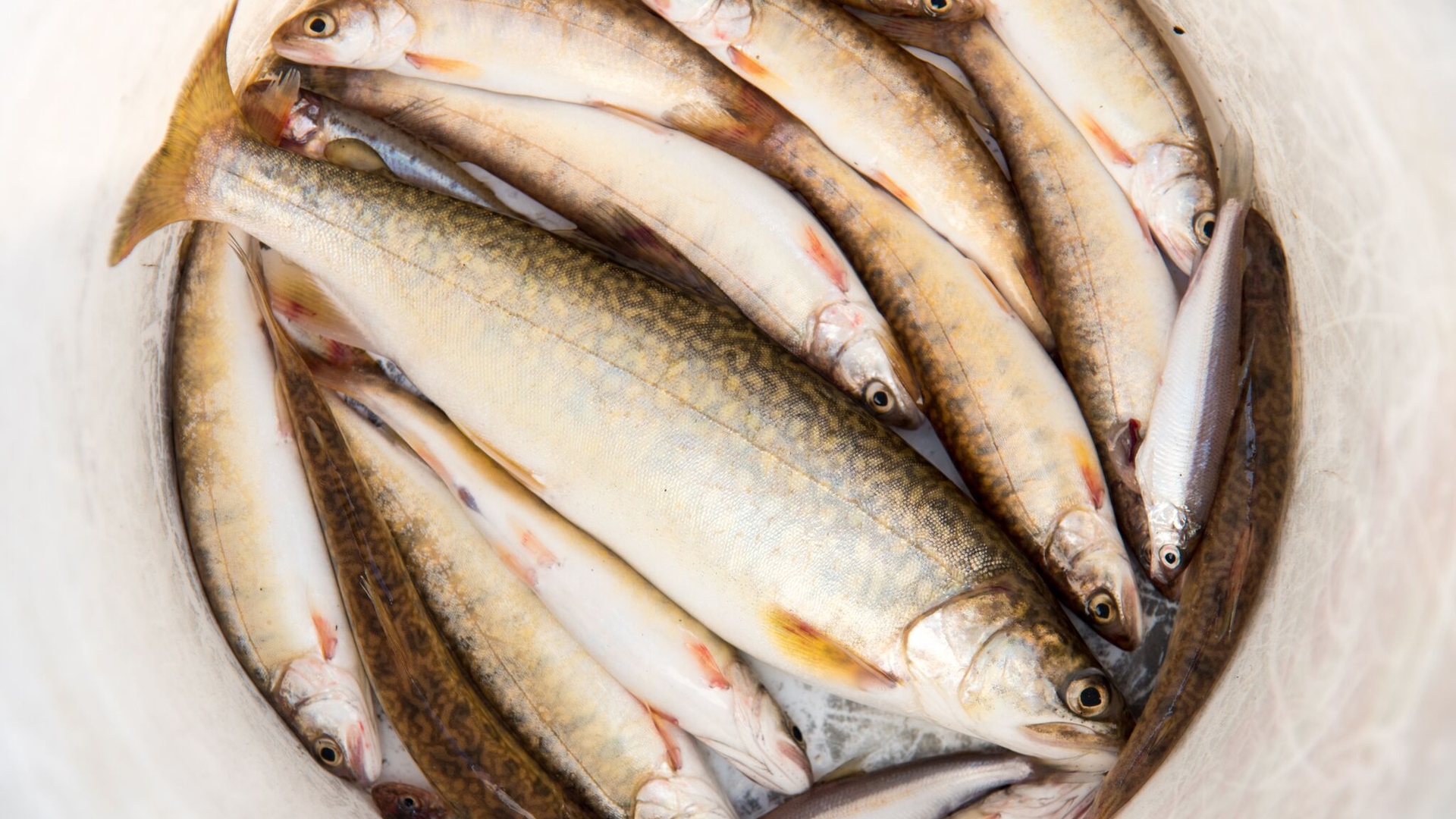 Scientists have spent their entire careers trying to understand why some trout no longer survive in Lake Champlain and the Great Lakes. Now, they've returned and researchers don't know why.
Why it matters: Around the world, large lakes ecosystems, which drive the economies of cities that border them, are being threatened. "One thing [this return] demonstrates is that these lakes have enormous recuperative powers," says Dave Fielder, fisheries research biologist at the Michigan Department of Natural Resources. "If we can provide relief from some of the stressors, the lake will respond. Sometimes, very quickly."
What they're studying: Lake Champlain serves as a microcosm for the Great Lakes, which are extremely hard to study in their entirety, explains Ellen Marsden, a professor at the University of Vermont who has spent decades studying Champlain's ecosystem. In the years since the trout first became locally extinct, the lake has been through a lot.
The history: Pollution and overfishing are what initially drove the lake trout to local extinction by the early 1900s. In the years since, a number of invasive species fundamentally altered the lake's ecosystem, including:
1800-1900: Invasive sea lamprey enter the lake. Lamprey "rasp a hole in the trout and suck out the blood and juices," Fielder says. Lamprey populations don't come under control until 2008.
1993: Zebra mussels invade. The mussels compete for nutrients with mysis shrimp, which young trout eat.
2003: Invasive alewife, thought to compete with trout in the Great Lakes, are introduced to Champlain.
The return: Fisheries departments have stocked these lakes with trout since the 70s. They would reproduce, but the juvenile fish would die. In 2014, Marsden began to see them survive. She says cleaner water played a big role in the trout's return. But it's not the only thing. The best way to figure out why fish are suddenly surviving, is to look at what they're dying from.
"If you're going to die, it's because you starve, something eats you, or you get a disease," Marsden says.
Diet: "The little guys, their stomachs are packed full of mysis shrimp! It's nutritious and just what they should be eating," Marsden says. But it's not clear where these tiny shrimp are coming from: "They haven't rebounded."
Somebody's eating them: Lamprey predation was long thought to be a barrier to lake trout survival, and may still be in the Great Lakes. But Marsden's research shows lamprey have a smaller impact on trout than previously thought.
Disease: "We can shelve disease," Marsden says, "nothing unusual ever showed up."
Great Lakes vs. Champlain: There are several theories as to why trout returned to the Great Lakes, and they're complicated. Fielder suggests — noting that it's just an idea —that the mysterious decline of invasive alewife in the Great Lakes brought the trout back. It's not clear why the alewife went away: maybe invasive zebra mussels ate the alewife's food. (But Marsden says that's not what happened in Champlain, "We didn't get alewife until 2003, so I think we can to put that theory to bed.") Maybe it was the equally mysterious decline in introduced chinook salmon or efforts to control lamprey.
The bottom line: Regardless of why the trout came back, the biggest ecosystem changes in the last several years had to do with invasive species. "We're at a point where we've endured so many invasive species in the Great Lakes ecosystem, they're starting to interact and affect each other," Fielder says. Those interactions may have opened up a niche — allowing the native fish back in.
Go deeper