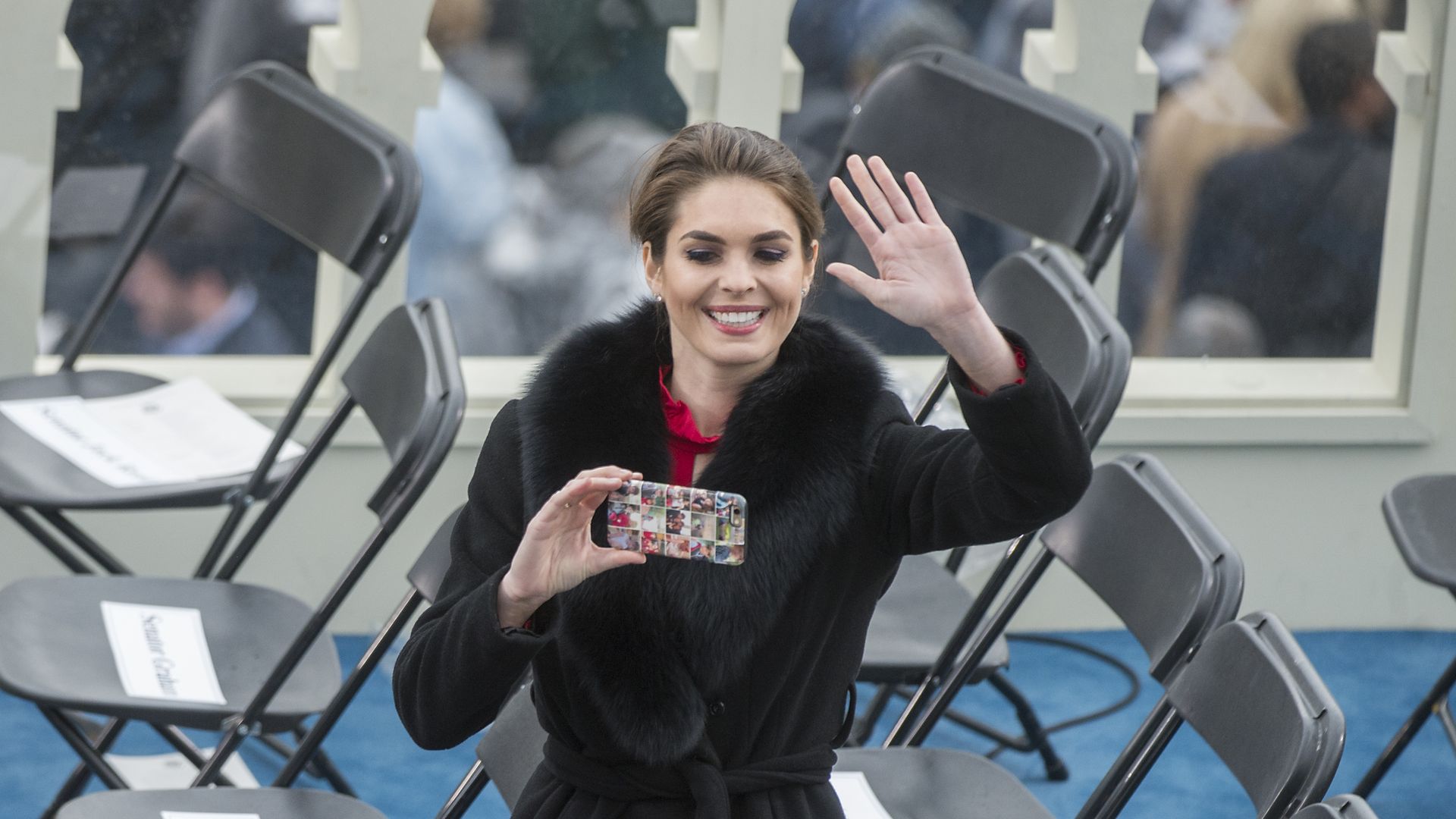 President Trump trusted nobody like Hope (or "Hopey" as he calls her.) It's become a cliche that he views her like a daughter, but those who've watched them together say it's true.
Why it matters: Trump will miss her in the same way he misses former bodyguard Keith Schiller. Hicks is family and has been part of his routine for nearly three years now. Trump increasingly finds himself working in a building populated by people he doesn't know and doesn't trust; some of whom did not even vote for him.
Hicks spent the Reince Priebus/Sean Spicer era of the Trump administration as wholly separate from the communications shop. She was the Trump whisperer — her internal power was untouchable and her role had no more definition than that. But when Kelly took over, Sarah Sanders became press secretary and Hicks communications director, she fully integrated with the press shop. She never appeared on TV; always stayed behind the scenes. But reporters like me — I've dealt with Hicks professionally for 2.5 years now — know her as the person who understands Trump the best.
Hick's colleagues say her decision is the accumulation of six months of terribleness. She has always hated Washington, and never made it her home. She never wanted to make friends here and never trusted anybody outside of the small group of people she befriended inside the White House. Any spare moment she had, she traveled to Connecticut and New York to spend time with family and old friends. 
What kept her in Washington was simple: Donald J. Trump. She was totally loyal to him and some colleagues believe she'd become a crutch for him.
But her leaving is no surprise to her colleagues. For somebody who wanted to stay behind the scenes, the constant coverage of her — whether it be the Rob Porter crisis or the Russia investigation — made her life hell, her colleagues say. One colleague told me she could never get used to how provincial Washington was. Nobody in New York bothers her when she walks the streets of Manhattan, but in DC she gets "spotted" at restaurants and chased by paparazzi.
A White House colleague added: "Something Hope will probably never get credit for but should: she totally organized that guns listening session - which people were skeptical of internally but I think many people now think is arguably one of the best moments of POTUS' time in office."
Bottom line: A White House official told me minutes after Hope's announcement became public: "The fact that she was untouchable in that role put her in a unique position. That probably won't happen again. She was unassailable in terms of her relationship with the president; and no one even tried. She's one of the very few people here that you could say without fail had the best interests of the president at heart. She was a true believer, not an ideologue, but a true believer in Donald Trump."
The announcement: Hope Hicks to resign as communications director
Go deeper: Amid this latest departure, Chief of Staff Kelly vs the family continues.
Go deeper