Last report from slain Slovak journalist alleges government-mafia links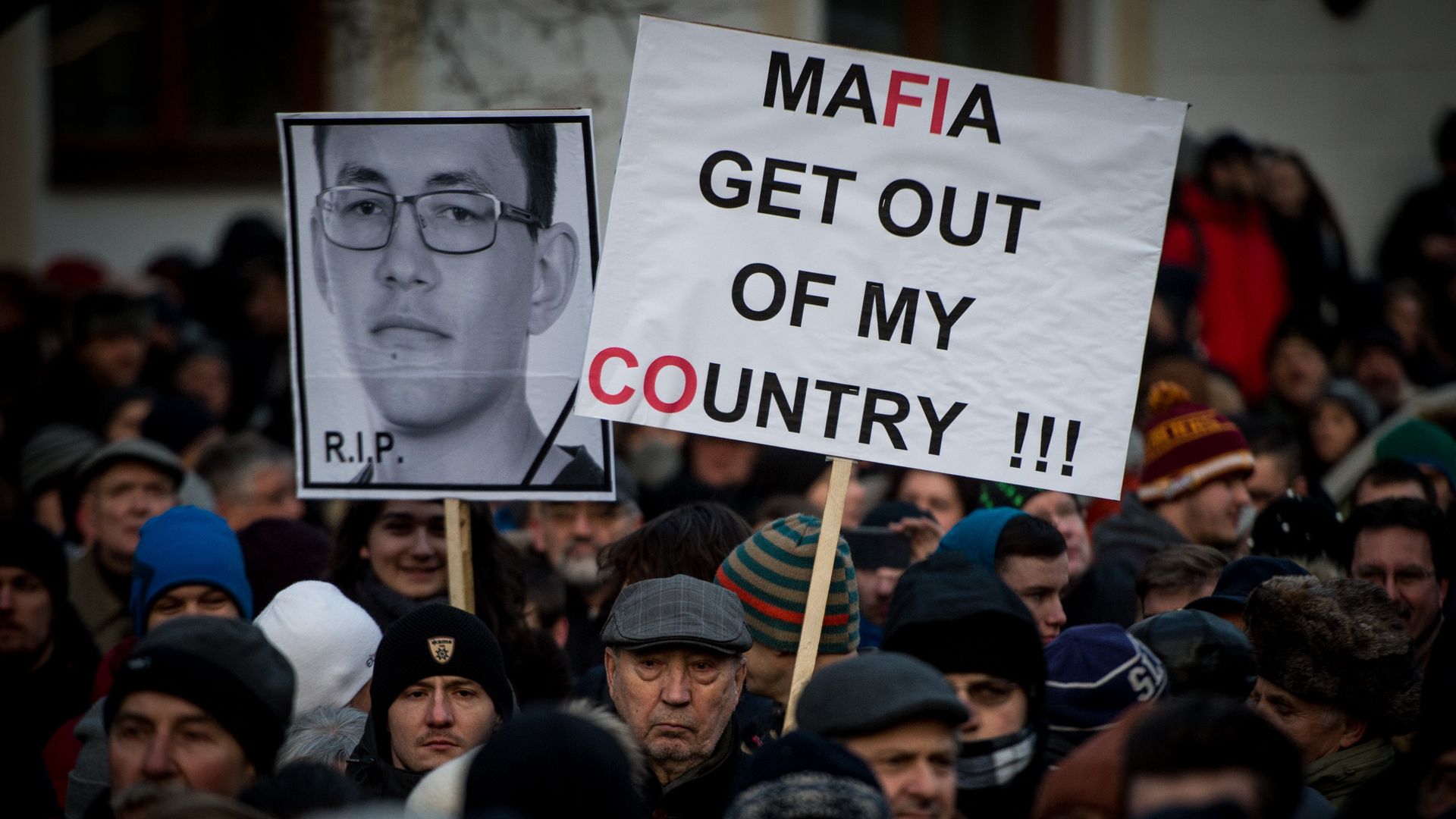 The final piece of unfinished reporting from a Slovakian journalist who was assassinated, apparently for his work exposing corruption, was published Wednesday by the Organized Crime and Corruption Reporting Project (OCCRP) and his outlet, Aktuality.sk. Jan Kuciak was working on an in-depth investigation into Italy's 'Ndrangheta, one of the world's most powerful criminal groups, and their infiltration into Slovakia and next-door Czech Republic.
Why it matters: Slovakia's vulnerability to organized crime has become of increasing concern to the European Union — particularly the connivance of politicians in large-scale fraud as well as the defaming of journalists trying to investigate such activities.
The latest
Kuciak's last unfinished story before he was shot dead along with his girlfriend in their apartment over the weekend was titled "The Model, the Mafia, and the Murderers".
It detailed an investigation into Slovakian PM Fico's hiring of topless model Mária Trošková as one of his assistants, and Trošková's business ties to Antonino Vadala, 42, an Italian living in Slovakia with allegedly close ties to the 'Ndrangheta.
PM Fico has been criticized for holding a press conference on Tuesday, where he stood by piles of banknotes worth €1 million — the reward the government is promising for information about the killings. "Do not link innocent people without any evidence to a double homicide," he said, criticizing the opposition and the media.
Slovak Police President Tibor Gaspar said the authorities had questioned 20 people since Monday and contacted the Czech Republic and Italy about the investigation.
The Czech reporter working out of Prague with Kuciak, Pavla Holcová, of the Czech Center for Investigative Journalism, is now under police protection.
The backdrop:
Press freedom is falling in Slovakia, where oligarchs now own much of the media and politicians have taken steps to weaken the press. The situation for journalists working elsewhere in Central and Eastern Europe has deteriorated over the last few years as well.
Top politicians in both Slovakia and the Czech Republic have been criticized for their comments regarding journalists. Czech President Milos Zeman has made repeated 'jokes' about how reporters should be killed and Fico in November 2016 described several journalists as "filthy anti-Slovak prostitutes" after being quizzed about a corruption cases.
Go deeper