SCOTUS likely to deal a major blow to government unions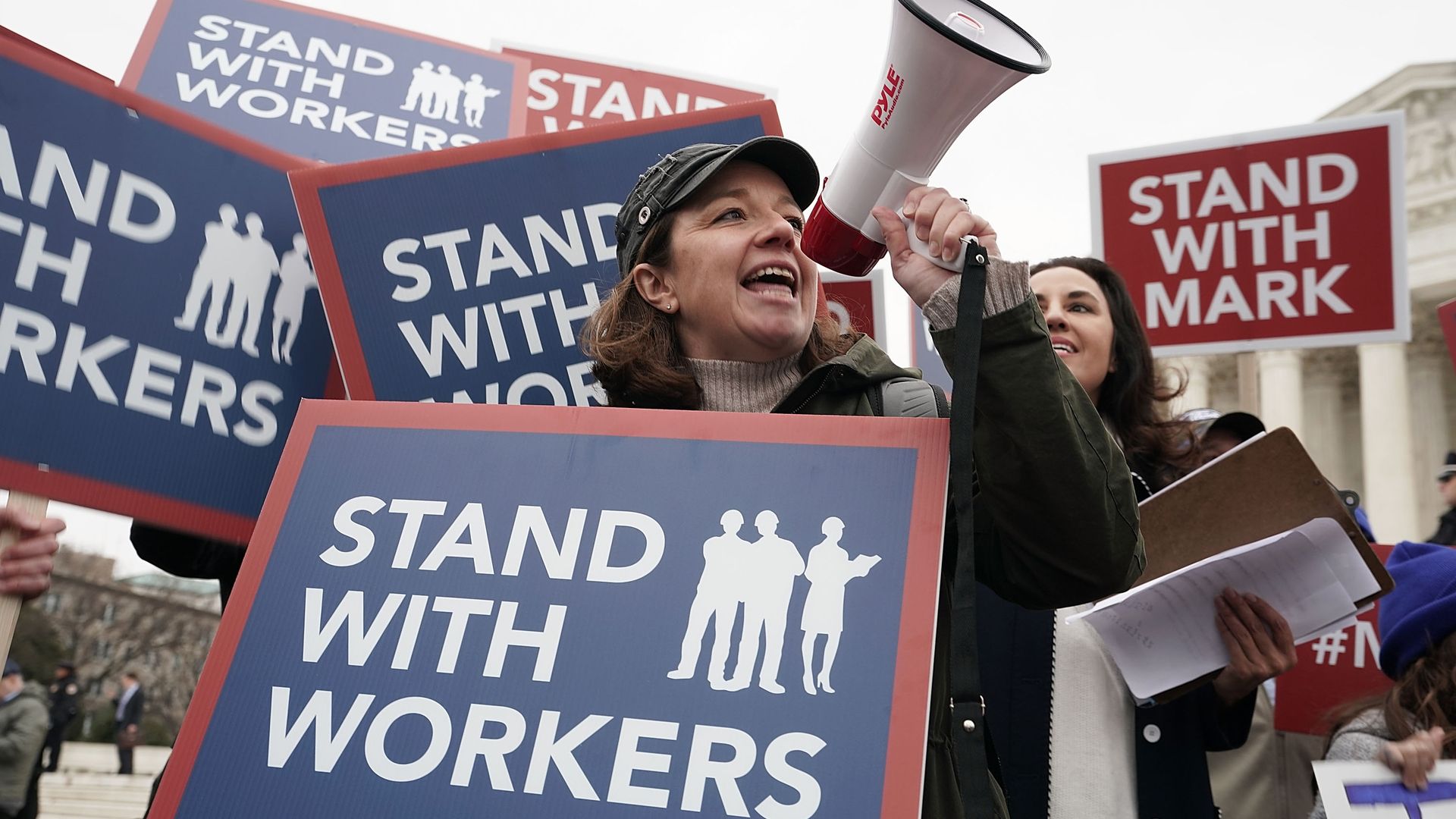 If public-sector unions have any hope of escaping a crippling blow at the Supreme Court, it will likely have to come from Justice Neil Gorsuch. He remained silent today while his conservative colleagues left little doubt that they're headed toward a broad ruling against public unions — and that they're well aware of the political consequences.
Why it matters: State and local governments are one of the few remaining strongholds of union power, and those unions are a key piece of the Democratic party's base. A loss in today's case would cut off a key funding stream, rolling back unions' organizing power as well as their political muscle.
The issue: Public-sector unions collect dues from their members; they also collect so-called "agency fees" from employees who choose not to join the union. Those fees can only support contract negotiations that apply to the whole workplace — not political actives for unions.
The court upheld that breakdown in the 70s, but now appears to be on the verge of overruling its earlier decision and striking down agency fees altogether.
Critics say that because these are government employees, even their collective bargaining is inherently political. Bargaining for higher wages, in this case, is bargaining for higher government spending.
And so, critics argue, forcing non-members to pay the unions a fee is forcing them to make a political statement, and a violation of their First Amendment rights. The justices heard an hour of oral arguments this morning on that question alone.
What they're saying: Justice Anthony Kennedy, the court's traditional swing vote, took the hardest line against agency fees today, casting them as "compelled subsidization of a private party that expresses political views constantly."
At one point, Kennedy asked whether a ruling against agency fees would diminish unions' political power. The answer was yes. "Isn't that the end of this case?" he asked.
The odds: The court considered a nearly identical case in 2016. Due to the death of the late Justice Antonin Scalia, it deadlocked 4-4.
None of those eight justices seems to have changed their mind since then. So, the final outcome may be up to Gorsuch, who didn't show his hand today but is generally very conservative.
It's hard to imagine Gorsuch joining the court's four liberals in a full-throated defense of public-sector unions. But if he is disinclined to overrule one of the court's own precedents, he could steer this case toward a narrower decision that might limit agency fees while leaving some version of them intact.
That might be the best unions could hope for, and a 5-4 decision striking down their fees altogether is still a distinct possibility.
Go deeper