Tackling climate change when Trump won't talk about it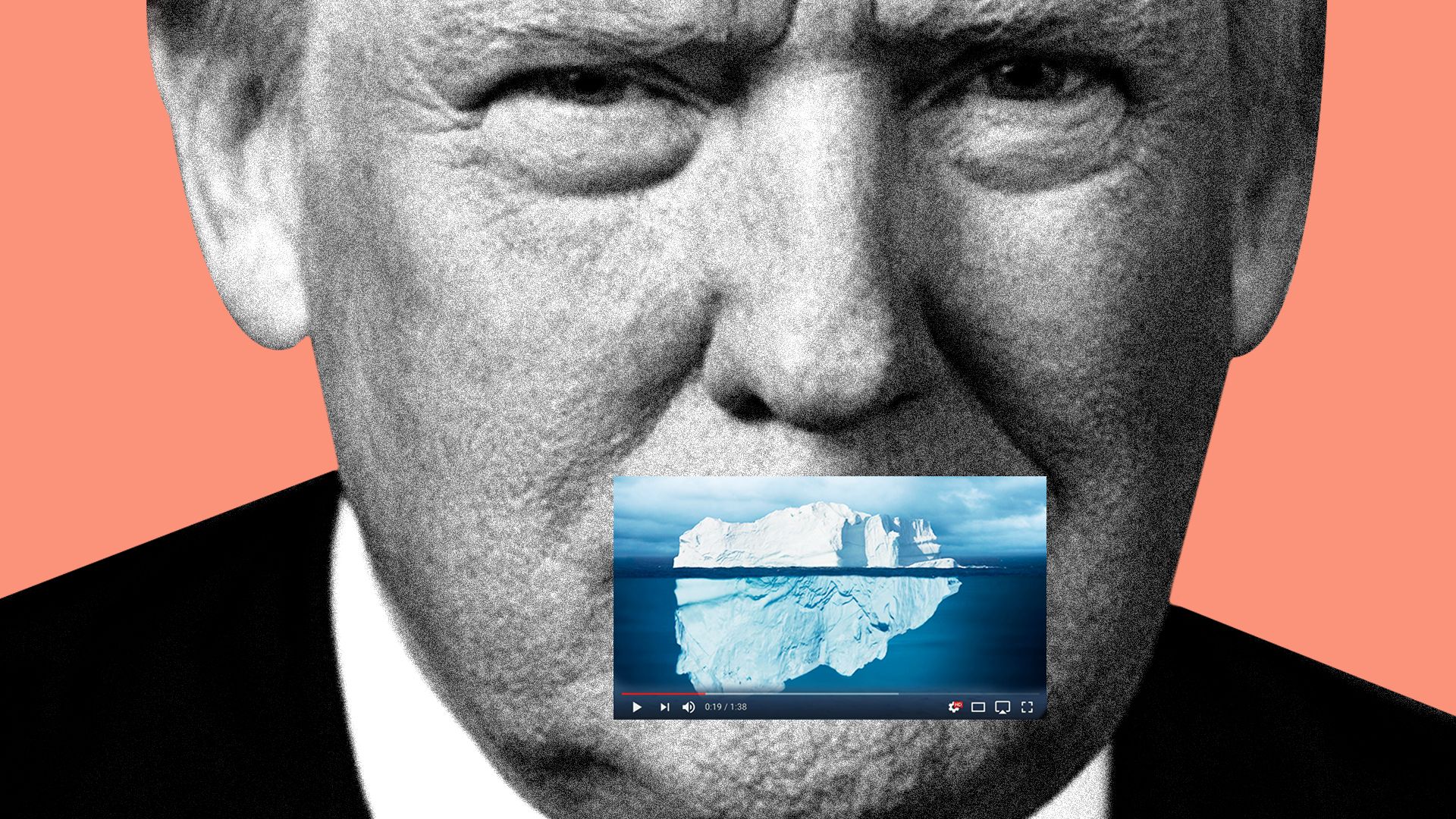 President Trump and his administration have gone to extreme lengths to wipe climate change from the U.S. federal government's lexicon and question whether it's a real issue at all. That's got people working to tackle the problem wondering, paradoxically, how to make progress without the Trump administration acknowledging it.
The bottom line: A surprisingly large amount of progress is being made, actually, including on certain federal policies, within corporations and by local governments. Ultimately, though, the scale of the problem needs not only federal acknowledgment but also concerted backing.
"I think you can fudge it for a couple of years," said Julio Friedmann, a former top Energy Department official in the Obama administration. "There is a lot of progress that is possible, but it's not enough to fully deliver."
Just this month, there's been government action to address climate change, just not wrapped up in those semantics.
Let's take a look at what is being done regardless of Trump acknowledging the issue, and then get to why bigger things are out of reach as long as Trump, EPA Administrator Scott Pruitt and others continue to dismiss climate change.
Congress earlier this month approved a narrow but important tax incentive that would support projects capturing carbon emissions from coal plants and other facilities. Climate change wasn't a focus of many of the bill's backers, and it wasn't mentioned in the legislation itself.
I asked Steven Winberg, the assistant secretary of fossil energy at the Energy Department, whether he sees his support for this type of technology as key to addressing climate change. "It's not my job to set policy on climate change," Winberg said after an event late last year in Washington. "It's my job to develop technologies that might address climate change but could address a lot of other issues as well."
Companies are also increasingly investing in renewable energy regardless of its climate-change benefits.
"To the extent we're able to buy renewable energy via a long-term contract, we're able to fix the price of electricity for that location," Neha Palmer, director of energy strategy at Google, told me recently.
"Those are known costs, which is helpful for running a business," added Palmer, whose firm is among the world's largest corporate buyers of renewable energy.
That sentiment is echoed by Neil Chatterjee, a Republican commissioner at the Federal Energy Regulatory Commission, an independent government agency.
"I certainly believe that climate change is real, is man-made and we need to take steps to mitigate emissions," Chatterjee told me last week. "But I also don't think that's the sole benefit of renewable energy either ... One of the things I find most attractive about the increased deployment of renewable energy is the economics. You have no fuel costs."
FERC approved a rule last week aimed at removing market barriers to batteries and other technologies that can store energy, which is key for the widespread adoption of intermittent renewable energy like wind and solar.
EPA Administrator Scott Pruitt met last week with executives making electricity from biomass, a term used to describe organic waste like scrap lumber.
Pruitt told the industry he's working to complete a process first started under Obama that would officially recognize biomass as carbon-neutral because it's making use of material that would otherwise be burned or put into landfills. Biomass is considered renewable and powers about 1.5% of U.S. electricity as of 2016, slightly more than solar.
Climate change didn't come up in a conversation Pruitt had with Bob Cleaves, president and CEO of the Biomass Power Association, according to Cleaves, but the end goal could still help.
"There's no question that climate change is an important issue for us, and we provide an environmental benefit that should be recognized," Cleaves said.
More than a dozen states and hundreds of U.S. cities have pledged to cut carbon emissions despite Trump vowing to withdraw America from the Paris accord.
But they only represent up to 35% of America's total greenhouse gas emissions, according to a report the group released at a climate conference last year — which brings me to the big "but" of this column.
All of these efforts pale in comparison to the Trump administration's efforts to repeal or scale back nearly every policy Obama issued to address climate change. And layered on top of that is government-endorsed skepticism of an issue most of the rest of the world considers business as usual.
"If we are not able to even have a conversation about climate change, then it's virtually impossible to imagine passing policies that would do anything meaningful about it," said Jerry Taylor, president of the Niskanen Center, a libertarian think tank working with Republicans on the issue.
Taylor says he's had private conversations with congressional Republicans who have, paradoxically, indicated a heightened interest in addressing climate change in the wake of Trump's election.
But, Taylor added: "None of that matters unless it translates into action."
Go deeper