Left-wing populist López Obrador leading Mexican polls
The front-runner in Mexico's July 1 presidential election wants to drain the swamp (or, in his words, end the "mafia of power"), argues trade deals have hurt ordinary people and says it's time to put the "Mexican people first." But Andrés Manuel López Obrador is no Donald Trump — he has been the standard-bearer of the Mexican Left for two decades. Now, on his third run, the former Mexico City mayor appears on course for the presidency.
The big picture: Two new polls put López Obrador ahead by 5 and 8 points in what is effectively a three-way race, solidifying his status as the man to beat. His anti-corruption platform seems a winning formula five years into Enrique Peña Nieto's scandal-plagued term, and his supporters expect him to be far less accommodating of Trump than Peña Nieto has been.
Background
López Obrador entered politics in the late 1970s, holding a government post working with indigenous people in his home state of Tabasco. He was part of a leftist bloc that broke away from the PRI (long Mexico's dominant party) in the 1980s.
His rivals have cast him as the Hugo Chavez of Mexico, but after his election as mayor of Mexico City in 2000 he governed in a fairly pragmatic style, and left office in 2005 with sky-high approval ratings.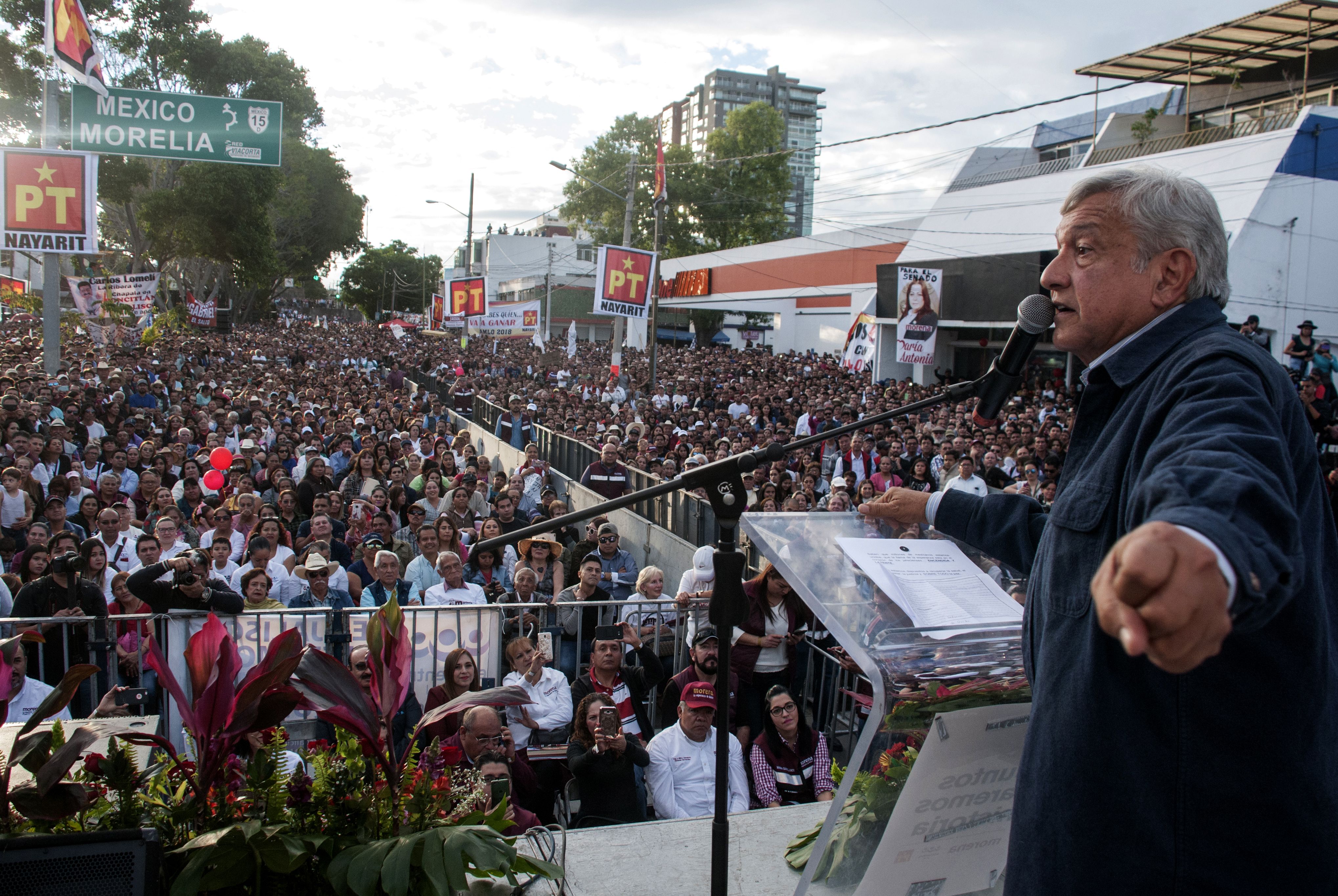 First two tries
The most controversial period of López Obrador's political life came in 2006, when he declared himself president-elect prior to the official election results — which showed him losing by 0.56%.
He claimed the result had been rigged, proclaimed himself the legitimate president, and in the ensuing turmoil his supporters blocked a major road in the capital for six weeks.
López Obrador ran again in 2012, finishing second to Peña Nieto. After the election he left his party, the PRD, to form the Movement for National Regeneration.
Smart takes
The Atlantic, the "essence of López Obrador's appeal" is "a radical belief in himself, what some have taken to calling a 'messiah complex.' But it is also this promise—that all will be all right once he is in power—that critics call his tragic flaw."
The Economist, López Obrador has "fulminated against privilege, corruption and the political establishment. Sweep away all that, he tells poor Mexicans, and their lives will improve. Many others hear in that message the menace of a charismatic populist who would punish enterprise, weaken institutions and roll back reforms. The biggest worriers view him as a Mexican version of the late Hugo Chávez."
Foreign Policy, "His campaign message is relatively simple. Everyone else is corrupt or craven, while he is not. Sensitive to criticism that he is a radical in waiting, he has highlighted policy proposals of austerity, low taxes, transparency, and nonintervention."
What to watch for
Trade: López Obrador is far more NAFTA-skeptic than Peña Nieto, and would likely be less anxious to cut a deal with the Trump administration to preserve the free trade agreement.
Energy: López Obrador opposed Peña Nieto's move to end Mexico's state oil monopoly and sign contracts with private oil companies. It's unclear what steps he'd take as president.
Trump: "Without disrespecting him, we're going to put him in his place. We're going to make him come to his senses. We're going to respect President Donald Trump, but he's going to have to learn to respect us," López Obrador said last month.
What's next: The "pre-campaign," in which the candidates held rallies and jockeyed for position, ended last week. Now the race goes into hibernation until March 30, when the sprint for the finish begins.
Go deeper