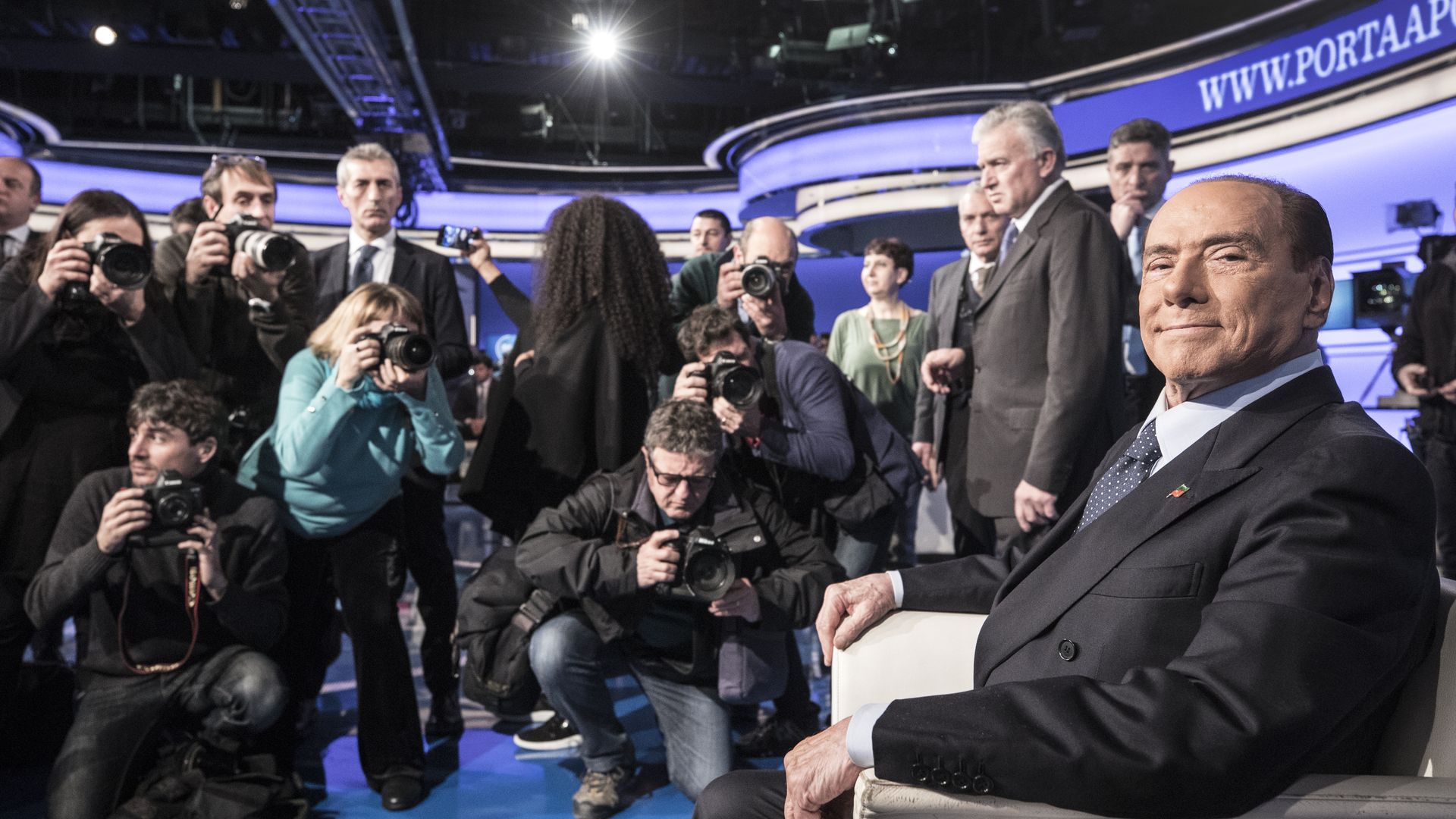 When Italians go to the polls three weeks from today, they will likely give the largest share of the vote to a center-right coalition headed by a familiar face: former prime minister Silvio Berlusconi.
Why it matters: After being forced out of office in 2011 and convicted of money laundering two years later, the 81-year-old Berlusconi is back at the center of Italian politics. His conviction bars him from holding office, but he could play kingmaker in contentious coalition negotiations. And in a surprising turn of events, with the ruling Democratic Party slumping and the populist Five Star movement leading the way, Berlusconi could actually be the man to save Italy from political chaos.
The Berlusconi revival
Reborn as a "Bunga Bunga moderate" (a reference to the infamous sex parties he held while in office), according to a Foreign Policy headline, Berlusconi is attempting a pivot from populist to elder statesman.
That's not to say he has morphed into Angela Merkel. His Forza Italia party is contesting the election alongside two far-right parties and he suggested recently that up to 600,000 migrants should be deported. But having been "outflanked" on the populist right by Five Star, "Berlusconi is presenting himself as a moderating force, because he has recognized that Italian politics itself has changed," per Foreign Policy.
The other key players
Matteo Renzi (Democratic Party): Renzi resigned as Prime Minister in 2016 after losing a constitutional referendum and is leading a centre-left coalition this time around.
Luigi Di Maio (Five Star Movement): Now 31, he was just 7 when Berlusconi first became prime minister. He's a moderate by the standards of Five Star, an anti-establishment party that lacks clear ideology — and often bridges the traditional right-left political spectrum — but has been a highly disruptive force.
Current Prime Minister Paolo Gentiloni, who became prime minister after Renzi's resignation, is not a candidate.
Where things stand
Polls by coalition, per The Economist's poll tracker:
Right-wing: 37%
Center-left: 28%
Five Star: 28%
Polls by party:
Five Star (Di Maio): 28%
Democrats (Renzi): 23%
Forza Italia (Berlusconi): 16%
Northern League (Matteo Salvini): 14%
Go deeper:
Go deeper