The Trump administration is quietly revolutionizing Medicaid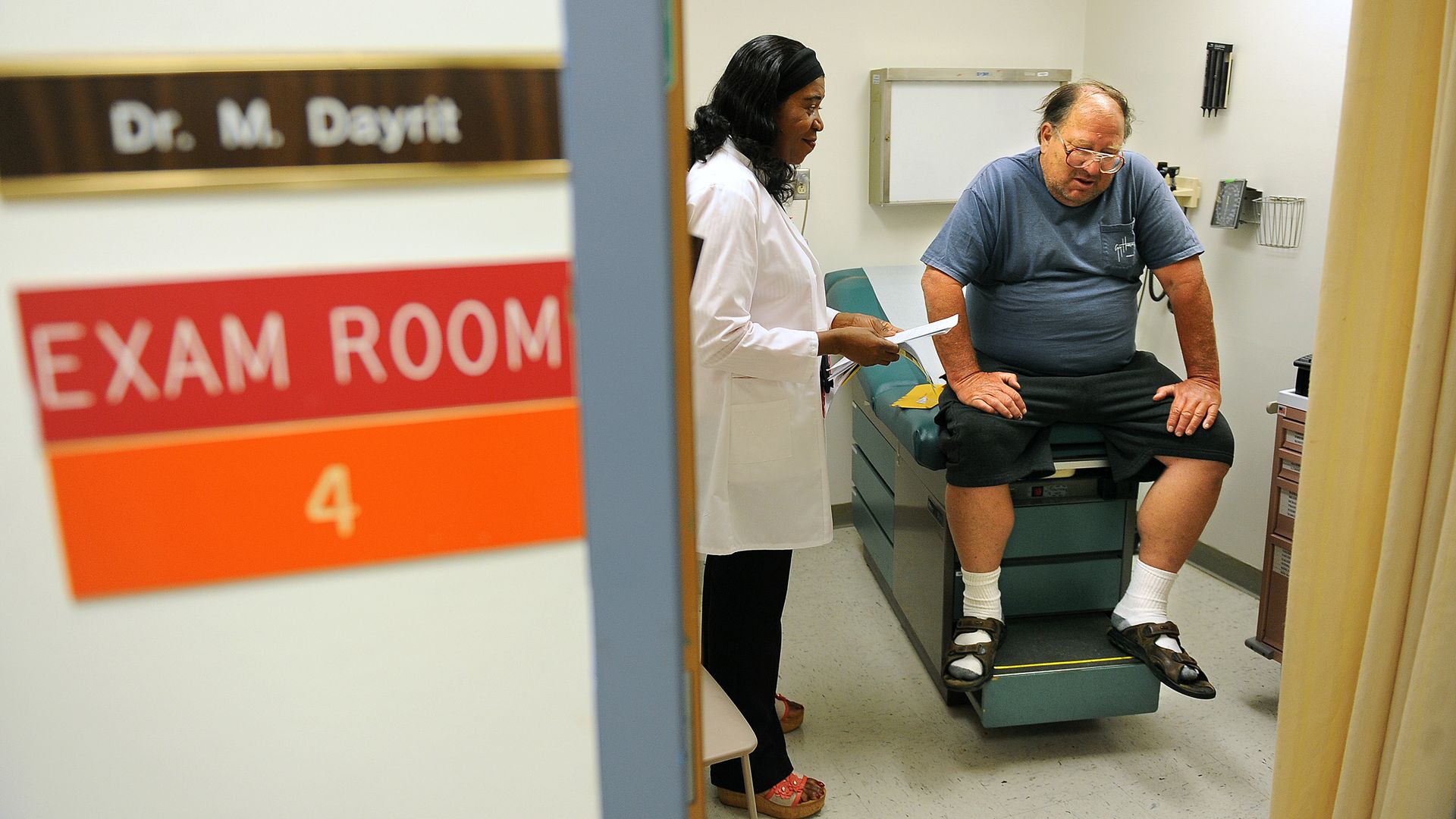 The Trump administration and Republican governors are quietly but effectively chipping away at Medicaid, erecting both hard limits and practical barriers to coverage that will almost certainly cut the program's rolls, and pulling it in a substantially more conservative direction.
Why it matters: Medicaid is the biggest insurance program in the country, covering more than 70 million people. It's undergoing a substantial reinvention without any action from Congress, relying on a set of policy tools and legal authorities that have never before been used in quite the same way.
How it works: Medicaid is a joint state-federal program, and it's long included a process that allows states to seek waivers from certain federal requirements. Republican governors, with an open invitation from the federal Centers for Medicare & Medicaid Services, have turned to that process to limit Medicaid in new ways.
The highest-profile change so far has been to add work requirements to state Medicaid programs, a push led by Kentucky and Indiana. With some exceptions, Medicaid recipients in those states will have to spend a certain number of hours each week on work, work training or community service, or they'll lose their coverage.
Nine states have been allowed to add or increase premiums for Medicaid coverage. Kentucky's can be as high as 4% of a recipient's income.
These waivers are also imposing new procedural obstacles, requiring enrollees not only to meet the paperwork requirements to prove that they work or meet other conditions, but also enforcing strict lockouts for people who don't make those showings, and requiring even more paperwork to restart lapsed coverage.
One big difference: Past administrations — including the Obama administration — had used the same waiver process to let states attach some strings to their Medicaid programs, but always in tandem with some sort of coverage expansion.
The Obama administration drew a hard line at work requirements, but had been pretty willing to sign off on other conservative changes as a way to help bring red states into the Affordable Care Act's Medicaid expansion.
"Really, there are a number of states that are looking to impose some of these policies to non-expansion populations," said Robin Rudowitz, a Medicaid expert at the Kaiser Family Foundation.
What's next: This trend — using waivers to pull Medicaid to the right and trim its rolls — is just beginning. CMS is still reviewing more applications to add work requirements to the program, but CMS Administrator Seema Verma has said explicitly that she wants to approve those waivers whenever she can.
A few states have also asked for permission to put a lifetime limit on Medicaid benefits, capping the number of months a person could be covered under the program.
Others have sought to only partially expand their Medicaid programs while receiving federal funding as if they had fully expanded. The Obama administration said no to that; we'll see what the Trump administration does.
The impact: Some of these changes may not seem especially dramatic in isolation: Most of the people affected by work requirements are already working. Newly approved Medicaid premiums are a lot smaller than what you'd have to pay for private insurance. Lockout periods and verification rules are familiar means of enforcement.
But these policies aren't happening in isolation. They're all happening together, in the same states, to the same people. These governors and their critics both say these policies will shrink the Medicaid rolls by tens of thousands of people.
The bottom line: It's a matter of opinion whether this is a multi-pronged attack on Medicaid or simply a cohesive and fully transparent effort to restore it to its roots as a safety net primarily for children and the disabled. Either way, it's working.
"I do think that this is the crux of, what is the basic purpose of the program?" Rudowitz said.
Sign up for Axios newsletters to get our smart brevity delivered to your inbox every morning. 
Go deeper