FCC chairman slams Trump team's proposal to nationalize 5G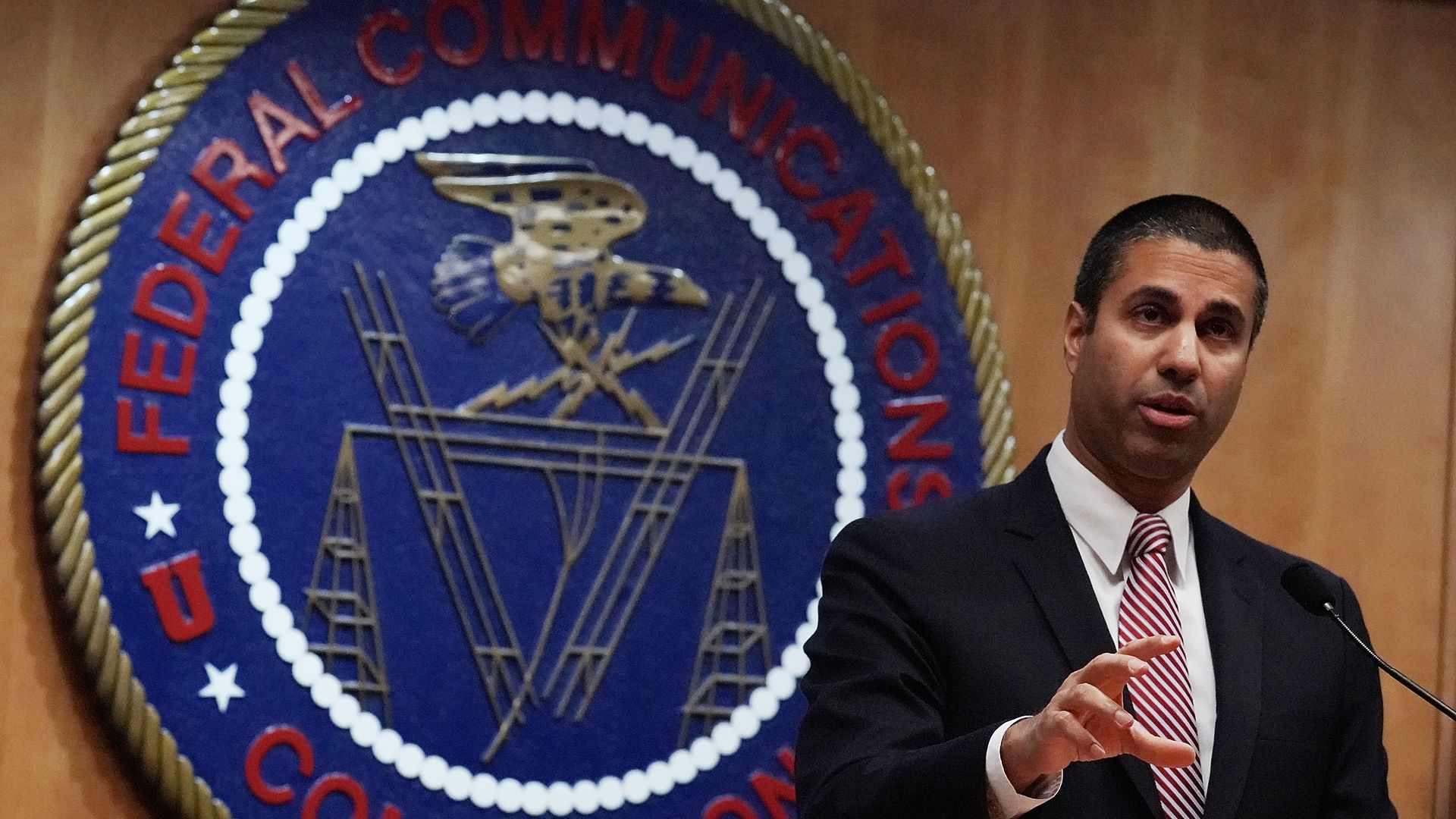 The Federal Communications Commission's Republican chairman on Monday opposed a plan under consideration by the Trump White House to build a 5G mobile network, nationalizing what has long been the role of private wireless carriers like AT&T and Verizon. "I oppose any proposal for the federal government to build and operate a nationwide 5G network," said Chairman Ajit Pai.
Why it matters: The FCC's reaction doesn't bode well for the proposal the Trump administration is considering, first reported by Axios on Sunday night, since it's one of the main government agencies when it comes to wireless issues.
The details:
"I oppose any proposal for the federal government to build and operate a nationwide 5G network. The main lesson to draw from the wireless sector's development over the past three decades—including American leadership in 4G—is that the market, not government, is best positioned to drive innovation and investment," Pai said in a statement. "Any federal effort to construct a nationalized 5G network would be a costly and counterproductive distraction from the policies we need to help the United States win the 5G future."
He was joined by another Republican FCC commissioner. "I've seen lead balloons tried in D.C. before but this is like a balloon made out of a Ford Pinto," said Michael O'Rielly in a separate statement. "If accurate, the Axios story suggests options that may be under consideration by the Administration that are nonsensical and do not recognize the current marketplace."
Brendan Carr, another Republican on the commission, said in a statement that any "suggestion that the federal government should build and operate a nationwide 5G network is a non-starter." Jessica Rosenworcel, one of the commission's two Democrats, also criticized the proposal in a tweet.
" A network built by the federal government, I fear, does not leverage the best approach needed for our nation to win the 5G race," said Mignon Clyburn, the other Democratic commissioner.
David Redl, the top Commerce Department official on spectrum issues, declined to comment when approached by reporters at a conference on Monday morning.
The statements follow skeptical comments from the wireless industry. "The government should pursue the free market policies that enabled the U.S. wireless industry to win the race to 4G," said Meredith Attwell Baker, the CEO of trade group CTIA.
Go deeper: The questions and concerns raised by nationalizing a portion of the 5G network
This story was updated to add Michael O'Rielly's statement. A second update added David Redl's reaction. A third update added references to statements from Brendan Carr and Jessica Rosenworcel. The post was updated a fourth time to reflect Mignon Clyburn's statement.
Go deeper