Investing like it's 1999: Inside BP's return to renewables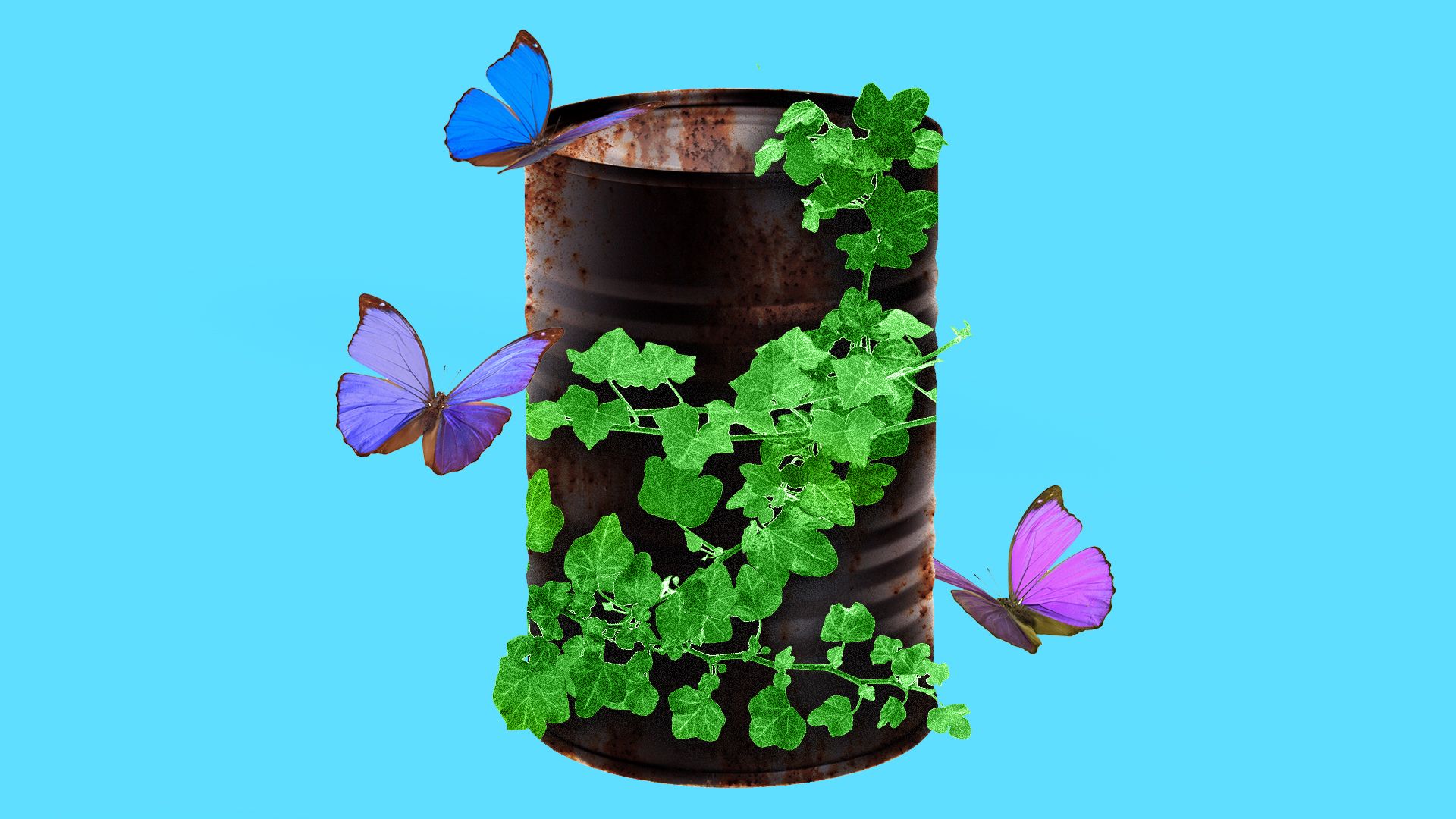 After investing billions of dollars into renewables 20 years ago and then mostly bailing after big losses, oil giant BP is ramping back up in this space.
Why it matters: BP's new moves are one of the most concrete signs the world's biggest oil companies are slowly investing more in greener businesses, driven by a handful of market and policy trends. The investments represent just a drop in the bucket of the oil producers' businesses, but they're nonetheless happening despite President Trump's agenda.
Behind the scenes: In an exclusive, wide-ranging interview with Axios earlier this month in Washington, BP CEO Bob Dudley talked about the lessons his company learned when it first invested in renewables and why he sees this time as different and lasting.
BP announced its "Beyond Petroleum" campaign and investment strategy almost 20 years ago, pouring nearly $10 billion into solar, wind and other cleaner energy sources. The oil giant faced criticism at the time that it was merely a public relations, greenwashing stunt.
Dudley, who helped lead the strategy at the time, said BP had anticipated governments would implement policies cutting greenhouse gas emissions, which would have supported their investments. That didn't happen, and the company ending up losing most of it and has $2 billion left in renewable-energy assets.
The tens of billions of dollars BP has paid in the aftermath of its 2010 Gulf of Mexico oil spill also dampened those prospects and refocused the company. Dudley became CEO a few months after the well blowout.
I asked him: Were the renewable-energy investments a mistake, or more ill-timed?
"You could say it was a mistake... It was a very expensive strategic decision that turned out not to be right."
— BP
CEO Bob Dudley
BP's new playbook:
Don't expect a big, flashy campaign like Beyond Petroleum. The company is keeping a lower profile in this space compared to its European counterparts,

Royal Dutch Shell

,

Total

and

Statoil

.
The company is making smaller bets, for now anyway. "If someone said here's $10 billion, go invest it in these new energy technologies, for the good of our shareholders we're not confident enough to be able to do that yet," Dudley said.
The company spent about a half a billion dollars on lower carbon technologies last year, Dudley said. That's a small fraction of

its overall annual $16 billion

capital expenditure budget but an increase from recent years.
It's looking to invest in standalone companies that have expertise separate from BP, such as

its recent $200 million investment

in Lightsource, one of Europe's largest solar developers. It also bought

lower carbon biogas assets

in the U.S. last year.
Citing competition with others in the industry, Dudley wouldn't comment about what additional companies BP is looking to invest in. he said he is "enthusiastic" about offshore wind, electric vehicles and more solar.
BP's renewable-energy assets still operating from its Beyond Petroleum days include more than a dozen U.S. wind farms and biofuels in Brazil. BP bills this as the largest renewable-energy operations of any global oil company.
BP doesn't have any sort of overarching target to cut its greenhouse gas emissions or invest a certain portion of its capital into lower carbon technologies, like Shell, Total and Statoil do, for example.
"They don't have a goal that they can be held accountable against," said Andrew Logan, who directs the oil and natural gas program at Ceres, a group that urges more sustainable investments. "It's all opportunistic, ad hoc and held closely to the chest. I don't think that's enough."
BP is poised to act on that front. Noting the company has been building out its low-carbon strategy since fall 2016, spokesman Geoff Morrell said: "Informed by all that, we are now able to set meaningful and credible targets, and we anticipate sharing them publicly soon." One likely time for its release would be BP's sustainability report this spring.
All major oil companies, including BP, always face criticism from some environmentalists who view them only as part of the problem of climate change and not also the solution.
The argument goes that their investments aren't nearly enough, their fossil-fuel products have been driving the problem and they haven't pushed for policies to address it. Dudley argues that BP has supported a price on carbon emissions for several years and can't drive national energy policy anywhere.
"We're not government," Dudley said. "We have got to make a reasonable return on investment for shareholders or guess what, we won't be around."
The world's appetite to cut greenhouse gas emissions is more enduring than two decades ago, said Dudley, citing the Paris climate deal and policies in China and India.
I asked: If BP was too early last time, are you worried you'll be too late this time?
"As I tell our employees and the board, don't worry about it. The best thing we can do is get a balance sheet that's strong," Dudley said. "At the right moment, if and when it makes sense, we'll be in a position to make a big bet."
Go deeper