Three things with Senator Lisa Murkowski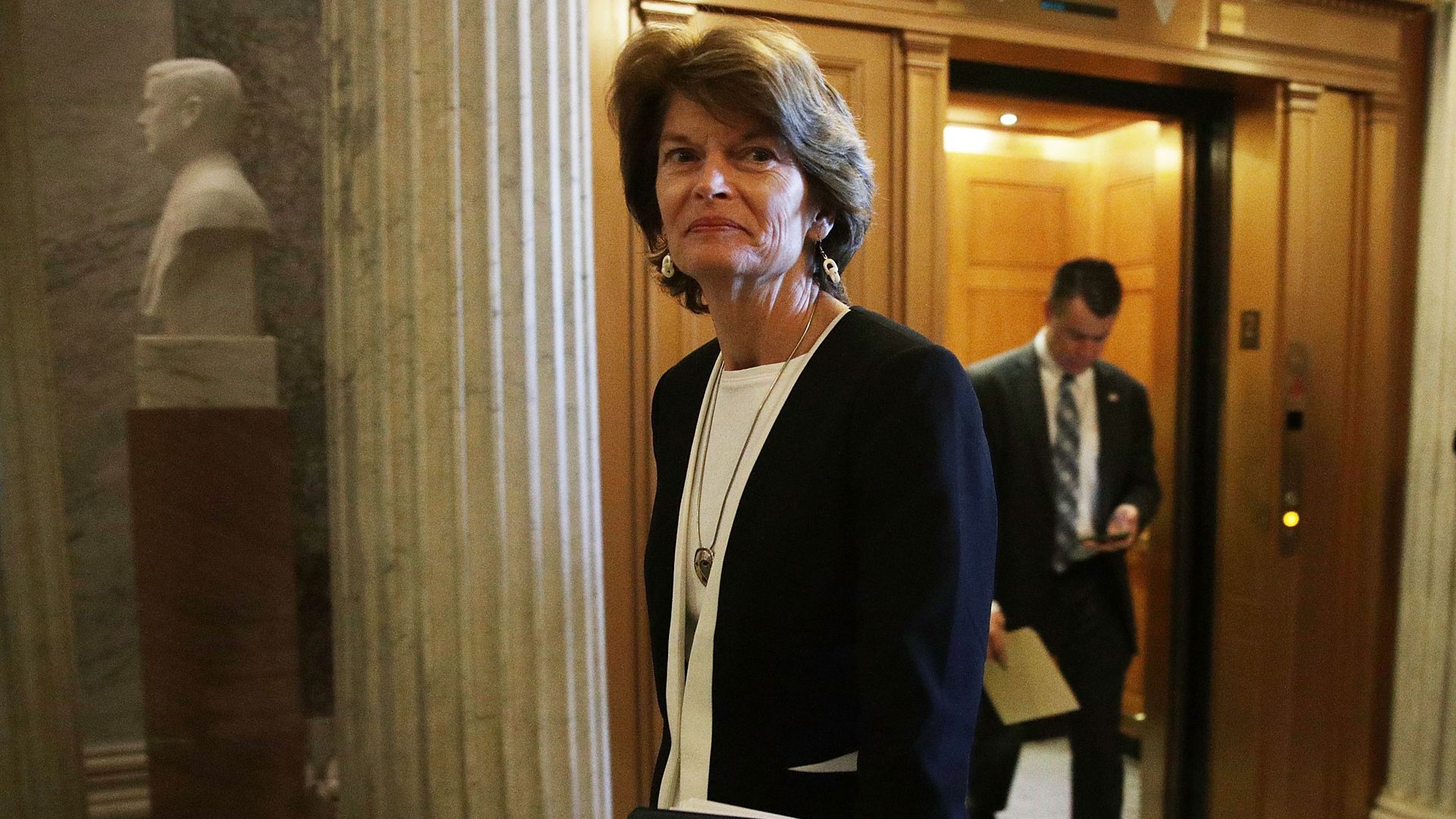 The GOP chairwoman of the Energy and Natural Resources Committee, Alaska Sen. Lisa Murkowski, answered a few questions after a hearing yesterday on advanced vehicle technologies.
EVs and infrastructure: Murkowski is open to having electric vehicle (EV) charging infrastructure be included in some fashion in the wider infrastructure package that the White House wants Congress to pass, perhaps via some form of incentives.
Why it matters: A build-out of charging networks to ensure drivers are confident that they can replenish their batteries is one piece of the puzzle for expansion of EVs, which are now a tiny fraction of the global vehicle fleet.
Murkowski said it's important to avoid building only infrastructure that suits today's needs.
"I think we need to be thinking about: where is the transportation fleet, where are we going, and let's build to that. We have got to skate to the puck," Murkowski told a couple of reporters on the sidelines of the Washington Auto Show, where the hearing was held.
"I think that can clearly be part of the conversation and the discussion," she said broadly of a role for EV charging in the infrastructure bill.
* * *
EVs and King Cove: Alaska lawmakers recently scored a win after Trump's Interior Department, reversing an Obama-era decision, struck a deal that will enable a 12-mile road from the remote village of King Cove through the Izembek National Wildlife Refuge to reach the town of Cold Bay.
Murkowski said yesterday that on the heels of that decision, she's going to push for EV charging in the small village, noting it's a good fit because gasoline is very expensive there, the power system is hydro-based, and there are few vehicles.
"I am going to start advocating with the mayor there that we have an electric vehicle charging station and we will start getting some electric vehicles there," she said.
More broadly, Murkowski said EVs would work well in multiple small communities in southeast Alaska.
* * *
ANWR: The new law opening a portion of the Arctic National Wildlife Refuge (ANWR) to oil exploration, which was part of the tax overhaul package, requires the first lease sale to occur within four years. Murkowski said that while she would prefer to the first sale "sooner rather than later," the most important thing is ensuring Interior's action is hardened against the inevitable litigation.
"As much as I want an expeditious process, I also want the department to make sure that what they are putting together withstands any scrutiny, including legal scrutiny," Murkowski said, adding that she has spoken with Interior Deputy Secretary David Bernhardt about it and they're on the same page.
Thought bubble: This seems obvious, but: given that Interior Secretary Ryan Zinke created a messy situation with his abrupt announcement that Florida was off the table for offshore leasing, not to mention the Trump administration's messy rollout of multiple policies, nothing can be taken for granted.
Go deeper