Saudi and Russia energy chiefs downplay U.S. shale threat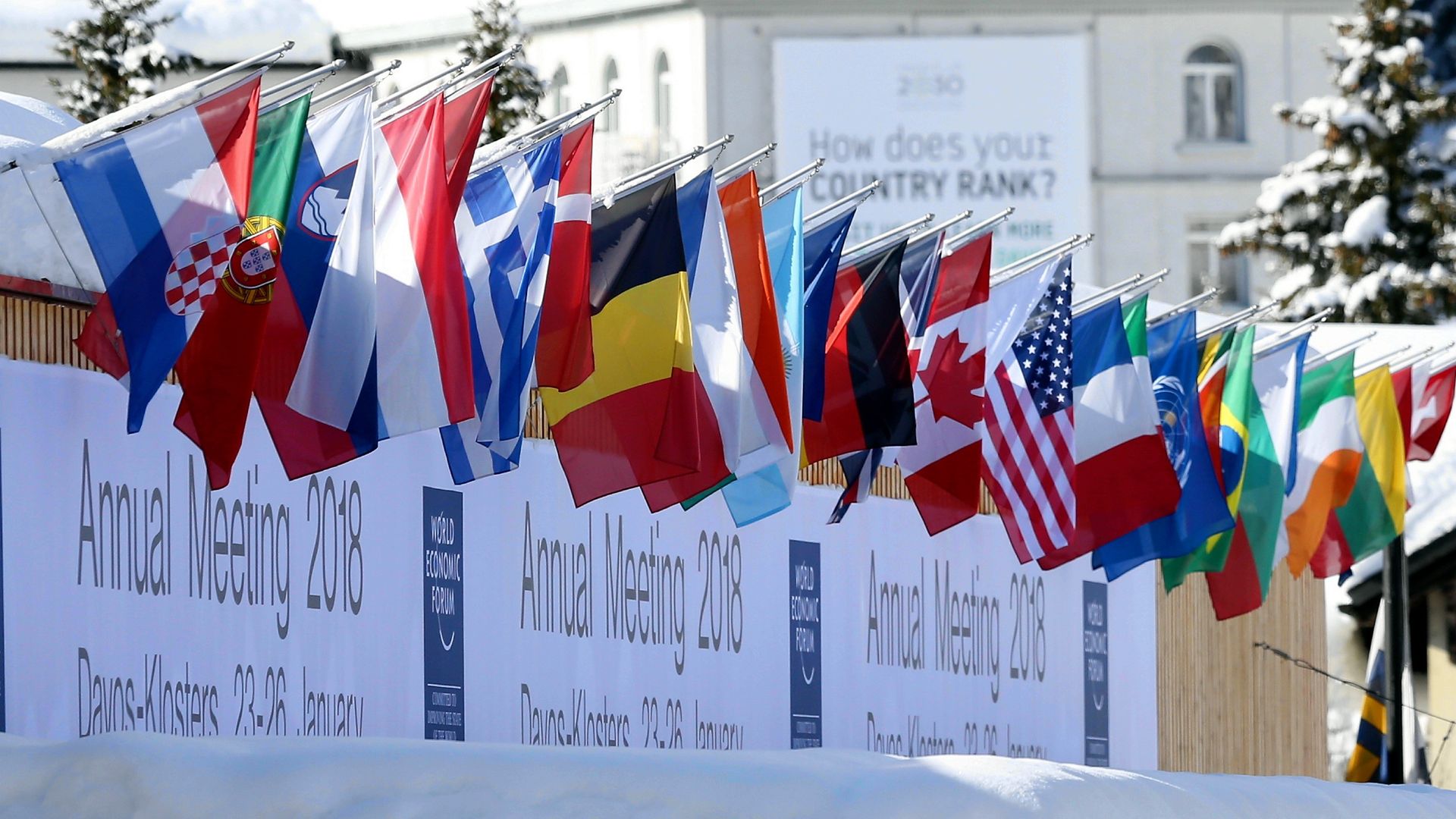 Energy ministers from Saudi Arabia and Russia, seated next to U.S. Energy Secretary Rick Perry on a panel at the World Economic Forum, on Wednesday downplayed the impact of surging U.S. oil production on the global crude market.
Why it matters: The U.S. boom has forced petro-states including Saudi Arabia and Russia to recalibrate their strategies and restrict output to try and tame the global glut that caused prices to collapse in 2014. OPEC and Russia are part of a production-limiting deal that's slated to run through 2018.
But the remarks in Davos signal how the two massive producers are seeking to show that the U.S. is not a long-term threat to their stature, remarks that in the Saudi's case come as they're planning for the IPO of state oil giant Aramco.
"In the overall global supply-demand picture, it is not going to wreck the train. We should not be scared."
— Saudi Arabia energy minister Khalid al-Falih
"We should not be afraid of shale oil production in general."
— Russia energy minister Alexander Novak, speaking on the same panel
By the numbers: On Wednesday the U.S. Energy Information Administration reported that U.S. production reached an average of 9.88 million barrels per day in the week ending Jan. 19.
The U.S. is expected to easily surpass 10 million barrels per day and reach record production later this year on the strength of rising output from shale plays that's now over 6 million daily barrels.
On the record: Al-Falih noted that the U.S. production is now around where it was in the early 1970s when the overall global market was much smaller.
"For the U.S. to regain and even to exceed some of its market share in a much bigger market doesn't necessarily present a threat to other producers," he said. Current global crude demand is around 100 million barrels per day, and he predicted it will grow by another 20 million barrels in the next 25 years.
"In the long-term, it is a very healthy market and I think we can accommodate the kind of numbers that are coming out of the U.S.," he said. Al-Falih said that while the U.S. shale boom has been "amazing," he added that there's an "oversized focus" on it in the press.
Novak and al-Falih both emphasized that shale is just a small part of the huge global crude market in which demand is rising and new production is needed to offset declining fields.
While the U.S. has again emerged as a powerful competitor to big petro-states, Perry found himself somewhat in alignment with his peers onstage.
"I don't particularly think it is going to be a spoiler, the American shale production," Perry said, adding that "reforms" happening in Saudi Arabia, Mexico and elsewhere have the potential to "really drive consumption."
Big picture: The International Energy Agency this month said the U.S will surpass Saudi Arabia and challenge Russia as the world's biggest producer over the next year. EIA recently predicted record-setting production that surges past 10 million daily barrels this year and cracks 11 million late next year.
Go deeper: You can watch the whole discussion here.
Go deeper