Doomsday Clock: It's 2 minutes to midnight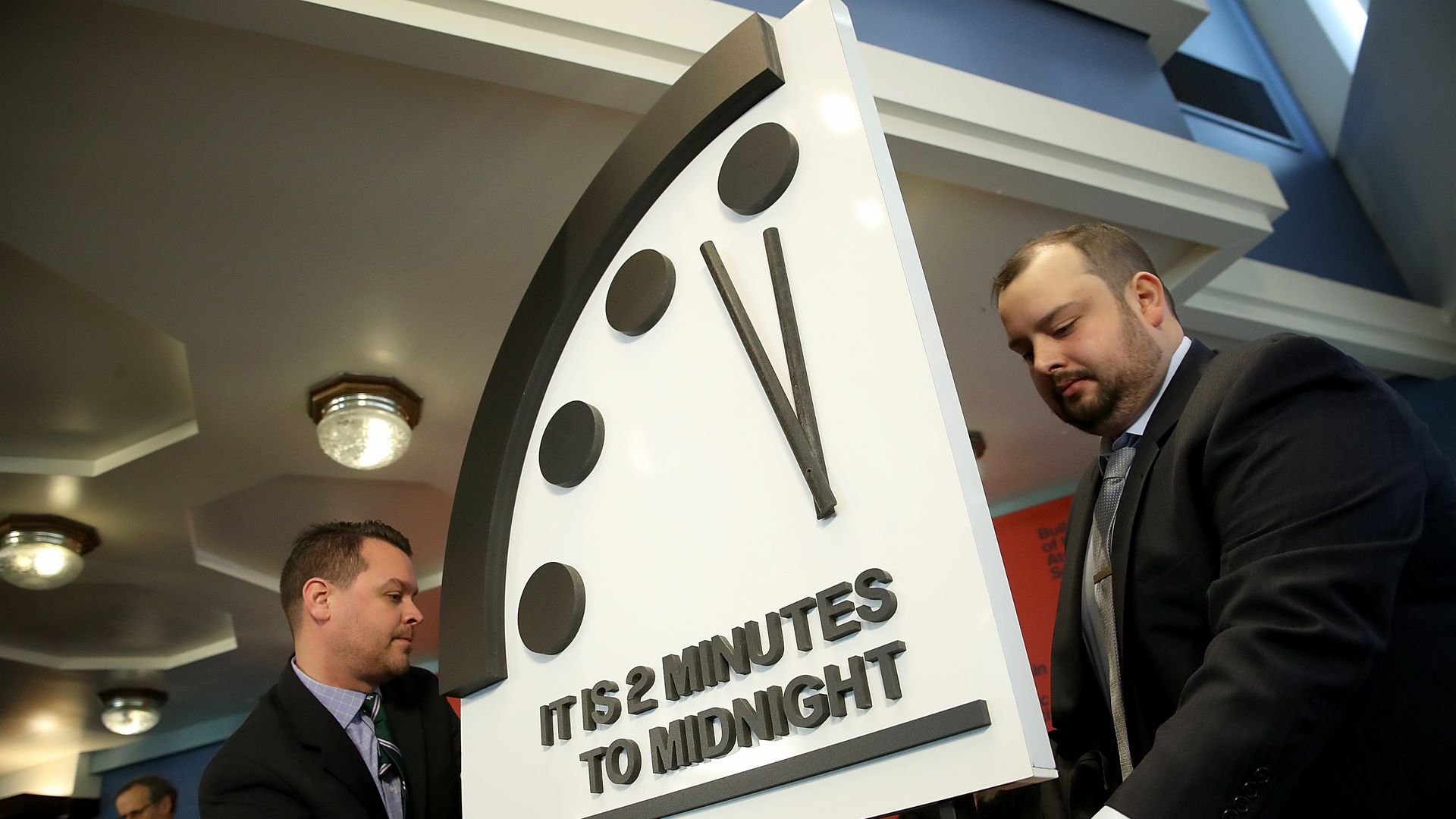 As of 10am this morning, the Doomsday Clock stood at two minutes to midnight. The clock was created by the Bulletin of the Atomic Scientists to illustrate how close humans might be to the end of the world. Originally, it only showed nuclear threats, but in recent years, climate change has moved the clock.
Why it matters: The last time the clock was this close to midnight was in 1953. The U.S. and Soviet Union had just tested hydrogen bombs. These scientists feel the risk of annihilation is as great today as it was then.
Why they moved it: According to the Bulletin, there has been an escalation of nuclear tension as the leaders of the U.S. and North Korea trade insults on Twitter. They also cite a dangerous disregard for climate change reflected in the Trump administration, which has initiated some rollbacks of fossil fuel regulations and dropped out of the Paris climate accord.
"To call the world nuclear situation dire is to understate the danger — and its immediacy," said Bulletin chairs Lawrence Krauss and Robert Rosner in an op-ed published in The Washington Post. An increase in conflict between the U.S. and Russia were also cited.
Others echoed similar concerns: "We have been lucky to avoid conflict through intentional or accidental means, but recent posturing and the false alarms in Hawaii and Japan show our luck is about to run out if we don't move quickly," Beatrice Finn, the executive director of the International Campaign to Abolish Nuclear Weapons, said in a statement.
Notable moments in Doomsday Clock history:
1947, the clock debuts at 7 minutes to midnight, to illustrate how urgent addressing nuclear war would be.
1953, the last time the clock was at 2 minutes to midnight.
1963, 12 minutes to midnight. The U.S. and Soviet Union signed the Partial Treaty Test Ban.
1984, 3 minutes to midnight, tensions between the U.S. and the Soviet Union run high.
1991, 7 minutes to midnight, the Cold War is over and there are hopes for disarmament.
2007, 5 minutes to midnight, for the first time, the Bulletin includes climate change as a reason for moving the hand.
The complete timeline of the Doomsday Clock is here.
The bottom line: The Doomsday Clock is as close as it's ever been to midnight. But it's moved backwards in the past, and it can today as well.
Go deeper