Suing your way to climate action — or not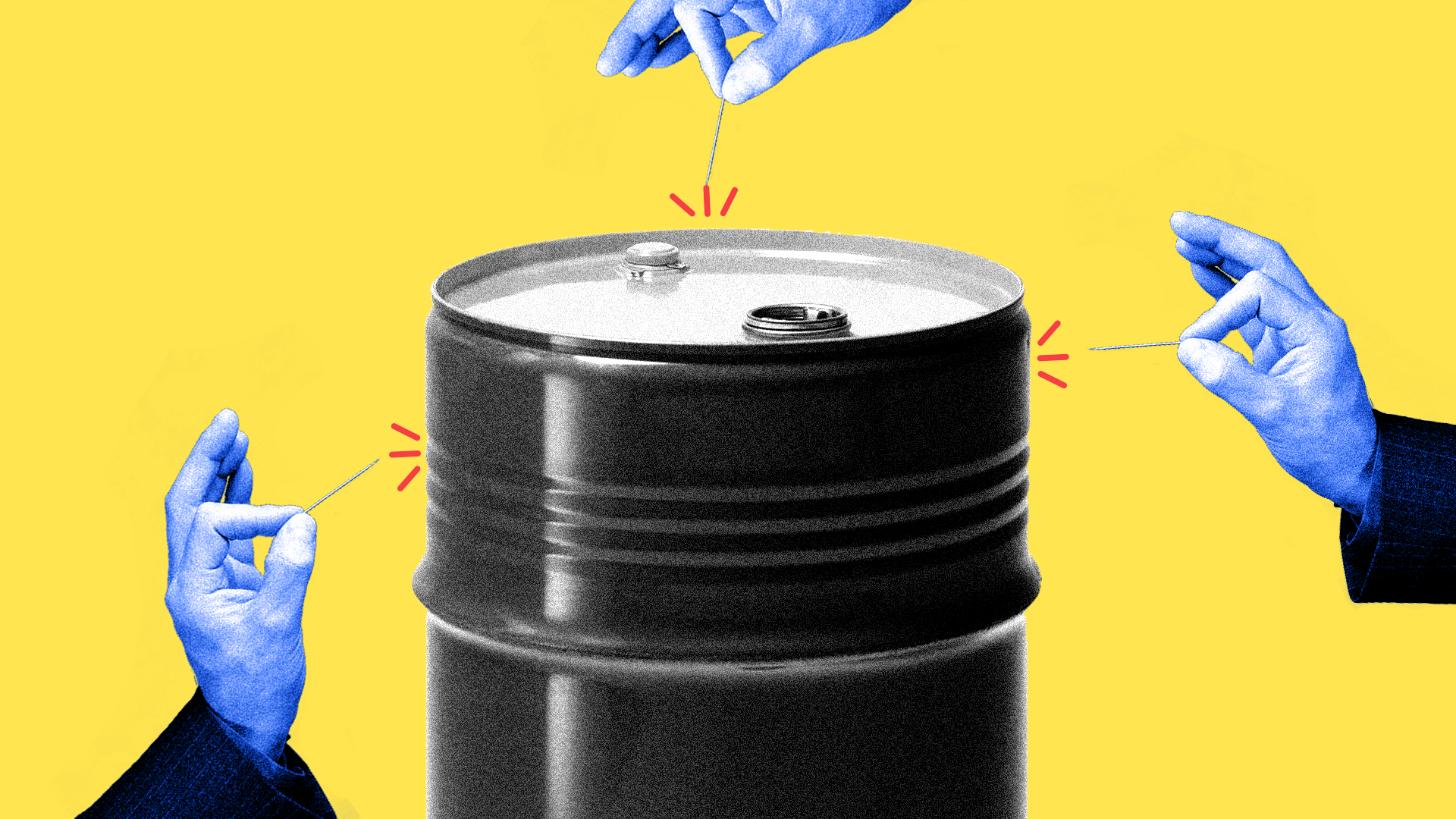 Proponents of acting on climate change are divided over whether lawsuits that New York City and several California municipalities are filing against big oil companies will do anything to tackle the problem.
Bottom line: The contrasting viewpoints illustrate the challenges facing climate proponents. Even among those who agree that climate change must be addressed, big disagreements persist about how to solve it. And this is without the other Herculean task of getting currently elected Republicans to publicly acknowledge the problem at all.
Driving the news: In numerous interviews for my latest Harder Line column this week, some experts said the lawsuits were distracting and far-fetched. Backers of the lawsuits, meanwhile, responded by saying the past is important in dictating future solutions.
Fast facts: New York Mayor Bill De Blasio and others are suing big oil companies, alleging they knew decades ago their products were causing climate change, but concealed that and funded advocacy groups opposing climate policies. Because they knew about the impact and concealed it, the lawsuits allege, they're liable for billions of dollars of damage caused by rising global temperatures.
What we're hearing:
"Fundamentally, solving the climate problem is about looking to the future, not the past," said Jason Grumet, president of the Bipartisan Policy Center, a centrist think tank. "It's hard to see from a climate perspective how these lawsuits help solve the problem." The center gets funding from liberal foundations supporting the lawsuits and also ExxonMobil Corp., the biggest target in those lawsuits and related efforts.
Grumet said he thinks the focus would be better spent pushing companies like Exxon to act consistent with views they're articulating today: Namely, to actually push for a tax on carbon emissions in Washington like they say they publicly support.
"I have not seen Exxon or any other oil company lobby for a carbon price with the same vehemence that I've seen them lobby against other issues in the past," Grumet told me. "That is an important and fair question that is about the future. By focusing so much on the past, we are depriving oxygen from what the real challenges are right now."
Andrew Logan, who directs the oil and gas program at the sustainable investment group Ceres, made a similar point.
"I hope we don't spend the next 10 years mired in litigation," Logan said. "Not that you can't do both. I just see a lot more potential in focusing on where money is being spent today and tomorrow rather than what someone said in an internal memo a couple of decades ago."
The other side:
Carroll Muffett, president and CEO of the nonprofit Center for International Environmental Law, which supports the lawsuits, said that what the companies knew is essential in addressing climate change today.
In response to developments that oil companies are investing more in low-carbon technologies, Muffett responded: "It's useful to hear and I wish them all the best, but that won't excuse them for the responsibility for the crisis that they've helped create."
Michael Burger, executive director of the Sabin Center for Climate Change Law at Columbia University, said all avenues, including litigation, should be pursued.
"The idea these lawsuits are interfering with other efforts ignores reality," said Burger, who added he's uncertain they will succeed. "We are in what some would call a desperate moment, with society continuing along dangerous emissions trajectories. These companies are doing little if anything to significantly right the ship, here."
One more thing: A lack of comment can be telling. Former New York City Mayor Michael Bloomberg, one of the loudest proponents of climate change, chose not to comment about his successor's lawsuit against big oil when Axios inquired.
Go deeper