Scoop: Jeff Sessions urged FBI boss to make a "fresh start"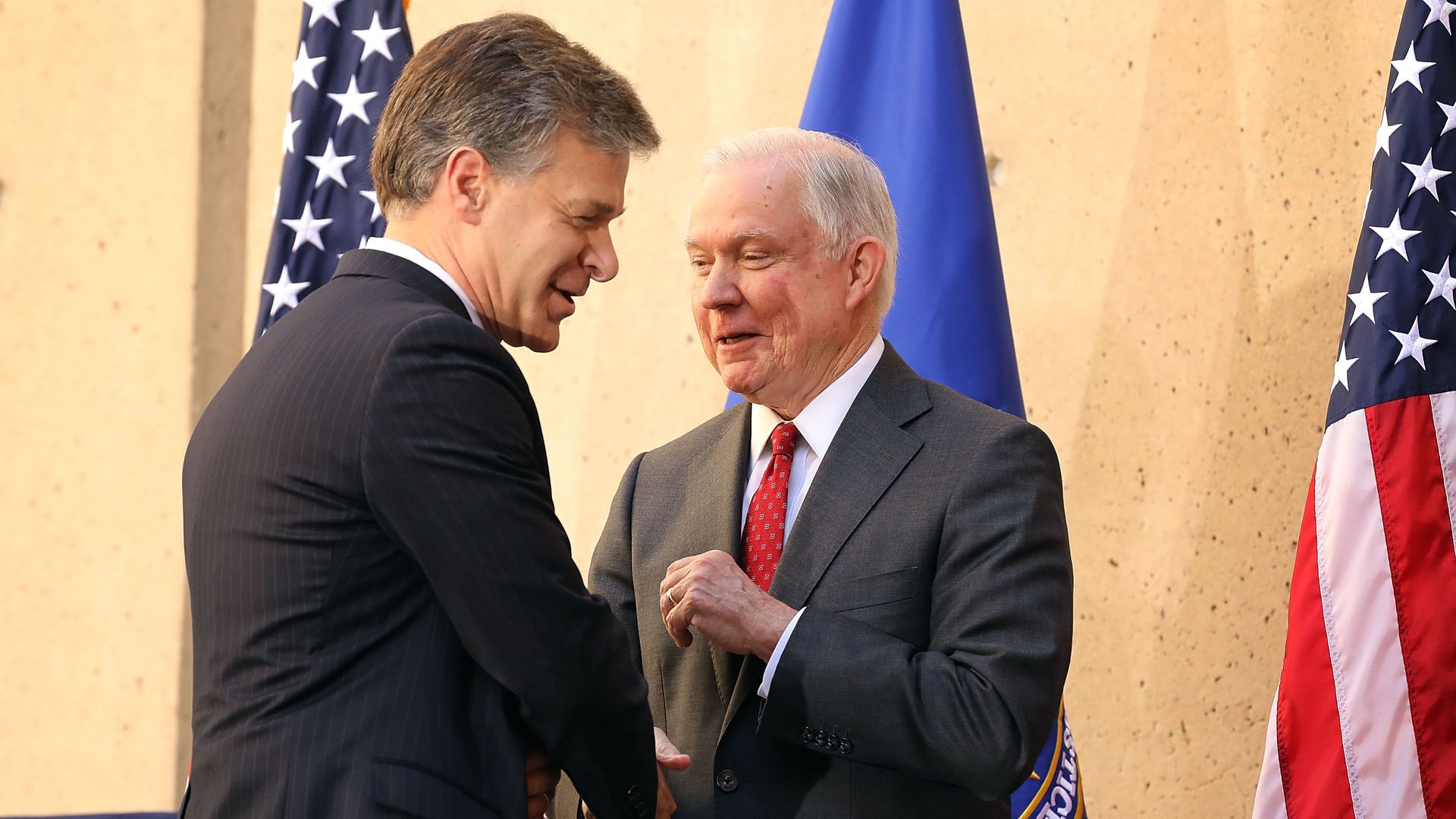 Attorney General Jeff Sessions has adamantly urged FBI Director Christopher Wray to make a "fresh start" with his core team, including replacing deputy director and Trump bête noire Andrew McCabe, according to a senior administration source.
According to this source, and two other sources briefed on the conversations, Sessions has been strongly urging Wray to do this for some time. Another person Sessions thought should be cleared from the core team: the FBI's top lawyer James A. Baker, who was "reassigned" in December.
"The conversations about McCabe and the core team started shortly after Wray was confirmed," said the senior administration source. "They intensified from there." The New York Times — and others — reported in December that McCabe "is expected to retire after he becomes eligible for his pension [in] early [2018]." But senior Justice officials are still not sure what McCabe plans to do.
An FBI spokesman declined to comment when presented with the facts in this story.
Trump and other Republicans have been hammering McCabe for months on Twitter.
On July 26, Trump tweeted: "Why didn't A.G. Sessions replace Acting FBI Director Andrew McCabe, a Comey friend who was in charge of Clinton investigation but got...big dollars ($700,000) for his wife's political run from Hillary Clinton and her representatives. Drain the Swamp!"
Ironically, the White House chose McCabe to be acting director after Trump fired Comey.
McCabe remains at the FBI.
Behind Sessions' conversations: The Justice Department is conducting an investigation into how the FBI under former director James Comey handled the Hillary Clinton email investigation in 2016. There are also ongoing leak investigations, per the same source.
But even without all of these investigations, Sessions believes "Wray should have a fresh start with his own team," according to the senior administration source.
For more great news and analysis in your inbox each day, be sure to sign up for Jonathan Swan's Sneak Peek and Axios' other newsletters.
Go deeper