Gymnastics doctor Larry Nassar faces his victims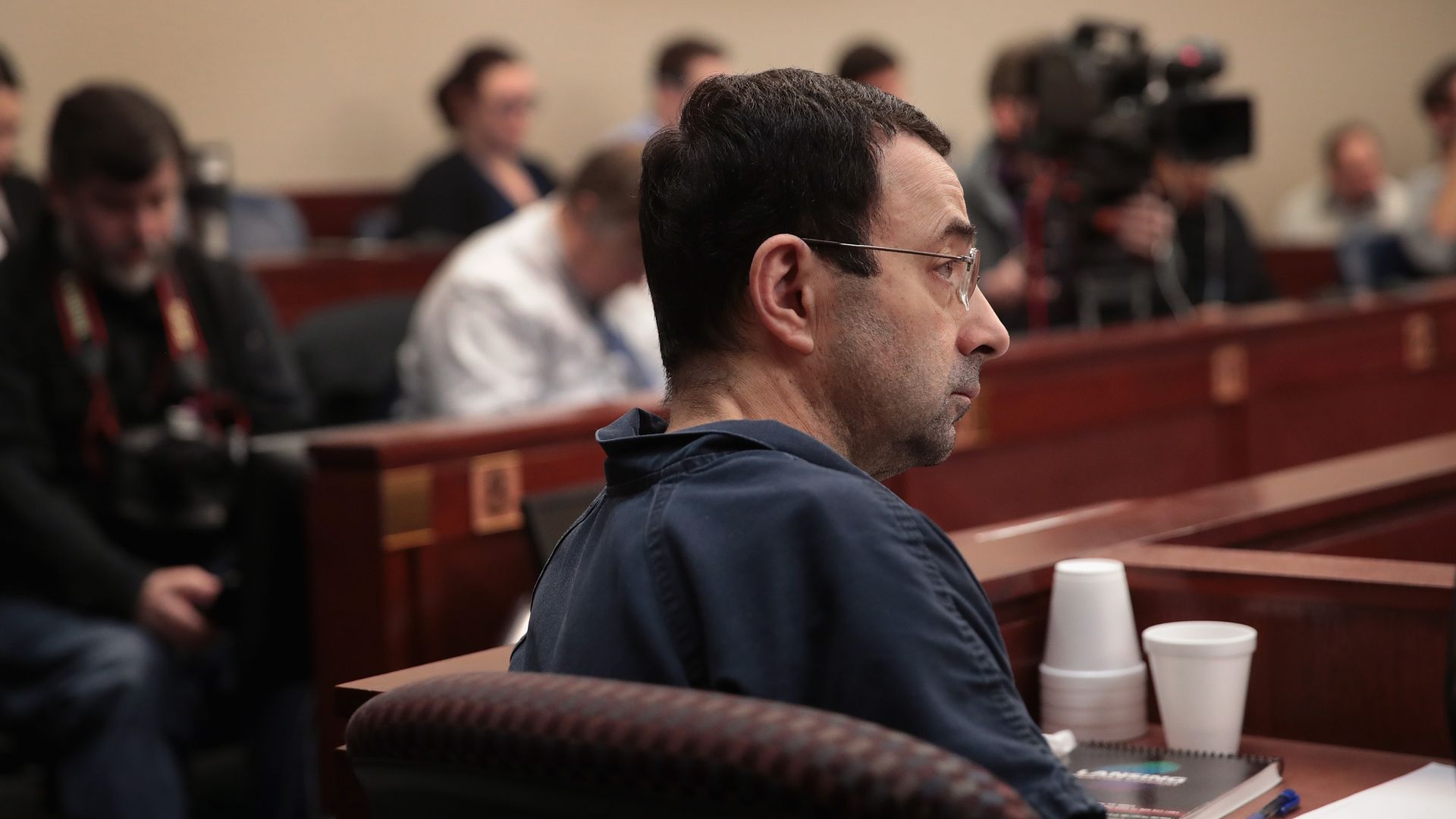 Larry Nassar, former doctor for the USA Gymnastics team and at Michigan State University, has been accused by more than 140 women of sexual harassment and assault.
What's happening: This week, victims are speaking out in court about the trauma Nassar caused them. He pleaded guilty in November to abusing seven girls, and his sentencing hearing began on Tuesday. He has already received 60 years in prison on charges of child pornography. The judge overseeing the case, Rosemarie Aquilina, told victims that Nassar "will wither away."
Victims speak out
Kyle Stephens, who says she was abused by Nassar starting in kindergarten, was the first woman to testify: "I have been coming for you for a long time...I've told counselors your name in hopes they would report you. I've told your name to Child Protective Services twice...You were first arrested on my charges. And now as the only nonmedical victim to come forward, I testify to let the world know you are a repulsive liar."
Gold medal Olympic gymnast Aly Raisman went after the U.S. Olympic Committee and U.S.A. Gymnastics on Friday: "Why have I and others here, probably, not heard anything from the leadership at the U.S.O.C.? Why has the United States Olympic Committee been silent? Why isn't the U.S.O.C. here right now?"
Danielle Moore was being treated by Nassar for a back injury when he began abusing her. She told him in court: "You abused your power, authority and stature to prey on others who were already in pain, helpless and without a voice. I hope that your self-pity is as dark and more terrifying than my feeling of hopelessness."
What officials did (or did not) know
14 Michigan State University officials heard reports of sexual misconduct against Nassar "in the two decades before his arrest," according to The Detroit News.
A spokesman for the Olympic committee, Mark Jones, said the committee "first became aware of the possibility that a physician with the gymnastics federation had been abusing athletes in 2015," the New York Times reports.
Lou Anna Simon, MSU President, was " informed in 2014 that a Title IX complaint and a police report had been filed against an unnamed physician," per the Detroit News.
Former MSU athlete Tiffany Thomas Lopez said she "complained to multiple trainers about how [Nassar] touched her, but no one contacted authorities," per the Washington Post.
Go deeper