The world's fastest growing economy, in one of its poorest nations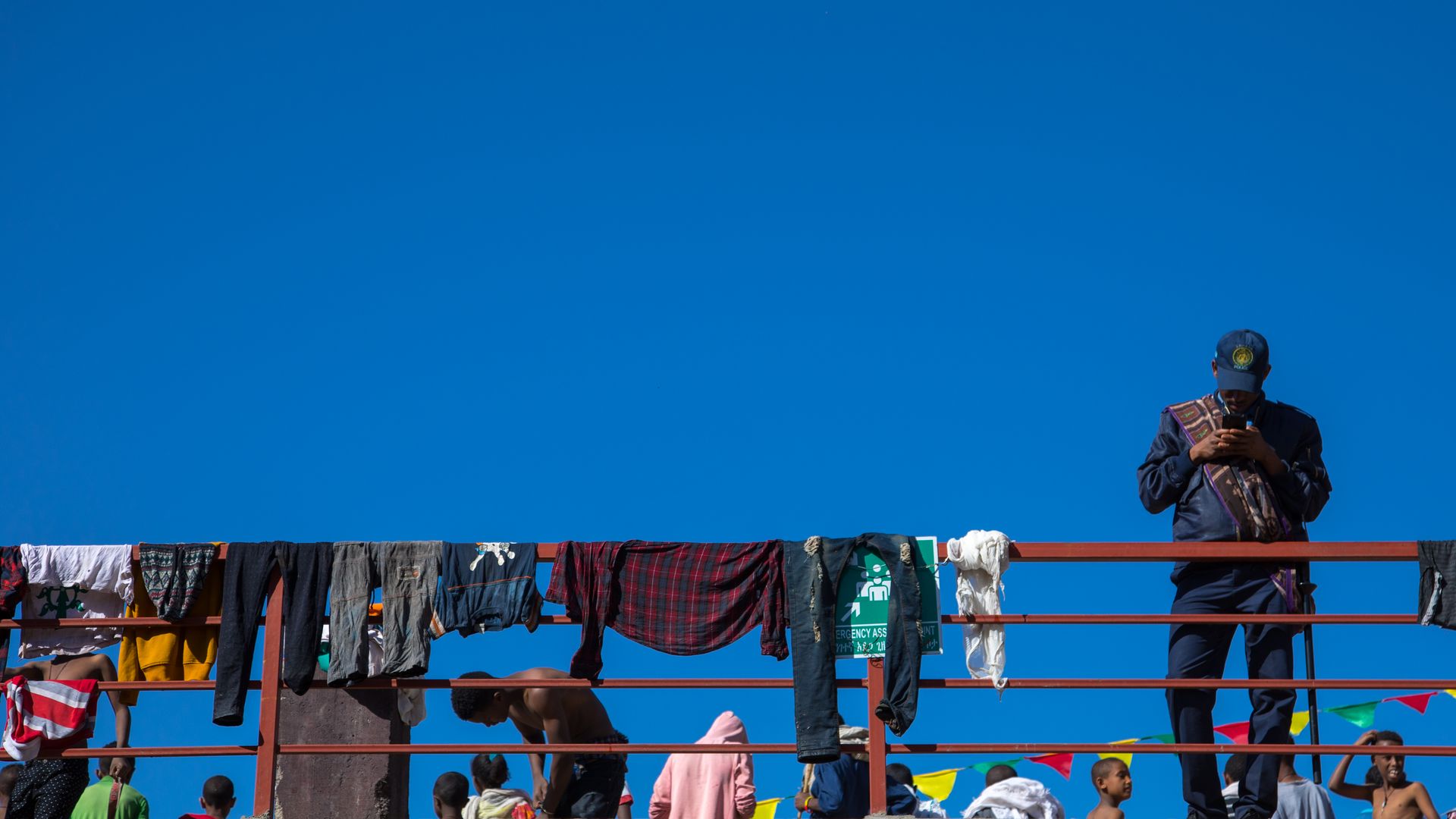 The world's fastest growing economy is not India (6.7% in 2017) or China (6.8%), but Ethiopia, according to a World Bank estimate that puts the East African country's 2017 growth at 8.5% and projects 8.2% growth in 2018, ranking second only to Ghana (8.3%).
The big picture: With 102 million people, Ethiopia is the 2nd most populous country in Africa and the 12th most populous on Earth. It's also one of the world's poorest countries —sitting just above Haiti and below Afghanistan in terms of GDP per capita — and its rapid growth has brought millions out of extreme poverty. But ethnic violence, a government crackdown and high unemployment are putting "one of Africa's brightest success stories" at risk, per Eurasia Group's Signal newsletter.
A sustained boom
The rapid growth isn't new. Ethiopia's economy grew by an average of 10.5%/yr. between 2005 and 2015.
As of 2000, 56% of Ethiopians lived on less than $1.25 per day, the highest rate in the world at that time, per Quartz. That percentage dropped to 31% by 2011 and has continued to fall.
Ten years ago, mobile phones were virtually non-existent in Ethiopia despite being fairly common in some parts of Africa. Now there are 50 cell phones for every 100 Ethiopians — low compared to more developed countries but high when you consider only 24% of the country had access to electricity as of 2013, the most recent available statistics.
Agriculture still dominates the economy, with coffee as the leading export, but half of Ethiopia's GDP growth from 2004 to 2014 "came from services, like hospitality and transportation, which was mostly a result of country's urbanization," per Quartz.
China's Role
When the African Union built its $100 million headquarters in Addis Ababa, Ethiopia's capital, it was funded by the Chinese.
China built Addis Ababa's airport, the ring road around the city and a major highway. China has also invested in energy and rail projects in Ethiopia.
Per a 2010 Irish Times piece: "Besuited Chinese businessmen can be seen discussing deals in Addis hotel lobbies, while engineers and others fresh from working on road and telecommunications projects or building power stations and water supply systems haggle for souvenirs in the city's sprawling Merkato before flying home to Beijing."
Troubling trends
From the Signal newsletter:
"Ethiopia is now burdened with severe wealth inequality, high unemployment, particularly for young people, and deadly ethnic unrest. In response to intensifying protests, the government declared a state of emergency in October 2016 and in the ensuing months arrested 29,000 people, according to the country's defense ministry. The emergency order was lifted in August 2017, but protests have continued."
Go deeper