Scoop: BP CEO in Alaska talking natural-gas exports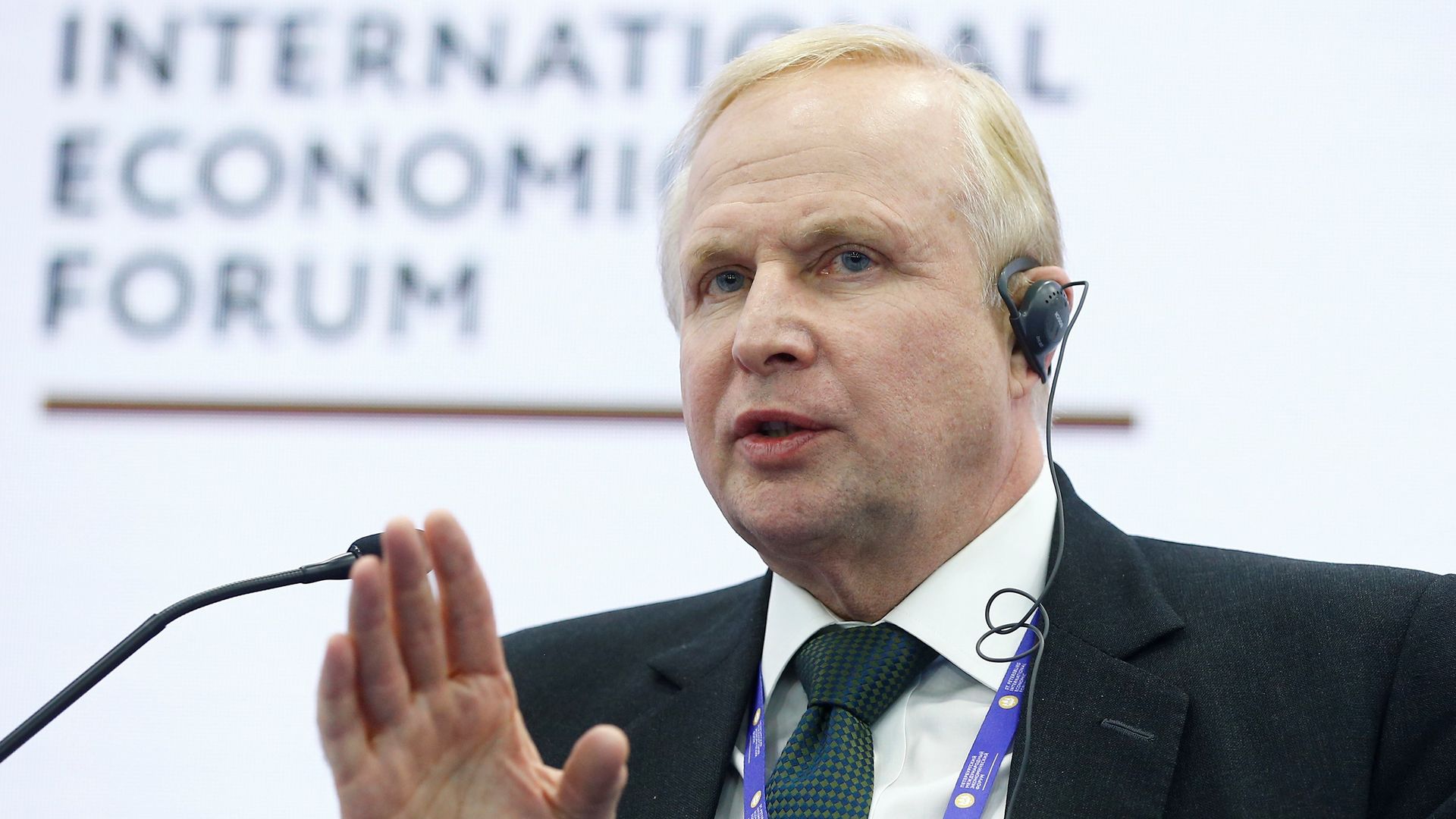 BP CEO Bob Dudley just visited Alaska to discuss with Gov. Bill Walker the producer's potential involvement in a massive liquified natural gas export project there, Dudley told Axios in an exclusive interview this week.
Why it matters: BP's consideration gives potential credence to the $43 billion proposed project, which coincided with President Trump visiting China in November and touting his administration's backing of it. Many analysts doubt the proposal will actually come through, though, given a lack of details and firm commitments at the time of the announcement.
Driving the news: Dudley stopped in Washington this week on his way back to London from Alaska, where he met with Walker, who has been affiliated with both the Independent and Republican parties, and others to discuss BP taking part in the project. BP produces oil in the Prudhoe Bay region, whose natural gas resources could feed the proposed export terminal, Dudley said.
Quoted: "It's a large resource, and the world is going to need natural gas, particularly Asia," Dudley said in an interview over lunch Tuesday in BP's Washington office. "We're exploring with the state ways to make that resource find a market."
Flashback: The state of Alaska, alongside Trump, announced in November a proposed deal where China's biggest state-owned oil company, Sinopec, one of its top banks and sovereign wealth fund would invest billions of dollars to develop a pipeline and export terminal to export U.S. liquified natural gas (LNG) to Asia.
Virtually all American LNG is exported from the U.S. Gulf Coast, and this project would make for a much shorter trip to Asia, a top export destination for American natural gas.
For the record: A spokesman for Walker said the governor is "engaging with stakeholders across Alaska" to help bring the project to fruition. "I had not met the governor before," Dudley told me. "I was impressed."
What else we're hearing: In a separate interview, Charif Souki, considered a pioneer in the natural-gas exporting industry and founder of two companies in this space, expressed skepticism about the project. With a slight eye roll, Souki said: "it's a very, very ambitious project." Souki's company, Tellurian Inc., would be a likely competitor to the Alaskan export terminal.
Here's what else Souki, who decades earlier founded Cheniere Energy, said about the project in our December talk:
"It depends on a lot of moving parts. You have to source the gas, build the pipeline infrastructure and build the liquefaction facility. That's three pieces controlled by three different groups of people."
By the end of his comment, he sounded more optimistic: "It's an attractive project."
More from my interviews with Dudley and Souki
Go deeper