Scoop: BP CEO surprisingly cool to offshore drilling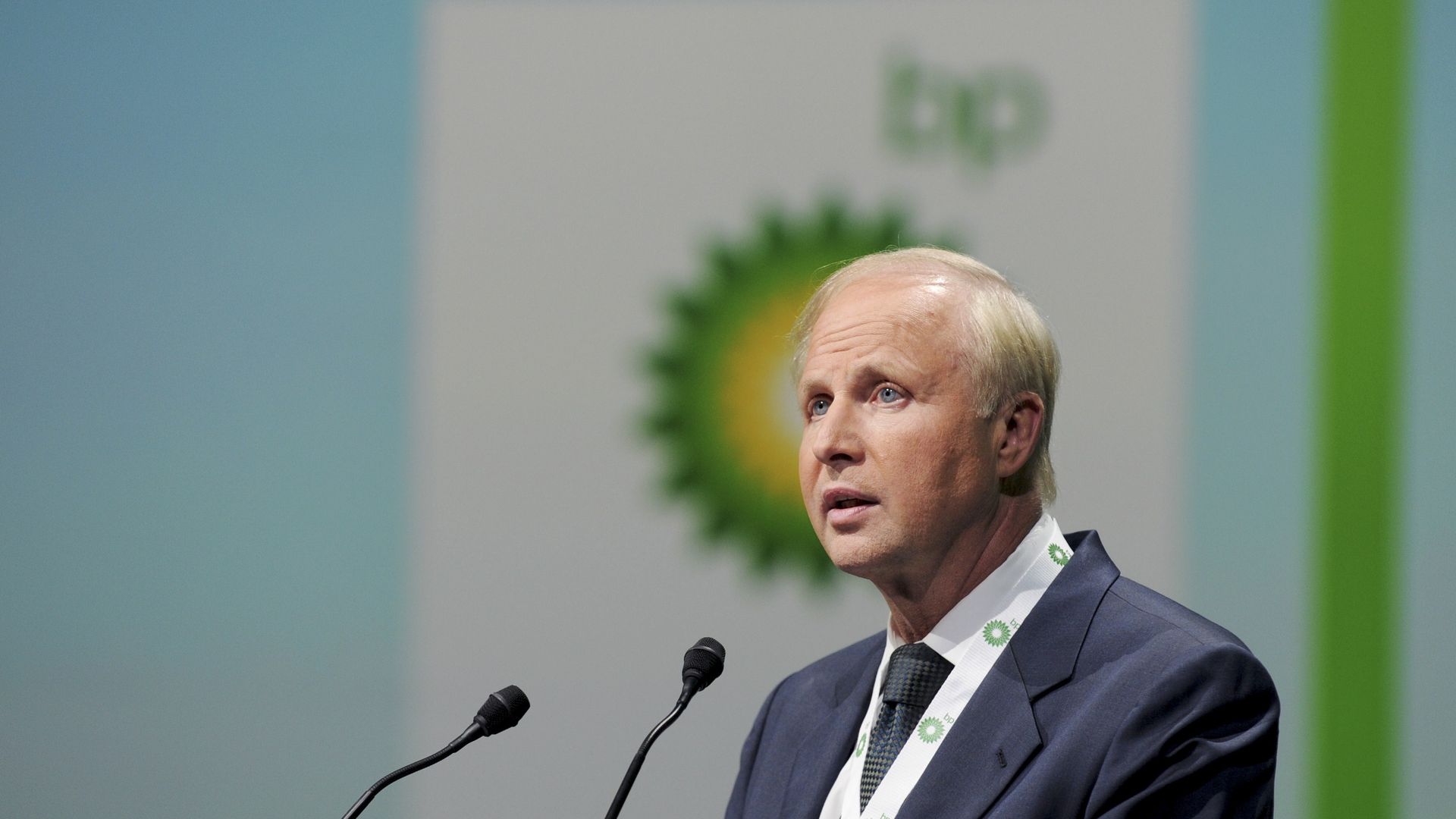 BP CEO Bob Dudley showed a muted appetite for pursuing drilling in new areas off America's coasts in an exclusive interview with Axios this week.
Why it matters: Dudley's comments throw cold water on the idea oil companies are going to jump on drilling new wells off America's coasts in response to the Trump administration proposal to open up almost all federal waters to new leasing. The reality is more complicated — and less compelling — than top administration officials have made it seem as they pursue President Trump's "energy dominance" agenda.
"For us, we've got a very full plate in the United States," Dudley said. "We don't have a plan that says, 'Here's what we're interested in' because we have prioritized a lot of activity, including reducing exploration and the size of the company."
BP has a unique portfolio that's got Dudley cautious about drilling in new areas, including its continued response to its 2010 oil spill that nearly bankrupted the global oil producer and its already big presence in the Western Gulf of Mexico.
But Dudley's caution is likely shared by other major oil companies, analysts say, for a few reasons:
Continued low oil prices, relative to 2014.
Pressure by shareholders to continue keeping costs down even as oil prices have risen in recent days to three-year highs.
Continued focus on onshore shale oil and natural gas, which offer cheaper, quicker ways to produce the fuel.
Political, regulatory and litigation obstacles in new areas, such as off the coasts of Pacific and Atlantic states.
"While oil prices are up, companies will not suddenly forget the hard lessons of cost discipline and a clear portfolio strategy that the low price period left them," said Jamie Webster, senior director for energy at the Boston Consulting Group.
Yes, but: Leasing is not the same as drilling. Companies may still bid for leases even if they have no immediate plans to drill, according to Kevin Book, managing director at independent research firm ClearView Energy Partners. The Interior Department plan released last week is for the years between 2019 and 2024, and a lot can change with oil prices and otherwise between now and then.
Other relevant highlights from our exclusive interview with Dudley:
On BP's interest in drilling in the Arctic National Wildlife Refuge in Alaska, which is now legally allowed after Republicans included a provision in the new tax law: "The honest answer is we don't know … so we and I think most companies have got to have a good hard look in the geology over there."
On BP being in the group of companies that has drilled the only well ever in ANWR: "The results of that well are highly confidential, legally protected … Even I haven't even seen that."
On drilling off the coast of Florida, which was in the original Interior Department plan before being abruptly removed after pressure from the state's Republican governor, Rick Scott: "We would probably not drill within sight of the coast of Florida, most certainly."
Go deeper