Energy pioneer tries to surf the natural-gas wave
America's natural gas industry is riding a political and economic wave it hopes can go all over the world. Much like surfing, it's not easy and won't last forever. Just ask Charif Souki.
Why we can learn from him: Souki, founder of Tellurian Inc., a new Houston-based natural-gas company, is considered a pioneer among his peers and embodies much of the sector's ebbs and flows. "We're riding the wave now if we can figure out how to do it," Souki told me in an interview in the firm's new Washington, D.C. office.
The big picture: The 64-year-old is on the leading edge of an industry going through growing pains as it seeks to stitch together a global market and cement its place as the world's dominant energy source despite economic and environmental concerns.
Flashback:
In 1996 Souki founded Cheniere Energy, which in 2012 was the first company to gain federal approval to export U.S. liquified natural gas, coined LNG. He had earlier bet on importing the fuel, shortly before the U.S. shale gas boom.
Souki was pushed out of Cheniere in 2015 over a disagreement with his board, led by activist investor Carl Icahn, about strategy. (Souki wanted more aggressive, others didn't.)
A few months later he co-founded Tellurian, which means "of the Earth."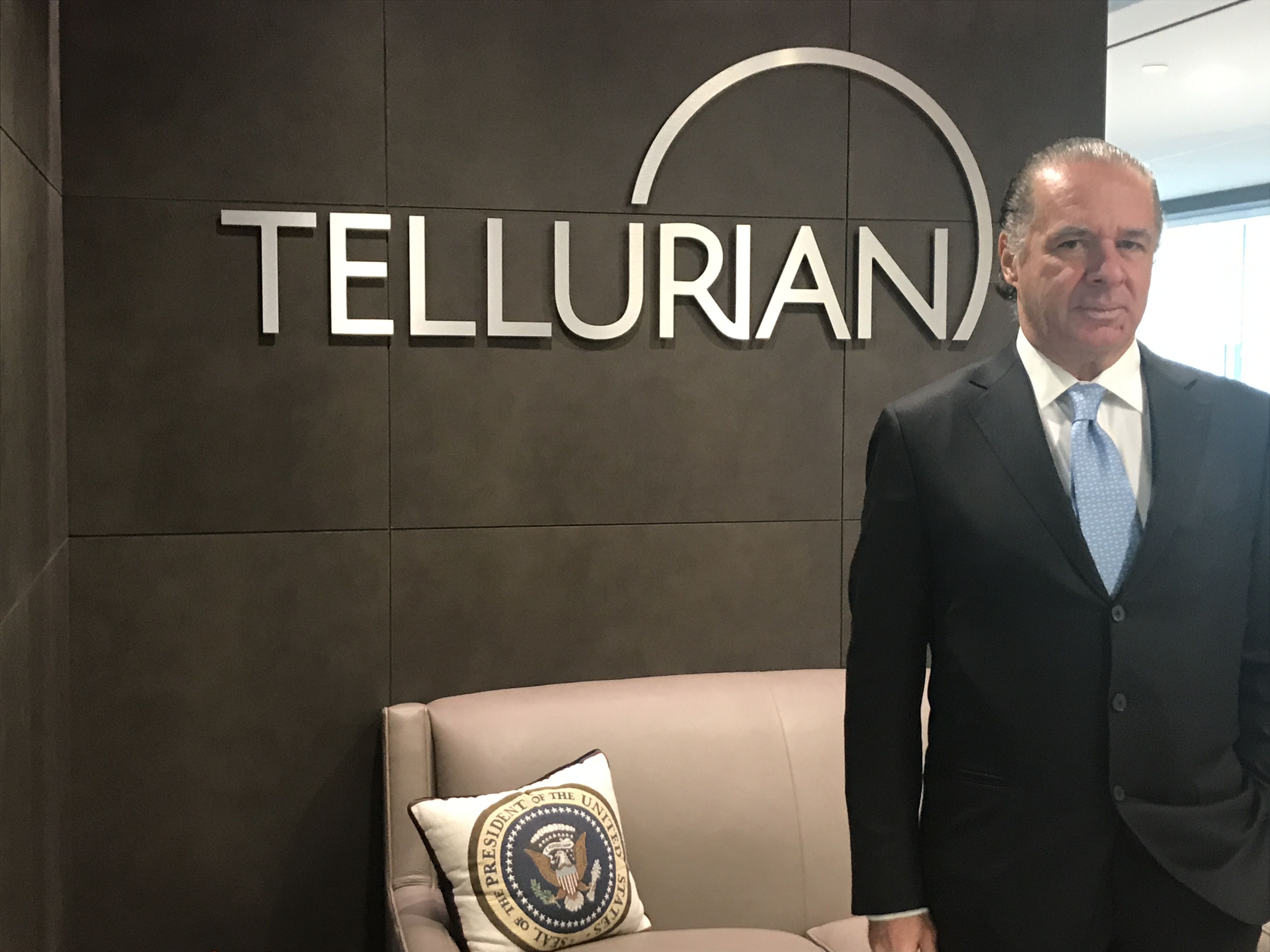 The wave's easier part: politics
Getting political support is the easier part right now in Washington. President Trump is making natural-gas exports a cornerstone of his energy agenda and his default environmental policy because the fuel is cleaner than coal and oil. The Obama administration more quietly supported gas for similar reasons.
"The only difference between the two administrations is one brags about it and one didn't," said Souki, whose firm opened its D.C. office shortly before Thanksgiving.
The wave's harder parts: economics and environmental
It's a goldilocks problem. Companies want high enough prices to make money, but if it's too high, demand goes down. Many analysts predict a glut of natural gas through the early 2020s, which is one reason the industry is working to increase demand around the world.
"I don't really want to have $15 prices again and everybody screaming and demand disappearing," Souki said. "I would much prefer something that is less volatile and more predictable so we can evolve into a business model that's financeable."
Growing pains
Natural-gas markets are transforming from separate regional systems to a global one. Liquefying gas, whose default state is invisible, enables it to be shipped all over the world. Today's market is a messy mix of set contracts of varying lengths and one-off purchases like how oil is traded.
"How you price a contract today is in question," Souki said. "It's very hard to get a buyer and a seller who want to do business together to agree on a pricing mechanism."
Tellurian is working to build an export terminal in Louisiana backed by its own gas resources and pipelines that allows partners to gain equity, a business model it hopes can ensure cheaper prices than competitors. It's projected to begin operating early 2023.
The company is talking to dozens of potential partners, including Saudi Aramco, Saudi Arabia's state-owned oil firm and Chinese and Japanese companies, according to a person familiar with the matter. A Tellurian spokesman declined to comment on commercial discussions.
Environmental concerns
Natural gas emits far less carbon emissions and other air pollutants than coal or oil. But its primary component — methane — is another powerful greenhouse gas that companies sometimes emit when producing and transporting gas.
Souki dismisses concerns about methane emissions, but he also supports a $40 carbon tax.
"I'm a very simple man. You have a problem, address it, and the best way to address it is put a cost on what the issue is," Souki said. "In the short-term, gas will benefit because it's better than coal."
The Trump administration doesn't think it needs to address climate change. Souki isn't pushing it.
"We have a place where our interests converge, which is fine," Souki said. "I want to export LNG and they're in agreement this would be a good thing. Let's leave it at that."
Meg Gentle, Tellurian's president and CEO, told me in another interview last year the company's long-term plans may go beyond gas.
"For now, we're completely focused on building a global gas business, but for a 20-year horizon, our priority is to provide clean energy," Gentle said. "As the different environmentally friendly technologies are further developed, will we be able to play a role in that? I'd be enthusiastic to say yes."
"She's much younger than me," Souki said when I relayed that comment. "If I was a younger man today, I would be thinking, 'where are the energy sources of the future?' "
Souki turns 65 next week.
Go deeper