Trump: the media would "let me win" to protect its ratings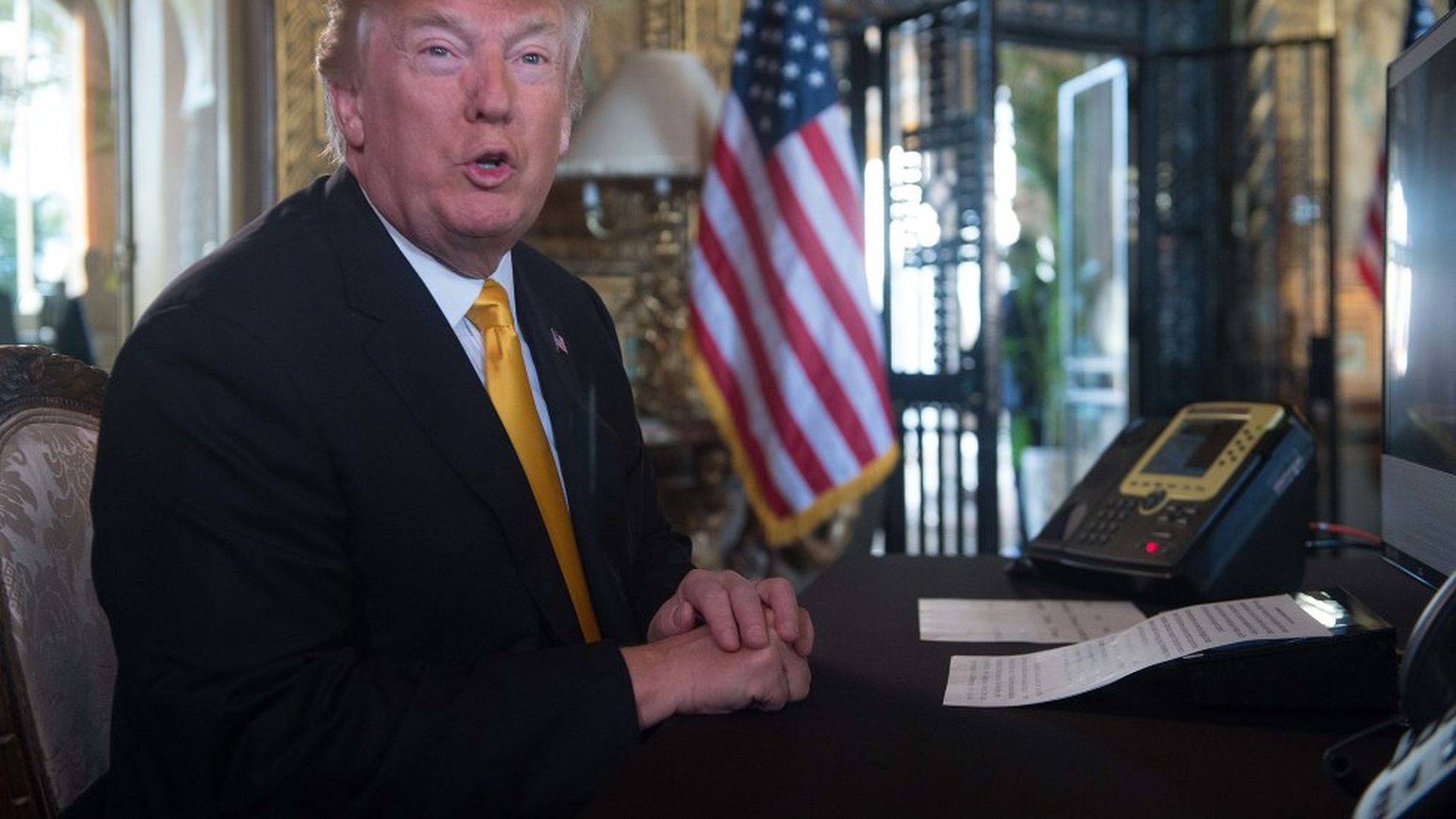 President Trump told the NY Times' Michael Schmidt that he expects Robert Mueller to treat him fairly, but that the investigation "makes the country look very bad, and it puts the country in a very bad position." Trump also claimed 16 times that Mueller had found "no collusion" between his campaign and Russia.
In an interview at the restaurant of his Palm Beach golf club that will create buzz on multiple fronts, Trump claimed to be more knowledgable about "the big bills" before Congress "than any president that's ever been in office," and predicted that the press would "let me win" in 2020 to protect its "ratings."
On China: Trump said he'd "been soft" on China in terms of trade so far, but "Oil is going into North Korea. That wasn't my deal! If they don't help us with North Korea, then I can do what I've always said I want to do."On his policy chops: "I know the details of taxes better than anybody. Better than the greatest C.P.A. I know the details of health care better than most, better than most." He said he knows more about the "big bills… than any president that's ever been in office."On Roy Moore: He said he only made the endorsement because "I feel that I have to endorse Republicans as the head of the party."Will he order DOJ to investigate Clinton? "I have absolute right to do what I want to do with the Justice Department. But for purposes of hopefully thinking I'm going to be treated fairly, I've stayed uninvolved with this particular matter."On Jeff Sessions: "I don't want to get into loyalty, but I will tell you that, I will say this: Holder protected President Obama. Totally protected him. When you look at the things that they did, and Holder protected the president. And I have great respect for that, I'll be honest."On Paul Manafort: "Paul only worked for me for a few months. Paul worked for Ronald Reagan. His firm worked for John McCain, worked for Bob Dole, worked for many Republicans for far longer than he worked for me. And you're talking about what Paul was many years ago before I ever heard of him. He worked for me for — what was it, three and a half months?"On the media: "Another reason that we're going to win another four years is because newspapers, television, all forms of media will tank if I'm not there because without me, their ratings are going down the tubes. Without me, The New York Times will indeed be, not the failing New York Times, but the failed New York Times.... So they basically have to let me win. And eventually, probably six months before the election, they'll be loving me because they're saying, 'Please, please, don't lose Donald Trump.' O.K."On bipartisanship: Trump said of centrist Democrats like Joe Manchin, "He talks. But he doesn't do anything…. 'Hey, let's get together, let's do bipartisan.' I say, 'Good, let's go.' Then you don't hear from him again." Trump did say he thought there was a chance of bipartisanship on health care, infrastructure and DACA.
Go deeper