Trump launches push for more offshore drilling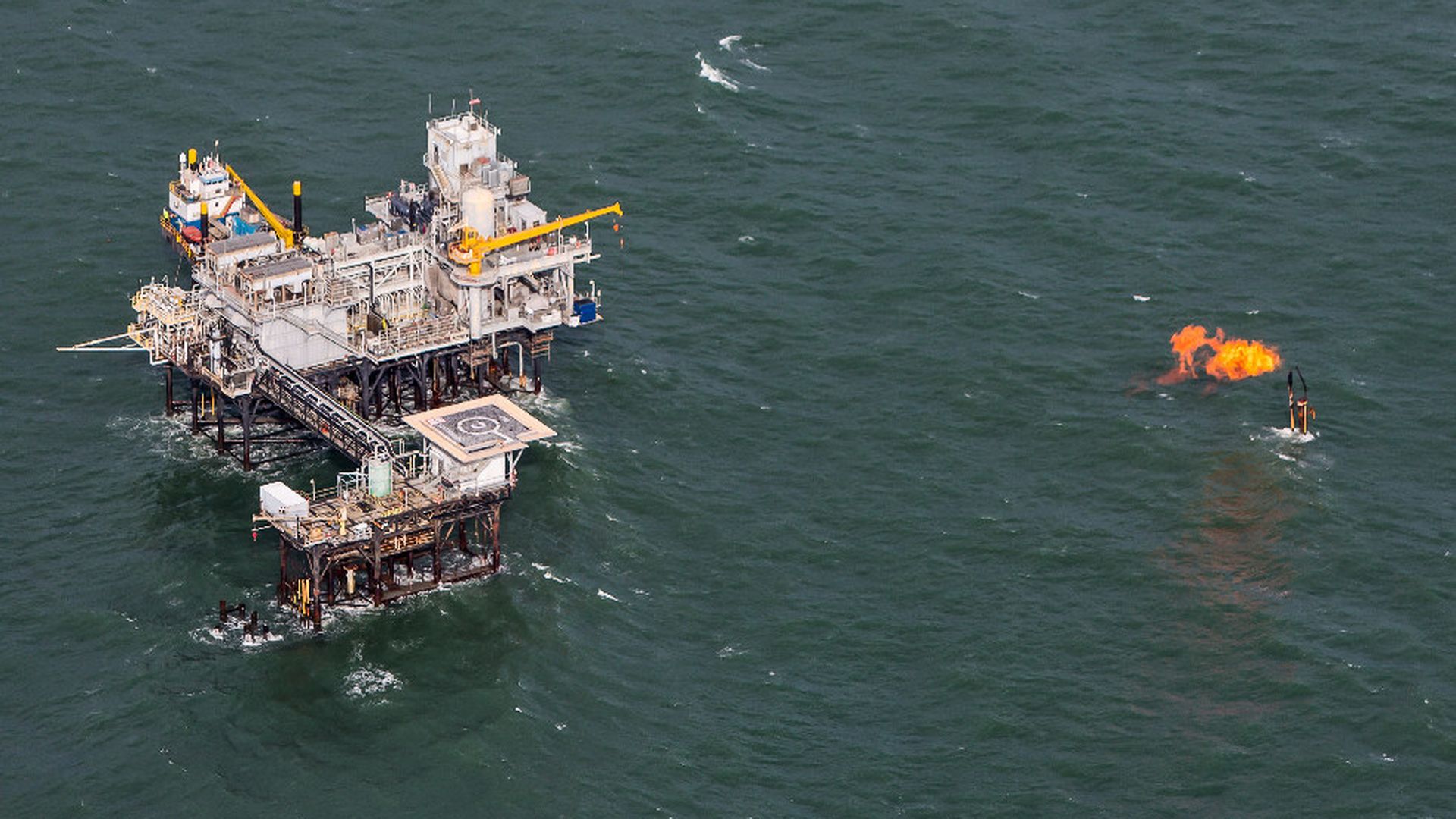 The Interior Department is floating draft plans that would greatly expand the coastal regions made available for oil and natural gas drilling, department officials said Thursday. The plan for lease sales between 2019-2024 would open the Atlantic and Pacific coasts, the eastern Gulf of Mexico, and revive lease sales in Arctic waters off Alaska's coast.
Why it matters: It's a sharp reversal of Obama-era policies that keep offshore leasing almost entirely limited to the Gulf of Mexico, which currently accounts for nearly all U.S. offshore production. The proposed Atlantic and Pacific coast sales would be the first offerings in those regions in decades.
In addition to declining to sell leases in other areas, late in his term Obama went further and indefinitely banned leasing in vast swaths of Arctic waters, as well as several regions off the East Coast.
But will this move mean more production from U.S. coastal regions? The Gulf of Mexico accounts for a much smaller share of total U.S. oil production than it did a decade ago, thanks to the onshore shale boom that has sharply driven up output, as the chart below shows.
Data: Energy Information Administration; Chart: Axios Visuals
The oil-and-gas industry strongly supports — and has consistently lobbied for — having the option to explore for what could be very large hydrocarbon deposits in coastal regions outside what's already been made available.
However, the extent of industry interest in spending on frontier areas in hard to gauge, given modest prices and opportunities in regions where drilling is already authorized.
What we're watching: Interior's draft was predictably very broad, covering virtually all federal offshore waters. But the lengthy statutory process to review offshore oil and gas leasing is like a funnel; It's designed to take options off the table before final approvals. We'll be watching to see whether it remains designed as a funnel and leases are actually taken off the table, or if all options stay in until the end, which isn't for another year at least. Florida's GOP Gov. Rick Scott has attacked the proposal for drilling off his state's coast.
What's next: The draft plan, which is open for a 60-day comment period, is just the first step in a lengthy, multi-step process to construct a final leasing schedule. Environmentalists will strongly fight efforts to expand drilling into new areas, calling it a risk to the ecosystem of fragile regions in the Arctic and elsewhere.
Get more stories like this by signing up for our daily energy newsletter, Generate.
Go deeper