Leading U.S. oil producer issues first sustainability and climate analysis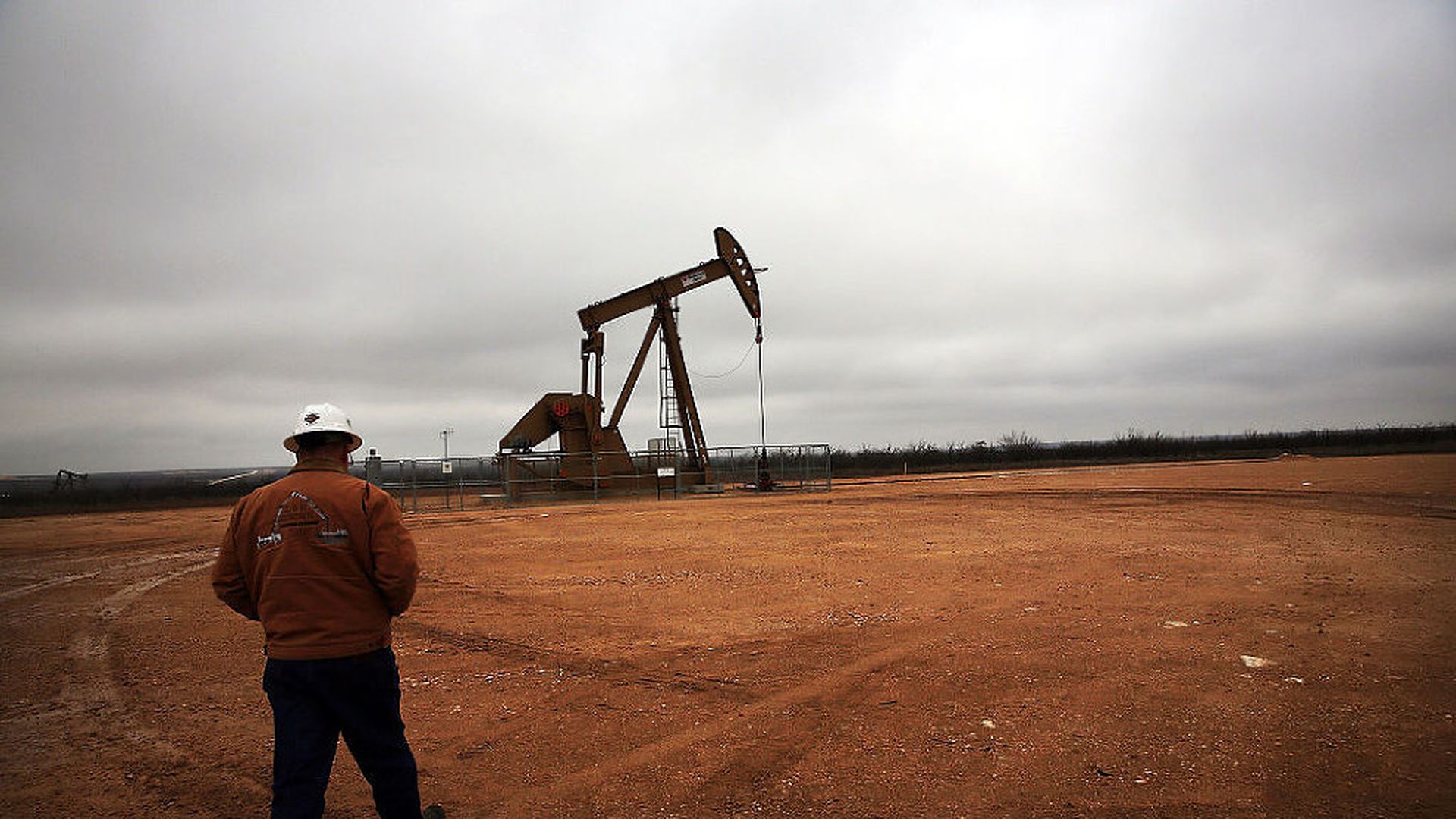 Pioneer Natural Resources, one of the largest U.S.-based oil producers, released this week its first-ever sustainability report that analyzes how the company would fare in a carbon-constrained world.
Why it matters: Pioneer is a dominant producer in Texas' prolific Permian oil basin in West Texas, so their move to publish such a report suggests it's not just the biggest, most global oil and gas companies acknowledging climate change is a material business risk. It also shows the impact of investor pressure. The sustainability report was required by a shareholder resolution vote earlier this year.
"It is significant that Pioneer, perhaps the most influential company in the Permian, is publishing a sustainability report for the first time," said Andrew Logan, who directs the oil and gas program at Ceres, a group urging more sustainable investments. "It should lead to pressure on its peers to follow suit."
The big picture: Oil and gas companies based in the U.S. with mostly domestic operations, like Pioneer, are responding to growing concerns about climate change and sustainability by cutting costs to become hyper lean oil producers. The world is going to need a lot of oil for a very long time, even in a lower-carbon world, and relatively smaller companies with less capital to put in riskier investments hope to be among the companies providing the oil.
Gritty details: The 51-page sustainability report covers a range of environmental efforts at the company, including how it manages spills and minimizes emissions of methane, a potent greenhouse gas that's the primary component of natural gas. it also includes a detailed analysis of how the company would fare in a carbon-constrained world, which was an additional step not required by the shareholder vote.
"Recognizing this is an important issue for many of our stakeholders, we decided to go ahead and tackle it, and that's why it's in our inaugural report we put out this year," Mark Berg, an executive vice president at Pioneer told me by phone Wednesday.
The report finds that Pioneer is positioned to survive — and even thrive — in a world with ambitious reductions in carbon emissions because of its low-cost attribute. The company says its break-even point is $24 per barrel, meaning it can make money even with oil prices quite low in a potential carbon-constrained future where prices have dropped a lot because of lower demand.
One level deeper: Berg says Pioneer is considering leasing some of its land in West Texas — it has about 800,000 acres — to wind companies to develop wind-energy projects. The idea would be to lease the surface of the land that they're developing oil and gas from below the surface.
"We are certainly looking at opportunities to be creative in how we manage our oil and gas," Berg said.
On top of being America's biggest oil and gas producing state, Texas is also the nation's biggest wind producer, and dual use of its land for both wind and oil development is common. But, Berg says he's not aware of any other oil and gas operators who are leasing their land to wind companies.
Go even deeper: I've covered this dynamic in a few of my Harder Line columns this year:
Go deeper