Wind Group Launches Multi-Million Dollar Campaign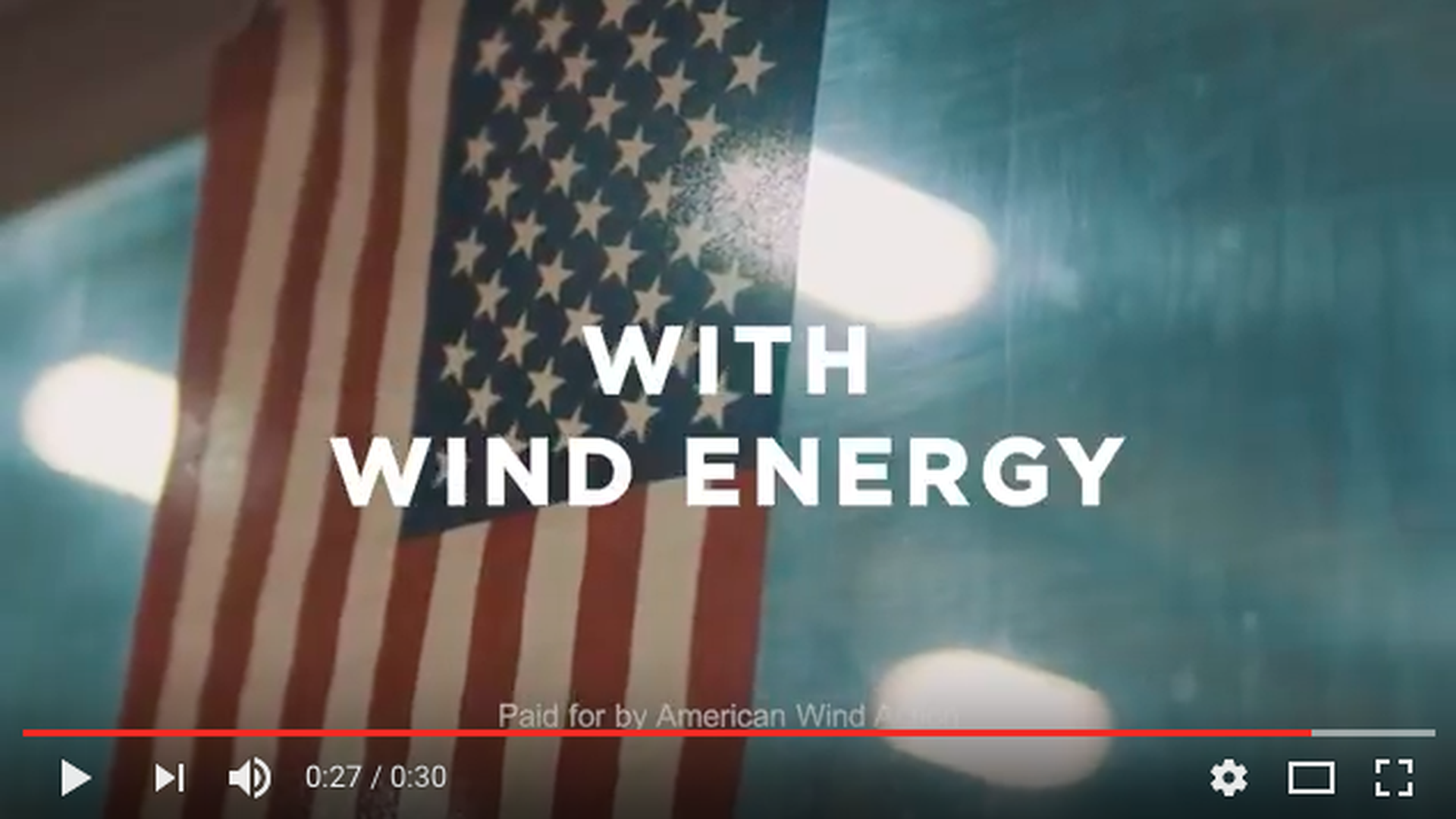 A nonprofit group backed by the wind industry is launching a seven-figure advertising blitz in Washington, D.C., touting the renewable energy's American bona fides, seeking to capitalize on President Trump's driving mantra of America First.
Why it matters: The campaign, launched by the group American Wind Action, shows how the wind industry is going big on defense as it confronts a president whose comments on wind tend to be negative — if he talks about it at all. It also shows how the renewable-energy sector taking on a bigger role on the advocacy front where groups funded by fossil fuels have traditionally dominated.
The details: The advertisements will run on cable, radio and digital outlets across Washington D.C., with the president, his new administration and Congress as the target audience. The ads will run on Fox and Friends, which Trump watches regularly, along with other influential cable shows.
"I want Washington to know that wind powers American jobs," says one wind worker in a 30-second advertisement.
The focus is all about jobs, reliable electricity and American roots. Not mentioned in the advertisements is one attractive feature of wind power: it doesn't emit any carbon emissions.
"I love the fact that wind power is clean. I didn't get into it because of that," said Jeff Clark, a board member of the advocacy group and president of the Wind Coalition, another trade group boosting wind power in Texas and surrounding states. "There is not a wind farm in my region that was built in response to climate change."
Clark, who has worked on Republican political campaigns and on behalf of business groups in Texas, said conservative states like Texas and Oklahoma are supporting wind because it makes economic sense and taps into an infinite power resource.
Reality check: That's true in many cases, though state mandates to get more electricity from renewable sources of power also play a big role in some states, along with a federal tax credit.
Get smart: Nearly 88% of the wind power capacity the U.S. built last year went into states that voted for Trump, according to the American Wind Energy Association, the sector's main trade group in Washington.
Go deeper: The wind industry is also gearing up for the Energy Department to release the study later this month on the reliability of the electric grid. Many renewable-energy advocates say it's preemptively biased to favor fossil fuels and nuclear power.
"This is not designed to target the grid study, but the gird study is a symptom of false rhetoric that circulates among policymakers inside the beltway," said Clark, who is based in Austin. In one of the advertisements, a wind worker describes wind as "reliable and limitless."
What's next: The advertisements will run through most of the summer. The American Wind Action group, which was launched about a year ago, is looking to ramp up its budget from the mid-seven figures last year to eight figures by 2018, in time for the midterm elections, according to organizers of the group.
Go deeper