Why big oil is slowly turning green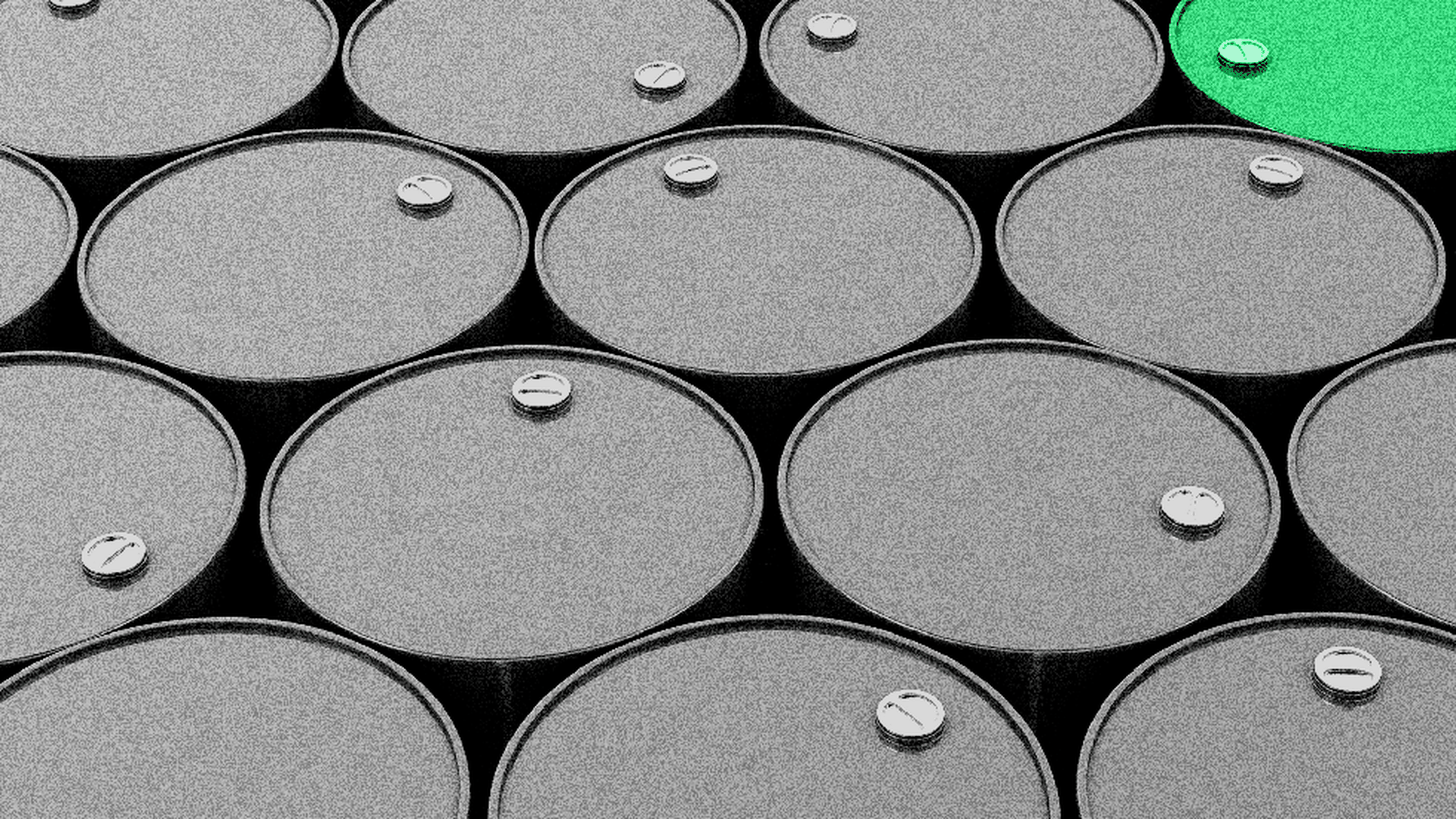 The world's biggest oil and natural gas companies are inching toward greener businesses, driven by a handful of market and policy trends.
Why it matters: The shift shows that global oil companies see cleaner energy technologies as sound investments, not merely greenwashing and public relation stunts. The changes, underway at most international oil producers and particularly pronounced among European firms, are happening even as President Trump's policies are heading in the other direction.
The drivers:
Companies want to grow demand for natural gas, which is an increasingly large portion of their portfolios, in the electricity space and elsewhere. When burned, gas is cleaner than coal and oil, but there are concerns about emissions of methane, a potent greenhouse gas that's also the primary component of natural gas.
Governments around the world are pushing policies cutting greenhouse gas emissions from fossil fuels. This includes the 2015 Paris accord Trump says the U.S. will withdraw from, as well as domestic regulations cutting methane emissions, which are proving harder to repeal than the Trump administration thought.
China, along with several other countries and car makers, have made pronouncements in support of electric vehicles and against gasoline-powered cars. This is accelerating the next driver.
There's a growing recognition that demand for oil could slow within a couple of decades, due in part to drivers two and three.
Institutional investors are starting to put pressure on fossil-fuel companies to better articulate the risks the above four drivers pose to their bottom lines.
Examples abound:
"I think these actions will persist and perhaps strengthen," said Sarah Ladislaw, director of the energy and national security program at the Washington, D.C.-based think tank Center for Strategic and International Studies. "Their investors and shareholders care about how they position relative to this future. That tipping has happened and is driving these changes and is unlikely to go away."
The trends are affecting the think tanks that work with and get funding from industry. CSIS launched a new series of events this year exclusively on climate change, with foreign government and companies participating. Australia-based BHP Billiton — one of the world's biggest mining, oil and natural gas companies — is among the participants in the series next year, according to Ladislaw and the company.
Small but notable shifts
The shifts are slow and investments small compared to continued new investments in oil, which industry executives say are needed to replace depleting resources and keep up with global demand.
In 2016, renewable energy projects received about 3% of the $100 billion in total annual spending by the five biggest oil and gas companies, according to the energy consultancy Wood Mackenzie. The firm began tracking such investments after the 2015 Paris deal when the oil industry became more vocal about green investments.
Exxon, among the biggest publicly traded oil producers in the world, is researching longer term technologies closely aligned with its core businesses, like algae-based transportation fuel. A spokesman said the company has spent about $8 billion researching and developing lower-emission technologies since 2000, compared to spending $1 billion per year in total R&D.
"We are going wider, which is an element of increasing," said Vijay Swarup, vice president of research and development at Exxon, when I asked him if Exxon was increasing its spending on lower-carbon technologies. "We need more options. Our approach to R&D is we go wide before we go deep, and we don't talk about it until we have something worth talking about."
Environmental criticism
These shifts and investments aren't satisfying most environmentalists. Some activists are working to stop all production and transportation of fossil fuels, while others that work with industry say operational changes ring hollow without lobbying that urges Congress and the Trump administration to support measures accelerating the shift to lower-carbon technologies.
"We've never been able to get any details from any of the companies, 'OK, you say you support this, but what is your specific lobbying spending that shows you're actually following through on this?' " said Andrew Logan, who directs the oil and natural gas program at Ceres, a group that urges more sustainable investments.
What's ahead
The trend toward lower-carbon investments is primarily occurring among the most global of the world's oil companies. Companies with U.S.-based operations are instead seeking to cut costs and focus on making their products as efficient as possible. But even domestic firms see the writing on the wall, experts close to the companies say, because the driving global shifts aren't slowing.
The verdict from Carlos Pascual, a senior vice president for global energy at IHS who works with the oil industry: "Regardless of the directions of the Trump presidency, American energy companies recognize there are global trends moving toward greater electrification and changing structure of demand."
Go deeper