Rumors and fear as fires loom over Oregon eclipse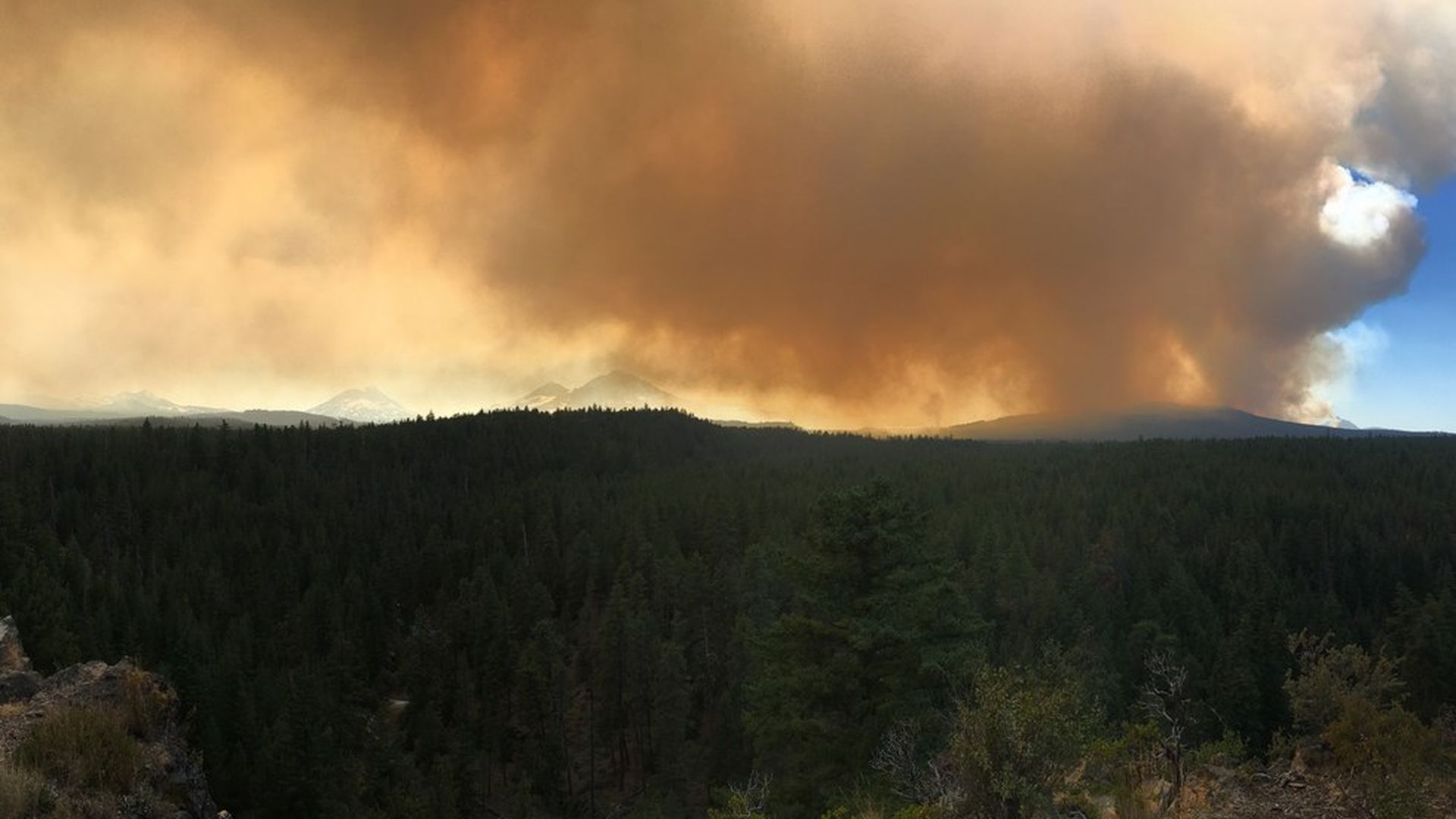 It's three days out from the solar eclipse and the impacts are already being felt across Central Oregon as wildfires burn and hundreds of thousands of people flock to the region's rural towns to experience the eclipse totality.
The general vibe on Thursday: "I'm excited, but anxious. Excited because of the eclipse, but anxious because of all of the people coming," one hardware store employee said.
The scene:
Multiple forest fires are darkening the sky in the region and over 1000 residents of Sisters, Oregon have been told to prepare to evacuate. The Red Cross is opening shelters.
The town's Ace Hardware had sold over 3000 pairs of eclipse glasses — but more tellingly, employees say residents are purchasing gas cans and do not trespass signs. Several homeowners complained of visitors illegally camping in their backyards, thinking they were on forest service land.
Gas shortages were reported multiple times across the region. Employees at the Sisters Pumphouse and Country Store ran out of gas twice before receiving a delivery of 8000 gallons Wednesday evening. By 11 AM, they had pumped 1000 gallons of regular, and they were almost out by the evening
By 6PM on Thursday trepidation turned to fear as evacuation warnings were issued and strong winds moved the fire rapidly across nearby mountains.
A 15-mile long traffic jam occurred on Highway 26 approaching Prineville (population: almost 10,000. Expected visitors: over 30,000) and Sisters residents report hearing that the nearby town was out of water —though the Oregon Office of Emergency Management tells Axios they have heard no such thing.
Words painted on the side of a red pickup truck: "Eclipse 2017! The Rapture is here - repent your sins. It's the end of the world."
And that's just a taste of what's coming: More visitors are expected to pour over the mountains as the eclipse gets closer.
Go deeper