Perry and Saudi leaders link arms despite OPEC-shale tussle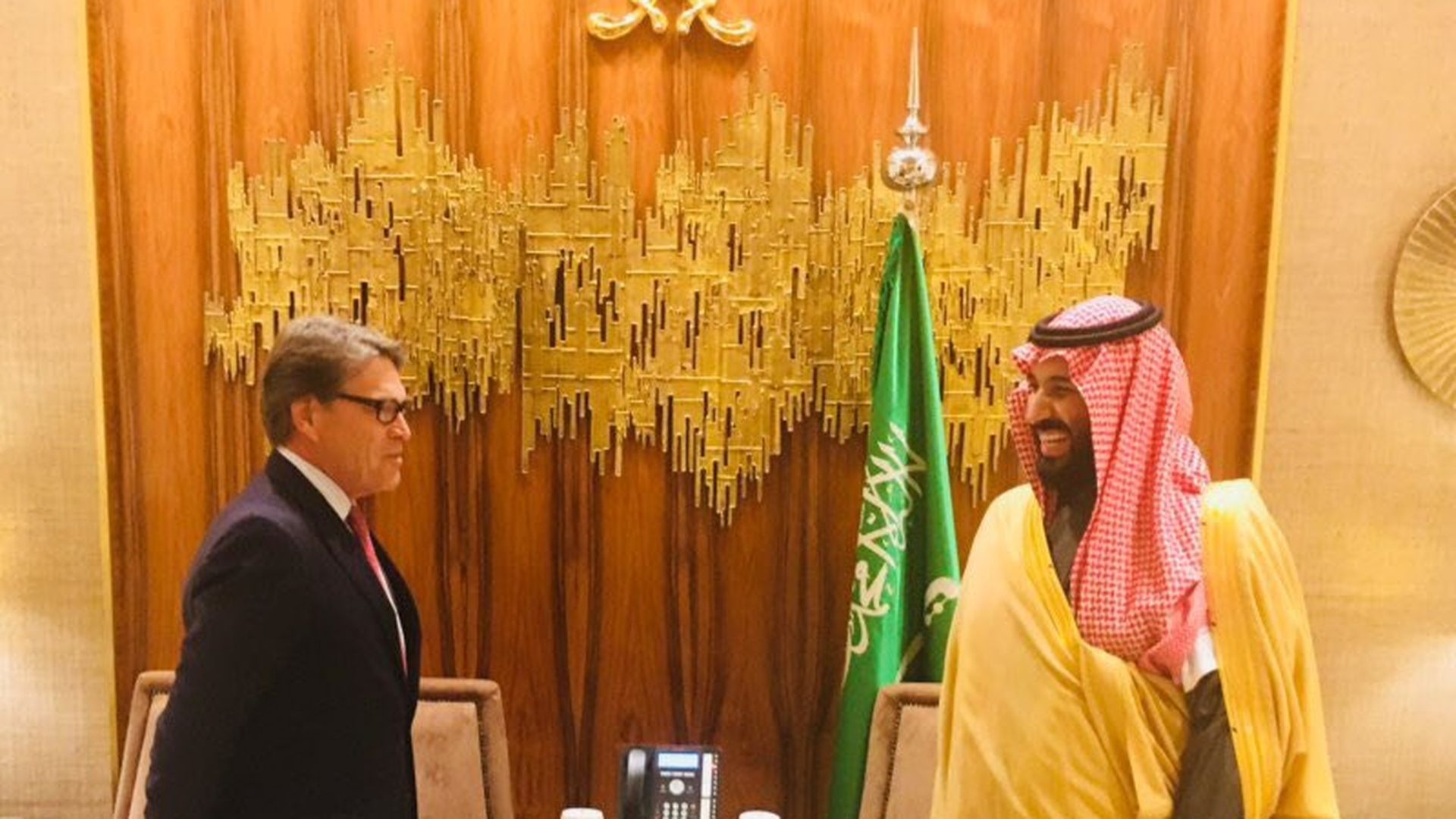 Energy secretary Rick Perry tweeted the photo above from his weekend meeting with Crown Prince Mohammed bin Salman (MBS), the heir to the Saudi throne. Perry met Monday morning with King Salman.
His trip also included meetings with Energy minister Khalid al-Falih, Aramco CEO Amin Nasser Falih, and various U.S. companies operating in the region.
Why it matters: Perry's meeting and sunny photo op with the ascendant crown prince underscores the ongoing U.S.-Saudi alliance despite the competition between U.S. shale production and OPEC, which is grappling with how to respond to the reemergence of the U.S. as a global powerhouse in crude markets.
What they're saying: According to Saudi state-run media, Perry and MBS discussed the "strategic partnership" in energy and other areas, and "joint investments between the two countries, especially in the petrochemical, infrastructure and energy sectors."
"The Crown Prince affirmed the kingdom's keenness to stabilize energy markets and supply them in a sustainable manner to serve the interests of energy producers and consumers," the Saudi Press Agency said.
Aramco IPO: It wasn't immediately clear Monday morning if Perry pitched Saudi officials on selecting a U.S. exchange for the massive IPO of Saudi Aramco. Trump, via Twitter and talks with the Saudi King, is pressing for the New York Stock Exchange.
Yes, but: There's competition. As we noted here, British Prime Minister Theresa May urged a London listing in her visit to Saudi Arabia late last month, while senior leaders from Hong Kong met with Saudi officials over the weekend.
Nuclear news: Via Reuters: "Saudi Arabia has invited U.S. firms to take part in developing its civilian nuclear power [program]," Falih said on Monday. He also added the kingdom was not interested in diverting nuclear technology to military use.
Climate and more: A DOE summary of Perry's multi-day trip notes that he signed a memorandum of understanding to enable more work with Saudi officials on carbon capture and several other topics.
"This MOU outlines a future alliance not only in supercritical carbon dioxide, but also in a range of clean fossil fuels and carbon management opportunities," Perry said in a statement.
Go deeper