Once a critic, Trump official praises solar farm for "improving"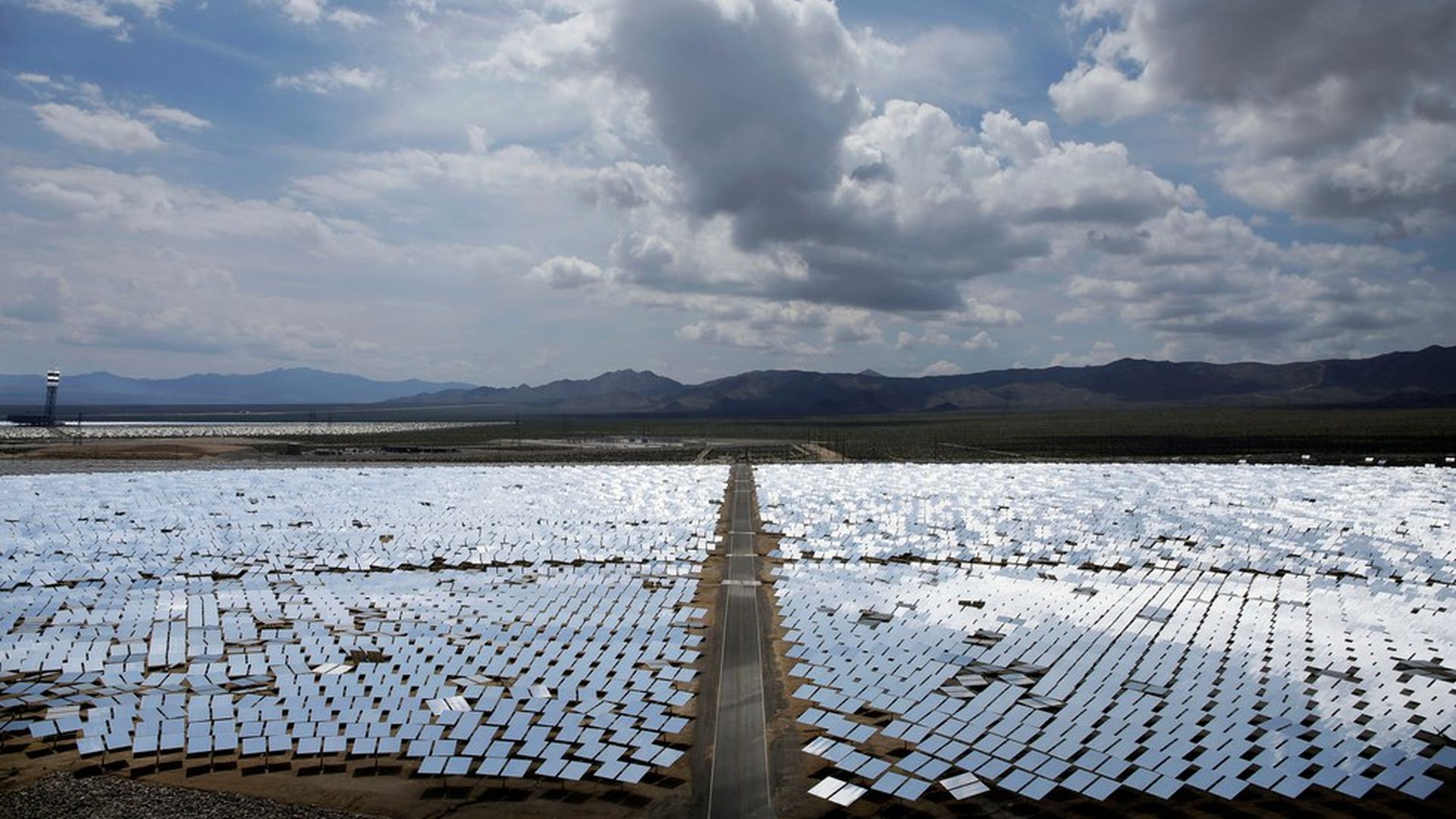 The Energy Department's top renewable energy official on Tuesday praised a massive solar farm in California for "improving" after he criticized it while testifying to Congress last year as a conservative expert.
Daniel Simmons, the acting head of the department's renewable and energy efficiency office, toured the facility, named Ivanpah, on Sunday before giving remarks to a solar industry conference underway this week in Las Vegas.
Why it matters: Simmons' comments show the subtle ways some conservative experts known for blasting then-President Obama's policies are moderating their rhetoric as they join the federal bureaucracy that created those policies.
"It's a facility where they had substantial challenges after starting," Simmons told Axios by phone from Vegas on Tuesday. "What was impressive to me is the work they've done over the past few years improving their processes."
Two levels deeper:
An online news search of the solar farm shows the collection of challenges Ivanpah has had, like this March 2016 Wired article: "A huge solar plant caught on fire, and that's the least of its problems."
In Simmons' July 2016 testimony to a House committee, he criticized the $1.6 billion in loan guarantees Obama's Energy Department awarded the developers of Ivanpah, which included Google. "If Google (and their billionaire founders) want to take risks on new energy systems, they should use their own money instead of risking taxpayer dollars."
So does Simmons now think it was a good use of government money? "I'm not going to say that," he responded.
The bigger picture:
In his speech to the solar industry Tuesday, Simmons talked about how the Energy Department's solar office is shifting gears to focus more on providing federal funds for two types of technologies that...
integrate solar onto the electricity grid
enable solar to be tapped on demand, instead of just when the sun is shining
He gave cautious praise to solar as an energy type generally speaking, and said it has the ability to fulfill the four priorities of the Trump administration's energy policy: to be affordable, reliable, an economic driver and a boost to energy security.
This contrasts markedly with the thrust of his 2016 congressional testimony, where he said solar could increase foreign imports, was expensive and not reliable.
"I look forward to working with each and every one of you to overcome solar energy's critical challenges. Success will come from an honest, clear-eyed assessment of the energy industry's strengths and weaknesses," Simmons told the crowd, according to his prepared remarks reviewed by Axios. "In the coming months, you will see a shift in focus on the research, but a steadfast commitment to what I know is a shared vision: affordable and reliable energy for all."
Go deeper