Oil and gas group launches voluntary methane program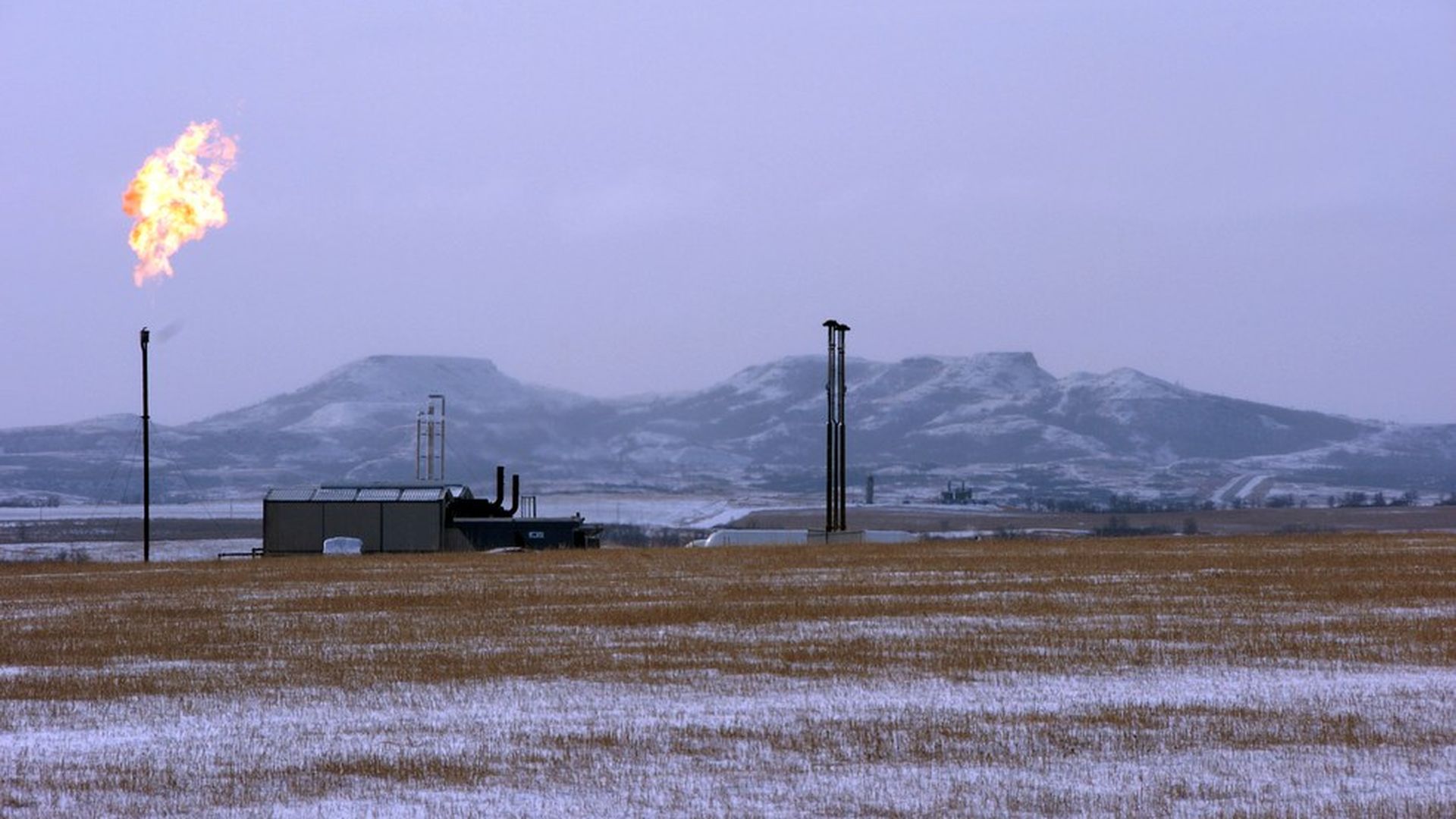 The American Petroleum Institute is announcing today a new voluntary program to cut emissions of methane, a potent greenhouse gas, and other air pollution from oil and natural gas wells.
Why it matters: This is the first time in API's nearly 100-year history that it has launched a program to cut air pollution. It's also the most concrete sign climate change is becoming a significant mainstream concern within the disparate oil and gas industry. Moves like this by trade groups represent the lowest, not highest, common denominator for positions within any given sector.
Between the lines: Don't expect climate change per se to be a big part of the Tuesday rollout or its website. The talking points are centered broadly on "the environment." Such rhetoric is in line with most Republicans and the Trump administration when it comes to climate change.
Fast facts: Methane, a potent greenhouse gas, is the primary component of natural gas. It can be leaked, either purposefully or inadvertently, during the production and transmission of natural gas. It has a warming impact far greater than carbon dioxide, though it stays in the atmosphere for less time. Oil and natural gas companies are the top industrial source of methane emissions in the U.S. The agricultural sector, including manure management and enteric fermentation (i.e., cow farts), is the largest overall by a slim margin, according to the Environmental Protection Agency's latest data.
Topline details:
Nearly all of its member companies that have onshore operations have signed on, with 27 in total as of Tuesday (full list at bottom).
It will be implemented on January 1, 2018.
It's called Environmental Partnership, and while its first focus is methane emissions and related pollutants called volatile organic compounds, it could be expanded into other environmental issues, said Erik Milito, director of upstream and industry operations at API.
There isn't any formal penalty for not complying with the program, though Milito said one idea would be to take names off the new website launching Tuesday.
The program doesn't include any overarching reduction goal, though it does encourage companies to annually report how they're doing in terms of implementing the program.
The program includes three parts companies are expected to implement:
Monitoring and fixing emissions of methane and volatile organic compounds.
Replacing and upgrading equipment called pneumatic controllers that are used at oil and natural-gas operations and often emit methane and other types of emissions.
Minimizing emissions associated with separating liquids, such as oil, from natural gas.
Companies participating:
Anadarko, Devon Energy, Occidental Petroleum, Apache, Encana, Pioneer Natural Resources, BHP, EOG Resources, Shell, BP, Exxon Mobil subsidiary XTO Energy, Southwestern Energy, Chesapeake Energy, Marathon Oil, Statoil, Chevron, Murphy Oil, TOTAL, Cimarex Energy, Newfield, Western Gas Partners, ConocoPhillips, Noble Energy, CrownQuest, Cabot Oil and Gas and Hess Corporation.
Go deeper