How Trump is spreading the "fake news" virus around the world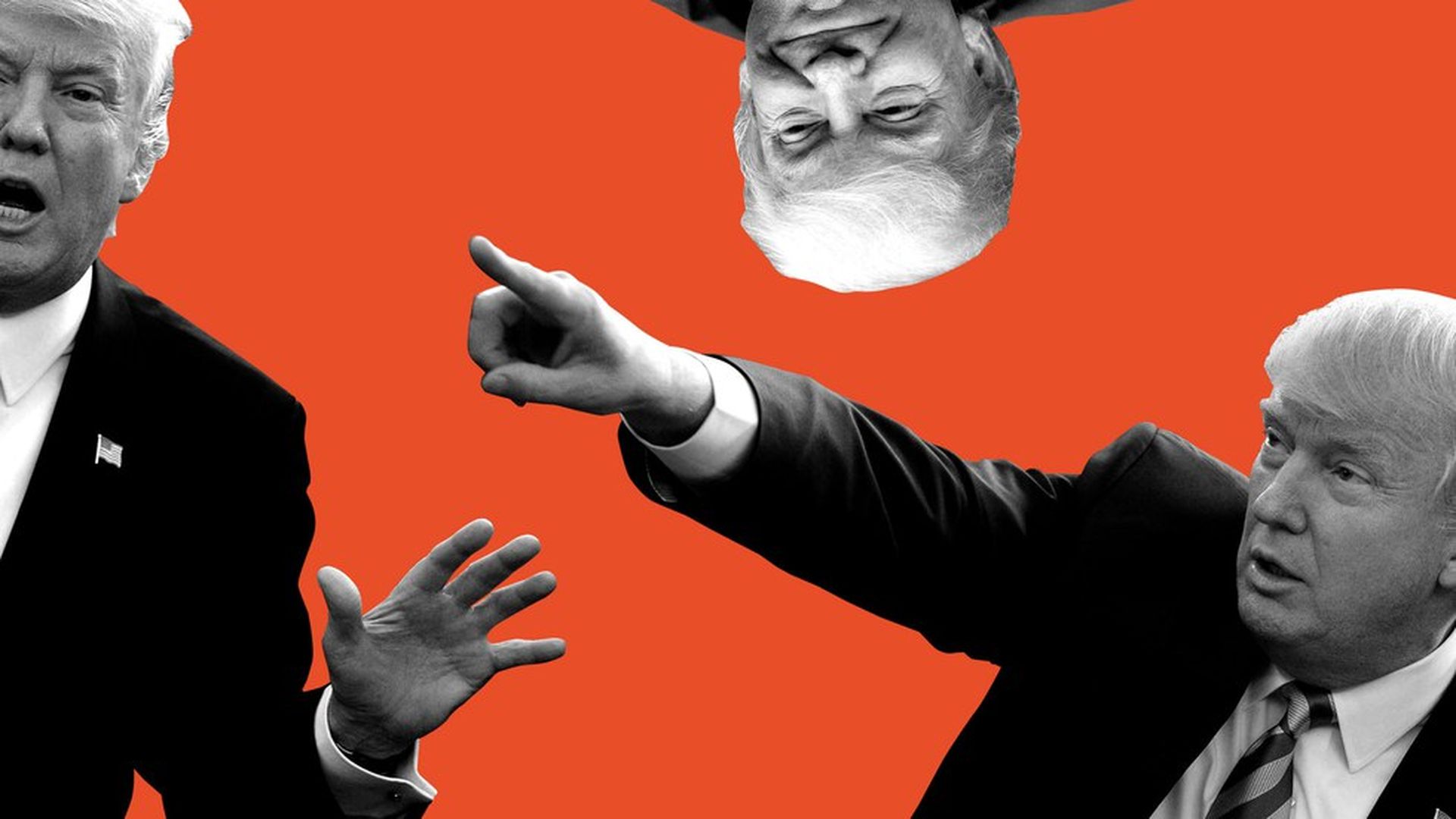 After President Trump tweeted that CNN International "is still a major source of (Fake) news," Libyan media published an article questioning the authenticity of a major CNN report on the Libyan slave trade.
"It is reported in international political circles that many of the reports broadcast by the American channel often come as 'collusion' to serve political objectives in certain parts of the world, and here the possibility arises that the channel has published the report of slavery in Libya to raise a political objective that is still hidden," the report said, per a translation.
Why it matters: Trump's rhetoric on "fake news" is having direct and indirect effects around the world, and playing into the hands of those for whom distrust in the media is beneficial. There are many more such examples.
Myanmar
A state security officer, said: "There is no such thing as Rohingya...It is fake news."
Myanmar's leader, Aung San Suu Kyi, has "unrolled a steady stream of denialism on the systematic evictions, rapes and killings of the Muslim Rohingya" in Myanmar, per Forbes.
Poland
During his first press conference outside the U.S., with Poland's President Andrzej Duda, Trump brought up dishonest coverage by the media, asking Duda if he "[has] that also." Duda later tweeted "Let's FIGHT FAKE NEWS," to which Trump responded "We will fight the #FakeNews with you!"
Freedom House shifted Poland's media freedom rating from "free" to "partly free" under Duda, due to his "intolerance toward critical reporting."
Kuwait
Discussing the situation in Qatar at a joint press conference in September, the emir of Kuwait, Sheikh Sabah Ahmed al-Sabah, said "the media campaign...is totally unacceptable to the people because the media coming out of this country is against the people," according to the Washington Post. Trump responded: "I'm very, very honored and happy to know that you have problems with the media also."
Turkey
President Recep Tayyip Erdogan, who is notoriously hostile toward the free press, praised Trump in January for putting a CNN reporter "in his place" during a news conference in which Trump called CNN's Jim Acosta fake news.
Egypt
After a major attack on a mosque in Egypt that killed more than 300 people, Egypt's Ministry of Foreign Affairs spokesman, Ahmed Abu Zeid, tweeted: "As usual, deplorable @CNN coverage of Sinai tragedy today. Anchor more interested in reporters access to Sinai than in those who lost their lives !!!"
Egypt is among the countries with the most journalists held in prison, and the regime is aggressive in controlling the narrative, particularly after attacks.
Syria
An Amnesty International report said around 13,000 prisoners were killed at a military prison between 2011 and 2015. Syrian president Bashar al-Assad said: "You can forge anything nowadays...We are living in a fake news era."
Spain
Alfonso Dastis, Spain's Foreign Minister, said many photos and stories about police violence against voters during the Catalan referendum were fake: "If there was any use of force, it was a limited one...I am not saying that all are fake pictures, but some of them are and there have been a lot of alternative facts and fake news."
The Philippines
After a meeting with President Trump, President Rodrigo Duterte called reporters "spies," which received a laugh from Trump, according to the Washington Post.
Cambodia
According to Reuters, Prime Minister Hun Sen (who has been accused of human rights violations and corruption) compared himself to Trump in February, saying he too "understands that [journalists] are an anarchic group."
Back in the U.S...
U.S. senate candidate Roy Moore has claimed multiple accusations of sexual abuse against him are part of a conspiracy from the "fake" media.
Numerous reports from Alabama quote Trump voters who say they don't believe the national media, and think there's a conspiracy against Moore.
Go deeper