Where things stand in the fight over net neutrality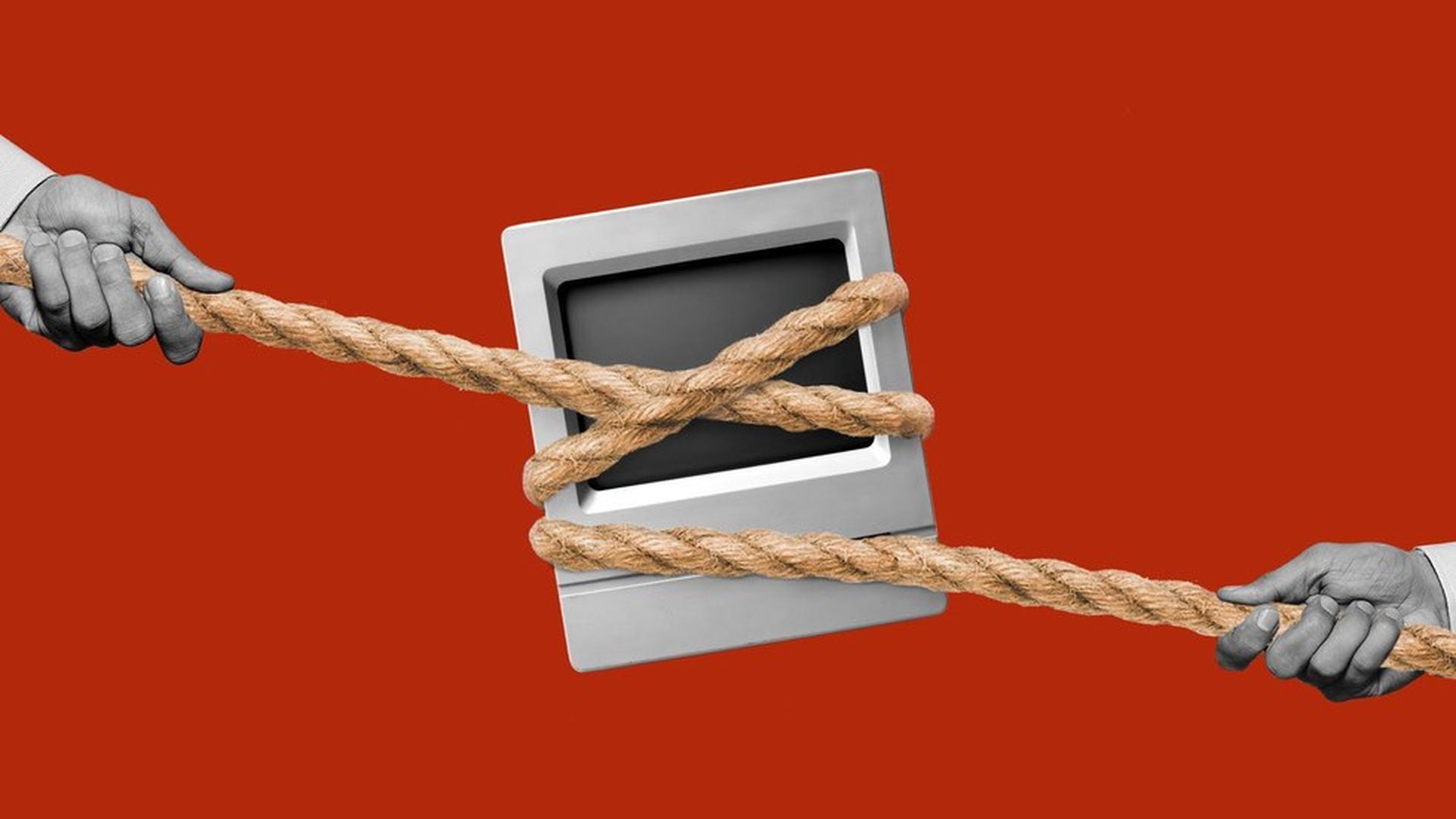 After Republicans in Congress pushed through a resolution to overturn internet privacy rules, which is expected to be signed by the president, some Democrats are warning an agreement on net neutrality may be harder to reach. Rep. Frank Pallone, the top Democrat on the Energy and Commerce Committee, compared this week's vote to a "sledgehammer" and said it "really poisons the well" for a broader net neutrality bill.
Why this matters: A legislative replacement for the FCC's net neutrality rules was never going to come easy. But any increased skepticism focuses the spotlight on Trump's FCC Chairman Ajit Pai and what he plans to do about the rules. Here's where things stand now:
At the FCC:
There's little doubt that Pai hopes to see scrapped the legal designation of broadband service that allowed the FCC to implement its net neutrality rules in the first place. He hasn't provided much in the way of details on how he'll go about doing this.
Pai's argument for undoing the rules is clear. He said at a conference in Barcelona a month ago that the rules "injected tremendous uncertainty into the broadband market," which he called "the enemy of growth."
Gigi Sohn, an advisor to former Chairman Tom Wheeler who spearheaded the net neutrality rules, said that consumer advocates see the privacy debate as a way to get people "excited and active on net neutrality" as the issue looms at the FCC. Pai, of course, will have his own vocal telecom allies in whatever path he choses to pursue.
Two angles: Proponents of the net neutrality rules will argue the fight over the privacy regulations is evidence that keeping the current regime in place will best protect consumers from bad ISP behavior. Detractors will say that stripping that regime — and handing authority over internet provider privacy back over to the Federal Trade Commission — will better serve consumers.
On Capitol Hill:
This month's votes to overturn the FCC's broadband privacy rules, which were born out of the net neutrality regulations, have become a front-row tech issue with Democrats. For example, the party's campaign arms are using it to attack Republicans.
Not every lawmaker is on the same page as Pallone. Democratic Sen. Bill Nelson, who would play a major role in any deal, says he doesn't want to link the privacy scuffle with the broader net neutrality debate. Same for Sen. Brian Schatz: "I don't know that it's the same thing."
Top Republicans insist they haven't scuttled a deal. Sen. John Thune, who is pushing for negotiations, says he thinks Democrats might be prodded towards the negotiating table by FCC action. The death of the privacy regulations does mean that privacy rules for ISPs could be used to soothe the fears of lawmakers wary of a deal. Thune says he's willing to consider that if it will bring Democrats to the table.
Reality check: Senate Democrats are unlikely to strike up serious conversations with Republicans about the issue before they see what Pai is up to. "I think right now it depends on what the FCC does, and it's highly unlikely that the legislative branch is going to go first," said Schatz.
The bottom line: Pai is likely to make the first move here, and he hasn't committed to a timeframe for action. Watch how the "netroots" advocates and Congress respond to his decision. "It's a safe assumption that [Chairman] Pai is going to move forward with his own proposal and we'll have to take a look at that and evaluate what the path forward is after that," Schatz said, "whether our best strategy is litigation or legislation."
Go deeper