What Trump's former staffers are doing after the White House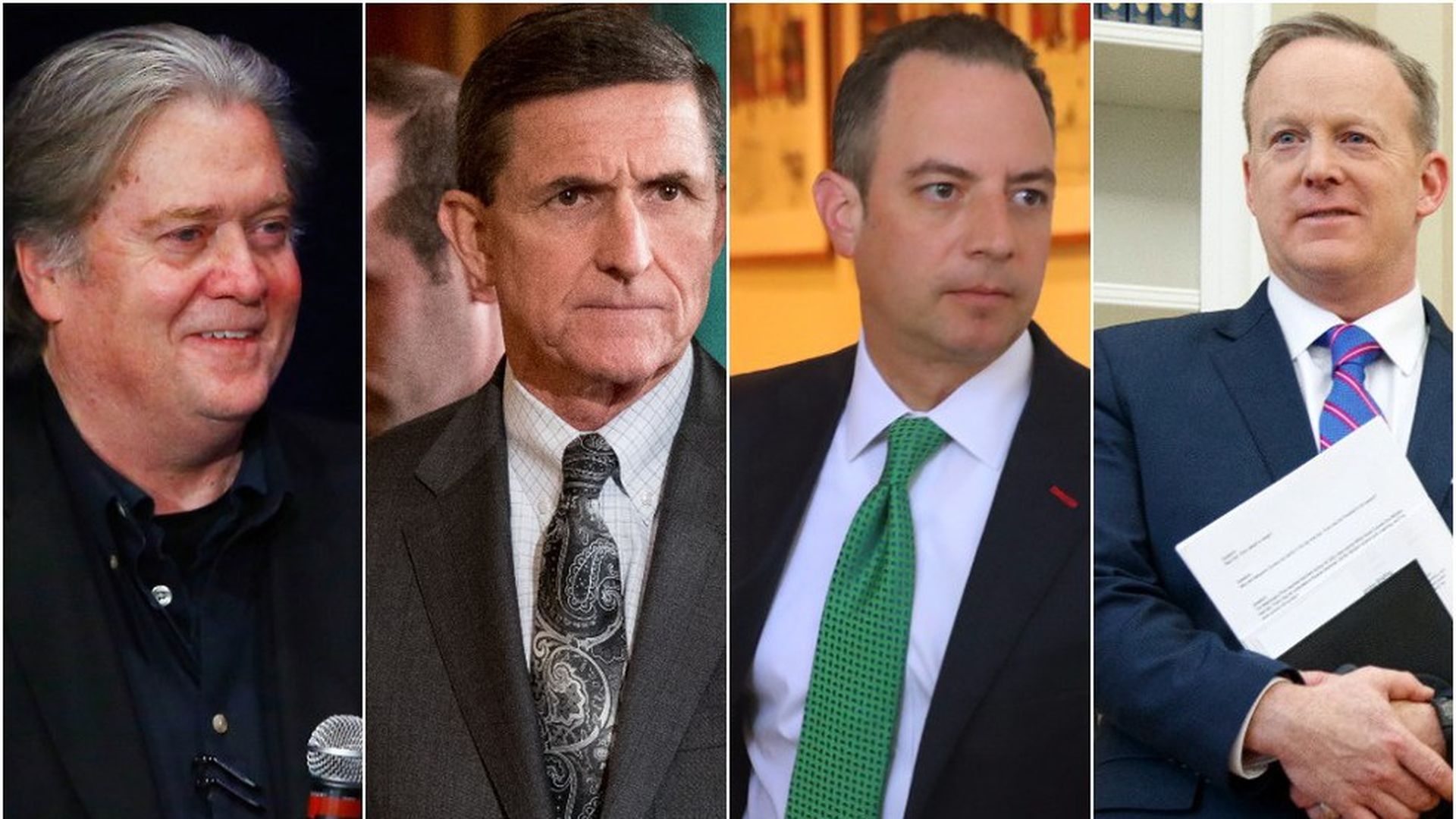 Reince Priebus, Steve Bannon, Sean Spicer, and Michael Flynn are just a few of the many people who have left the White House since President Trump took office in January, and Politico's Josh Dawsey and Matthew Nussbaum have a story today on where those ex-staffers are now.
Why it matters: This White House has seen incredible turnover — Anthony Scaramucci was there for only 10 days, for instance — and Axios' Mike Allen recognized in October "how many essential staff and officials want out — if not this quarter, then soon after the new year."
Reince Priebus is traveling around the world for speaking engagements, telling "the secrets of the Trump administration." He's returned to his Wisconsin law firm, is taking clients, staying involved with the RNC, and golfing.
Steve Bannon is dieting, and spending his days "in constant talks with political candidates, think tank types, journalists and others." He still speaks with Trump and has frequent speaking engagements, to which he travels on private planes only - "he said he never plans to fly commercial unless there is no other option" - and with a heavy security detail of ex-military officials.
Sean Spicer has hired a lawyer and has been interviewed by special counsel Robert Mueller's team. Otherwise, Spicer is "maintaining a lower profile," doing occasional speaking engagements and previously holding a lecture series at Harvard soon after his departure. On his first night out of the White House, he met former communications director Michael Dubke for a drink.
Michael Flynn is "holed up in his Alexandria home" as Mueller's investigation heats up, and "trying to find a way to pay his lawyers," per Politico. He hasn't been accused of anything specific, but White House aides are "bracing for an indictment."
Go deeper