What to know about the Trump Jr. email saga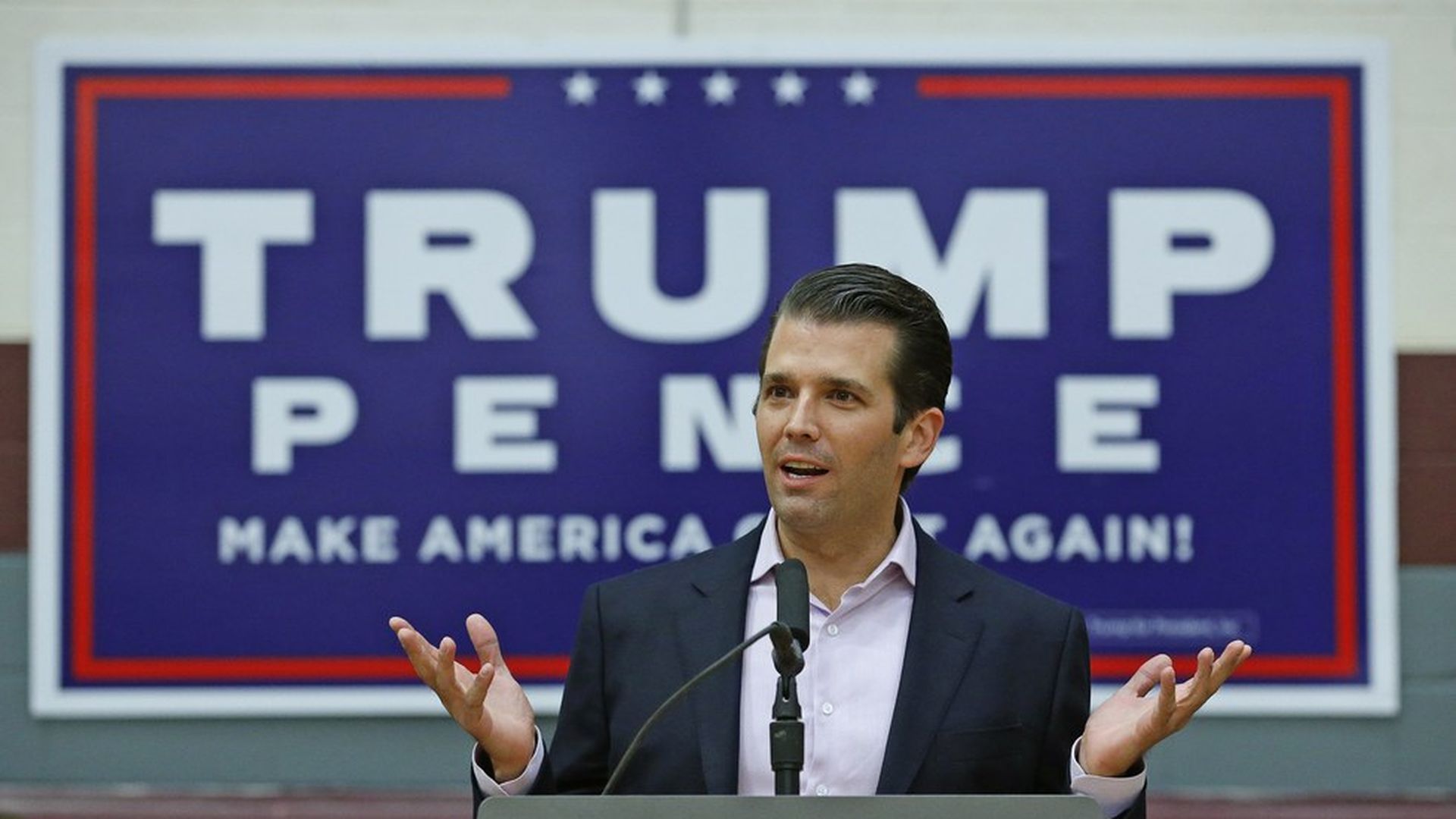 We're into day four of the deepening controversy surrounding Donald Trump Jr.'s meeting with a Russian lawyer, which took place after Trump Jr. was promised damaging information, via the Russian government, about Hillary Clinton.
Today's bombshell came when Trump Jr. himself shared emails sent prior to the meeting, in which he responds enthusiastically to the idea of a Russia-aided effort to help his father win. Trump Jr. has now defended himself in a Fox News interview.
Trump Jr. speaks
Key quotes from interview with Sean Hannity
"In retrospect I probably would have done things a little differently."
"For me this was opposition research, they had something you know maybe concrete evidence to all the stories I'd been hearing about, probably under reported for years not just during the campaign so I think I wanted to hear it out. But really it went nowhere and it was apparent that wasn't what the meeting was about."
"Someone sent me an email! I can't help what someone sends me. I read it, I responded accordingly, and if there was something interesting there, I think that's pretty common."
Key email excerpts
Email exchange from June 3, 2016
Rob Golstone: The Crown prosecutor of Russia met with his father Aras this morning and in their meeting offered to provide the Trump campaign with some official documents and information that would incriminate Hillary and her dealings with Russia and would be very useful to your father. This is obviously very high level and sensitive information but is part of Russia and its government's support for Mr. Trump—helped along by Aras and Emin.
Donald Trump Jr: "I am on the road at the moment but perhaps I just speak to Emin first. Seems we have some time and if it's what you say I love it especially later in the summer."
The White House reacts
Trump, supporting his son: "My son is a high-quality person, and I applaud his transparency."
Mike Pence, distancing himself: statement says he's "not focused on stories about the campaign — especially those pertaining to the time before he joined the campaign."
Sarah Sanders, denies it's collusion: As for whether there were other meetings with Russians, she says, none "that I'm aware of at this time."
Behind the scenes
Jonathan Swan reports that in private, sources inside the White House aren't even pretending it's ok: They know the Donald Trump Jr. emails that led to his Russia meeting are a terrible story, and mostly they're scrambling to find ways to deflect it and to turn this back against Hillary Clinton or the media.
Many of our White House sources are playing amateur detective, some with whackier theories than others, and some of which turn on people within the White House. Suspicion spread between people who worked in campaign and in White House, and while no one we've spoken to has any evidence to support their theories, it's not stopping them from speculating.
It's creating a very tense environment, and a number of administration officials can't believe the level of foolishness required for Don Jr. to not only do this but to have such a conversation over email.
Insights and observations
Jake Tapper, CNN: "On it's face, this email chain is proof of willingness expressed by Donald Trump Jr. to collude with Russia."
Lawfare blog asks a key question: "Was this really a one-off meeting that didn't go anywhere, or was it an effort to sound out the people around the candidate to determine their willingness to accept Russian help before taking further steps?"
Josh Barro, Business Insider: "If someone said offhand 'this is part of Russian gov efforts to help you' & you were unaware of such efforts wouldn't you say 'the what now?'"
Reactions
Former Clinton staffer, via NBC's Kristen Welker: "this is the SNL version of what we always suspected was going on."
Sen. Tim Kaine: "We're now beyond obstruction of justice, in terms of what's being investigated, we're now moving into perjury, false statements and even into potentially treason."
Sen. Orrin Hatch: "He's the son of the president and frankly I think it's overblown."
Sen. Lindsey Graham: "Any time you're in a campaign and you get an offer from a foreign government to help your campaign, the answer is no."
Eric Trump: "This is the EXACT reason they viciously attack our family! They can't stand that we are extremely close and will ALWAYS support each other."
Timeline
May 26: Trump clinches the number of delegates needed to become the Republican nominee, though at the time there's talk of an effort to block him at the convention.
June 3: Publicist Rob Goldstone emails Trump Jr. saying the crown prosecutor of Russia wants to provide information that "would incriminate Hillary and her dealings with Russia and would be very useful to your father" as "part of Russia and its government's support for Mr. Trump." Trump Jr. replies, "I love it."
June 9: The meeting with Russian lawyer Natalia Veselnitskaya takes place at Trump Tower. Trump Jr., Paul Manfort and Jared Kushner attend.
June 15: Internal DNC documents are released, after apparently being stolen by Russian hackers. Note: there's no indication the Trump campaign was involved in the release.
Flashback
Shifting explanations
Saturday: When the NY Times first reported on the meeting, Trump Jr. said it was a brief introductory meeting and the primary topic of discussion was the adoption of Russian children. He had previously said he hadn't met with anyone related to Russia on campaign business.
Sunday: After the Times followed up with a report that Trump Jr had been promised "damaging information" on Clinton, Trump Jr. released a longer statement admitting that was the case, but claiming it "quickly became clear that she had no meaningful information. She then changed subjects and began discussing the adoption of Russian children."
Monday: It is reported that Trump Jr. has hired a lawyer. Later, that lawyer releases a statement saying Trump Jr.'s "takeaway" from the email was "someone had information potentially helpful to the campaign," implying that his takeaway was not that the information was coming from the Russian government.
Tuesday: Trump Jr. releases the emails.
The cast of characters
Natalia Veselnitskaya, the lawyer at the Trump Tower meeting
Veselnitskaya is known for her lobbying against the Magnitsky Act, designed to seize the assets of and deny visas to suspected Russian human rights abusers. Veselnitskaya told the NYT that she "never acted on behalf of the Russian government," but her anti-Magnitsky campaign is a cause that's deeply personal for Vladimir Putin.
Rob Goldstone, the music publicist who linked up Trump Jr. and Veselnitskaya
Goldstone's social media pages show him interacting with President Trump as far back as 2013 — and include an Instagram of him wearing a shirt that simply says "Russia" just after Trump won the presidency in November.
Emin Agalarov, the Russian pop star who asked Goldstone to set up the meeting
Agalarov is a 37-year-old pop star who became close to Trump following the 2013 Miss Universe pageant in Moscow.
Aras Agalarov, Emin's father and a billionaire real estate mogul in Moscow
According to Forbes, the 2013 pageant was hosted at one of Agalarovs' properties — after Aras and Emin made a concerted effort to reach out to Trump. Aras' bigger goal was a licensing deal with Trump to build a Trump Tower in Moscow.
Go deeper