What Steve Bannon thinks about Charlottesville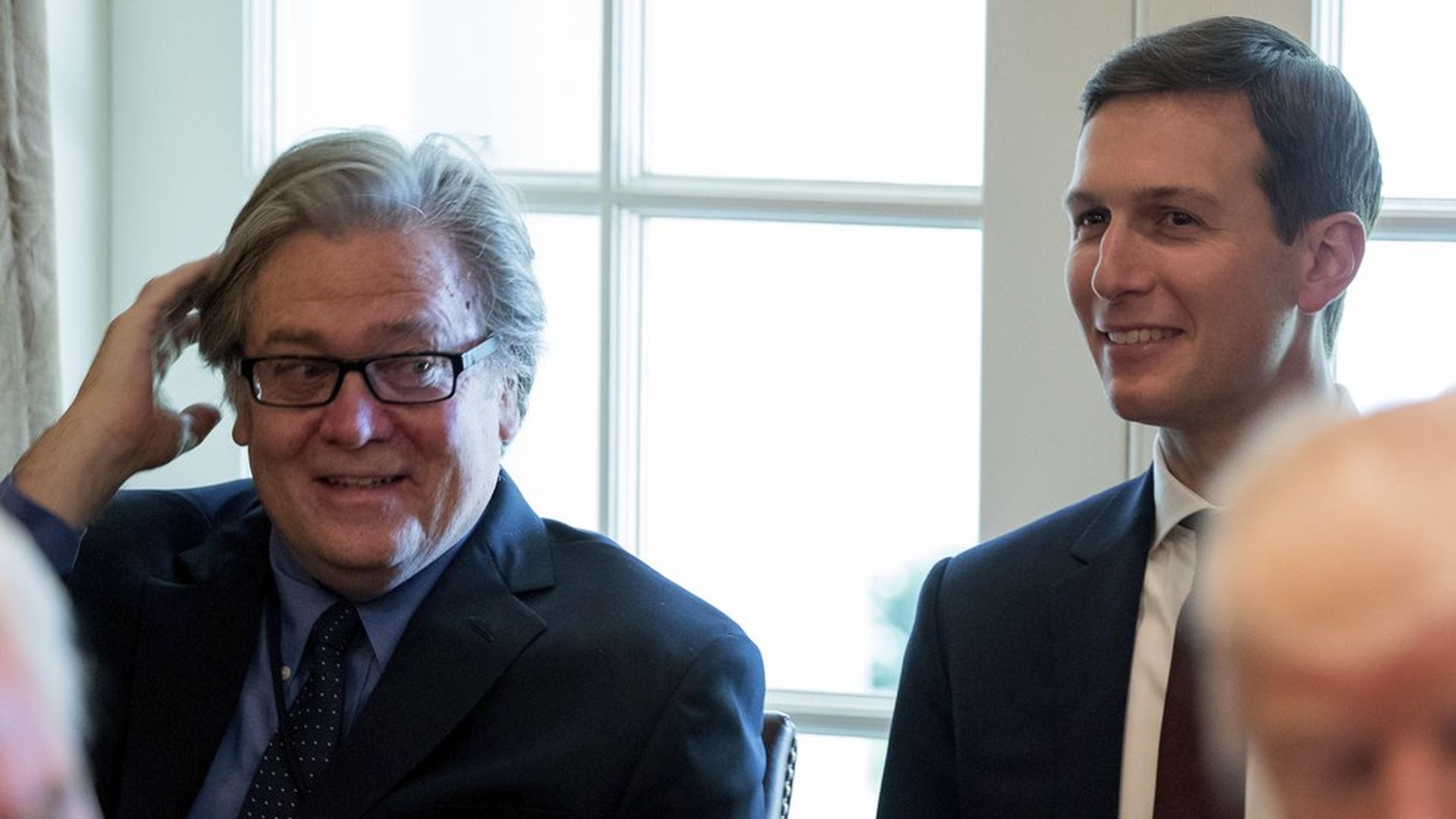 On Tuesday night, while Gary Cohn was fuming about President Trump's latest comments, Steve Bannon was excitedly telling friends and associates that the "globalists" were in mass freakout mode.
Today, Bannon reveled in the disbanding of the president's business council, seeing this as yet more evidence that the Trump administration is at odds with the "Davos crowd," as Bannon often calls these corporate elites, in a voice dripping with contempt.
Bannon saw Trump's now-infamous Tuesday afternoon press conference not as the lowest point in his presidency, but as a "defining moment," where Trump decided to fully abandon the "globalists" and side with "his people."
Per a source with knowledge: "Steve was proud of how [Trump] stood up to the braying mob of reporters" in the Tuesday press conference.
This account of Bannon's thinking has come from conversations with his friends and associates who've been in touch with him since the racist carnage in Charlottesville.
Bannon has not meaningfully advised the president about his response to Charlottesville. He's still on the outs with Trump, who has been calling him a leaker for weeks, though the president described Bannon as a good person on Tuesday.
They spoke by phone on Saturday, Sunday and Monday, according to a source with knowledge of the calls, but the response to Charlottesville has been all Trump, and Trump at his purest.
On the phone to Bannon, Trump asked his chief strategist "where does it end?" according to a source with knowledge of their conversations.
Trump wasn't referring to the white supremacists, but to the counter-protesters whom the president believes are on a slippery slope towards "changing history" by tearing down monuments of Confederate heroes and potentially, he has said, the Founding Fathers like George Washington, who owned slaves.
Bannon, who is in New York today, has a view of Trump's Charlottesville response that horrifies many of his West Wing colleagues:
Unlike some of Trump's other top aides — who have varied on a spectrum between frustration and disgust since the president's Charlottesville remarks — Bannon has unapologetically supported Trump's instinct to apportion blame to "both sides."
Sources who've spoken with Bannon since Charlottesville say he views this moment as analogous to the campaign moment when Hillary Clinton condemned half of Trump's supporters to a "basket of deplorables."
Bannon believes that if Trump condemned all the people who protested the pulling down of the Robert E. Lee statue then he'd fall into a trap set by leftists, the establishments of both parties, and the mainstream media. (Some of Bannon's colleagues say this is an absurd argument. They point out it was a crowd of white supremacists holding tiki torches and chanting racist slogans, and that this is no time for the president to be searching for the "fine people" in the group. They say Trump should be condemning the tiki torch crowd unequivocally and leaving the debate over statues and free speech to another, less racially-heated, day.)
Bottom line: Both Trump and Bannon are of one mind, and, within the White House at least, theirs is a minority view. They saw the backlash to Charlottesville as an example of political correctness run amok and instinctively searched for "their" people in that group of protesters. Bannon has told associates that Trump, on Tuesday afternoon, took it to the next level for the country by asking where does it end? He especially loved Trump's line: "I wonder, is it George Washington next week?"
Go deeper