What Facebook, Google and Twitter said in their first hearing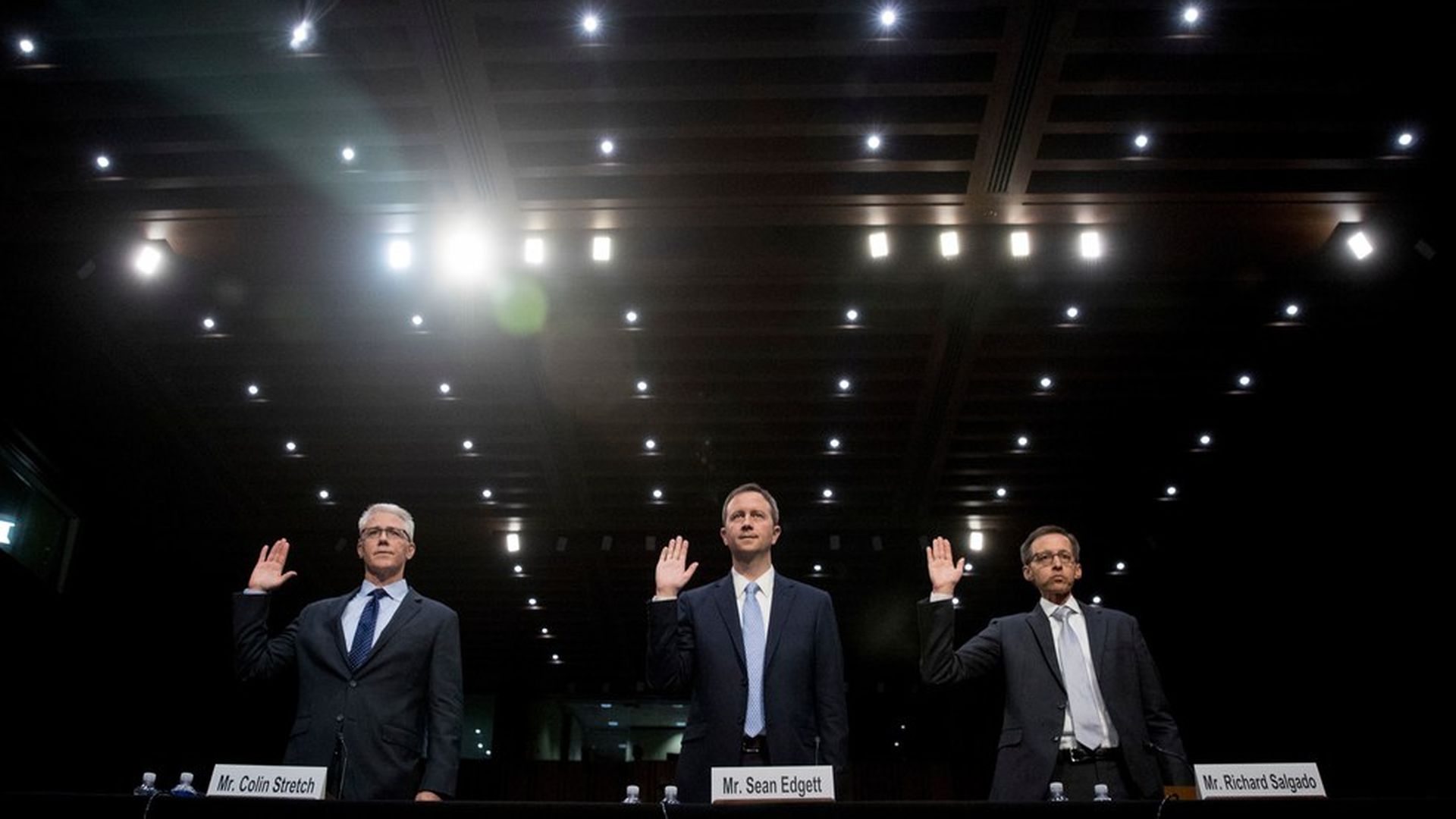 Senators from both sides of the aisle told top staffers from Google, Facebook and Twitter during a hearing Tuesday that they are skeptical of the company's massive influence and their ability to police abuse on their platforms after online Russian election meddling last year.
Tech response: The tech giants have presented a mostly united front during the hearing, telling the Senate Judiciary Committee's crime panel that, while the amount of Russian-sponsored ads and content on their platforms during last year's election was relatively small compared to their total user bases, they're committed to making sure it doesn't happen again.
Key quote: "I do not want to suggest in any way that we don't think this is a big deal," said Facebook General Counsel Colin Stretch. "We think this is a huge deal."
More highlights:
Sen. Al Franken had a tense exchange with Stretch over whether the company would ban political ads from being purchased in foreign currency. "My goal is for you to think through this stuff a little bit better," he finally said.
Sen. John Kennedy aggressively pushed Stretch on the company's ability to police its platform. "I think you do enormous good, but your power sometimes scares me," he said. "You've got five million advertisers, and you're going to tell me that you're able to trace the origin of all of those advertisements?"
Multiple lawmakers questioned why Facebook and others had taken so long to become engaged with this issue. "There's a lot that I think you could have done earlier," said Sen. Patrick Leahy.Sen. Chris Coons questioned why it had taken "eleven months" for Facebook to come forward with the information it has recently.Stretch defended the company's response, telling Coons that they had produced a white paper on the issue in April.
There were also questions about the ability of the platforms to balance free speech with policing misuse. "How are you going to sort this out consistent with the basic values of this country when it comes to freedom of expression?" asked Sen. Dick Durbin.
Sen. Ted Cruz expressed worries about "Silicon Valley companies actively censoring speech." He cited Twitter's decision to block some conservative ad content (in one case, that was reversed) and the controversy over conservative stories potentially being downplayed in Facebook's trending topics module. "Do you consider your site to be [a] neutral public forum?" Cruz asked.
Witnesses made clear this is an ongoing issue. "Following the election, that activity we'd seen really continued," said Stretch, noting that the content of the campaign had started to question President Trump's election. "It continued until we disabled the accounts."
Google announced steps to increase transparency around political ads. Google's Richard Salgado said the company would roll out an election ads transparency report next year and make it possible for users to see who had paid for political ads. Facebook and Twitter rolled out similar policies ahead of the hearing.But Google also distanced itself from the other companies. Salgado argued that the company's products "don't lend themselves" to the sort of viral content that makes Facebook and Twitter such a powerful tool.
The companies were asked what they'd learned from the hearing:Facebook's Stretch: "I've learned the seriousness of this committee and its approach to this topic."Twitter's Sean Edgett: "I've learned we have a lot more work to do and we're focused on doing that."Salgado: "I think it's quite clear that this is a problem that's going to take the work of all the companies, policymakers, law enforcement and NGOs to solve."
Go deeper:
Axios has
reported
on how the Russia issue is just one of several facing big tech companies in Washington, and on Tuesday
debuted new polling
on the overall favorability of Facebook, Google, Twitter and several other tech companies.
Go deeper