"We have stopped making progress" fighting malaria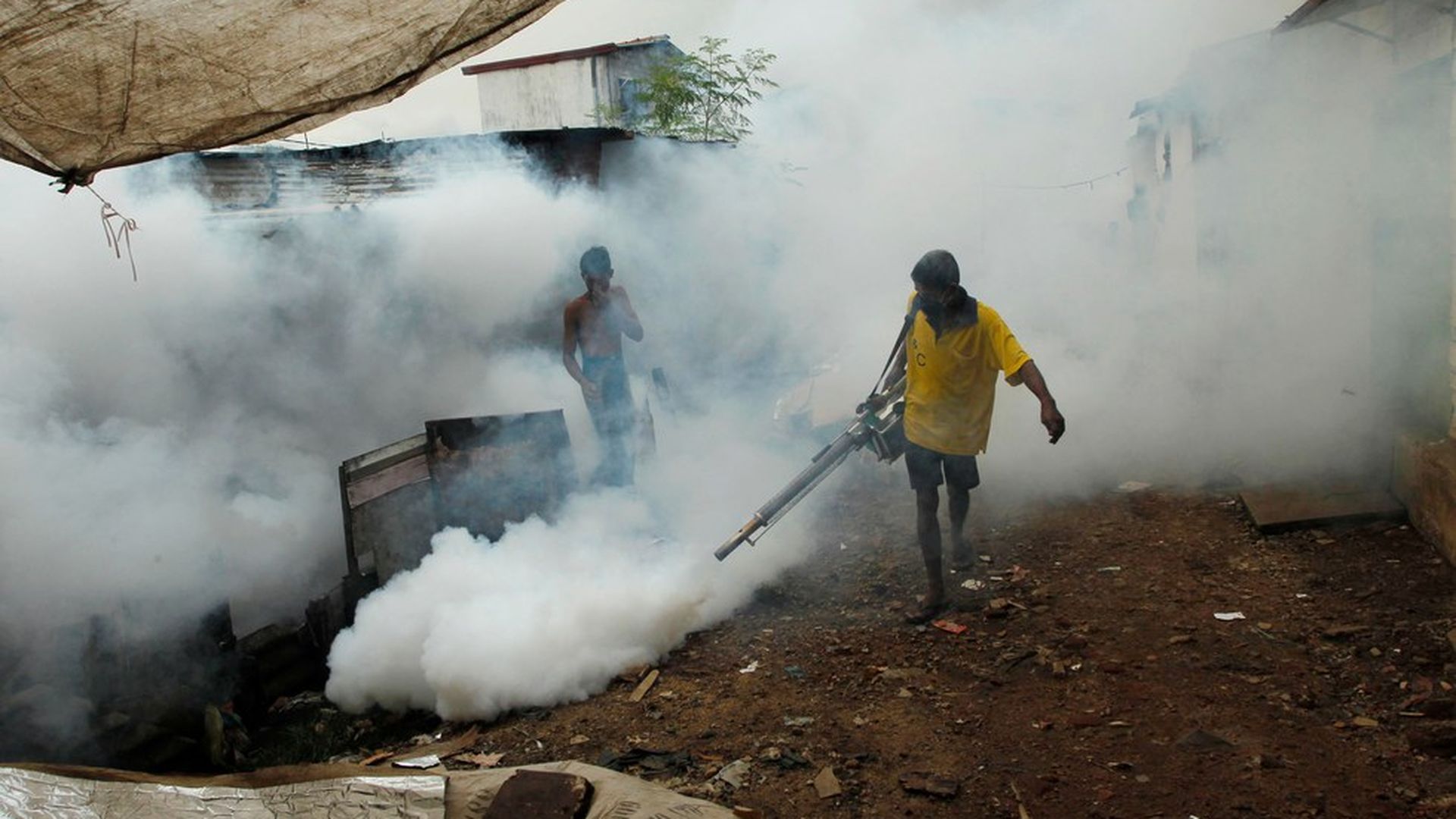 There were 5 million more malaria cases in 2016 compared to the previous year, according to the World Health Organization. This is an abrupt change: the number of cases dropped over 60% from 2000-2015. "For the first time, we can confidently say that we have stopped making progress," Pedro Alonso, the director of the Global Malaria Programme at the World Health Organization tells Amy Maxmen at Nature.
Why it matters: According to the WHO, more than half the world's population is at risk of contracting malaria. In 2015, over 200 million people were infected with malaria and nearly half a million died, mostly children under the age of 5.
Why it's happening:
Funding shortages. In 2016, the amount of money spent combatting malaria decreased. Reports Maxmen, "A review of 75 malaria resurgences between 1930 and 2011 found that most upticks in the disease followed funding disruptions."
Indoor residual spraying. The Economist reports some are blaming a decline in indoor residual spraying, which treats walls of houses with insecticide, for the increase. But evidence on the efficacy of indoor residual spraying is mixed.
Ongoing humanitarian crises in countries like Sudan and Yemen make targeting malaria in those places more difficult, though the WHO reports apparent reductions in cases in some of those countries.
Access to treatment is still less than it should be in many countries, reports the WHO.
Drug resistance: It's concerning that we're seeing more malaria cases, in part because resistance to some drugs is rapidly spreading in malaria in Southeast Asia. The region only accounts for 3% of malaria cases, reports Maxmen, but if the resistant disease makes it to Africa deaths could dramatically increase.
The bottom line: "If you ask me, the number-one priority must be to ensure that people stop dying of a disease that is entirely curable," Alonso told Maxmen.
Go deeper