Virginia gubernatorial race goes to the wire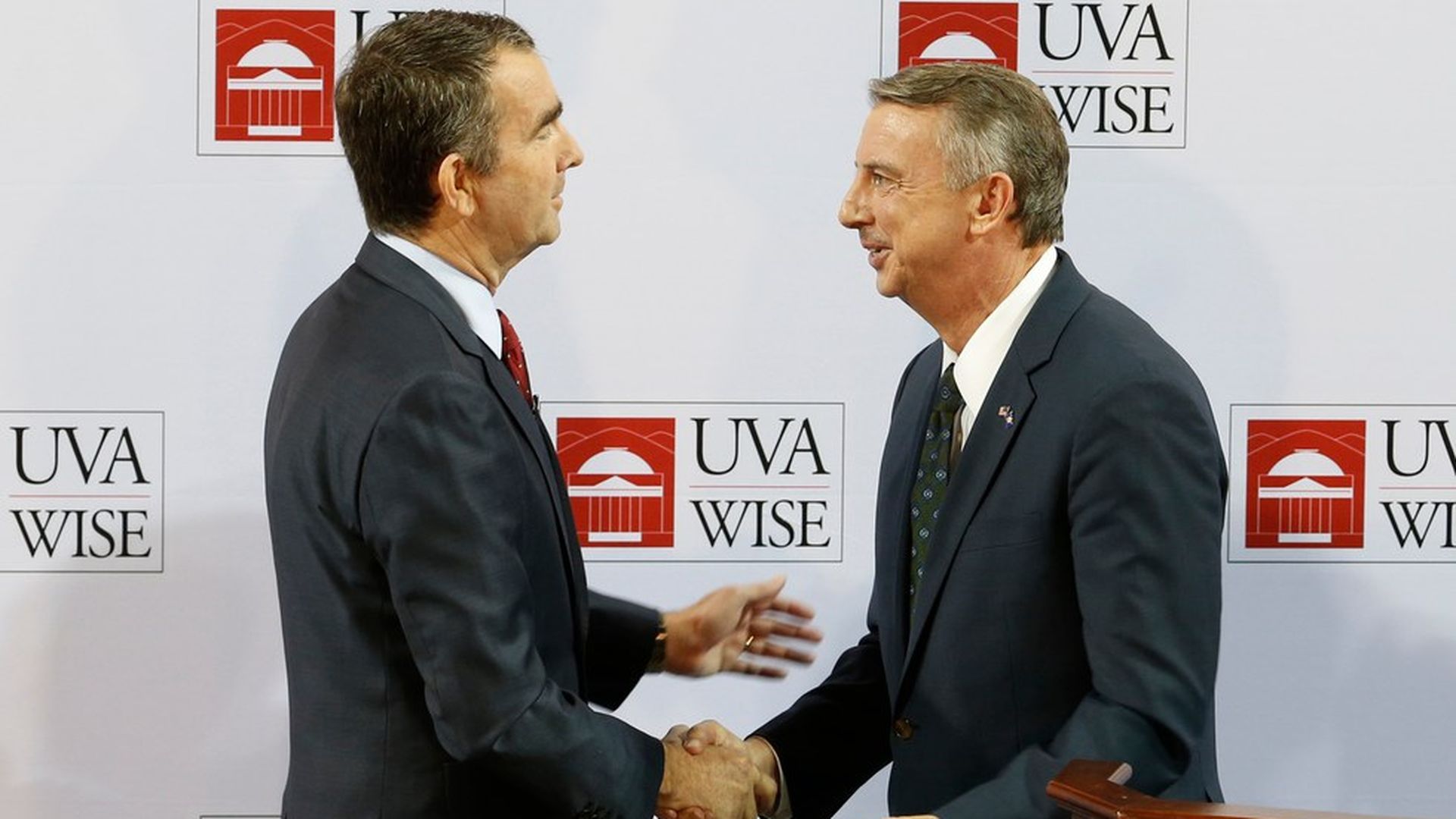 The only competitive gubernatorial election this year is in its final hours today in Virginia, pitting Democrat Ralph Northam, the state's Lieutenant Governor, against Republican Ed Gillespie, the former chair of the RNC. The race has inflamed tensions over immigration and crime with several negative ad hits, and has left the candidates essentially neck-and-neck in the last few days.
Why it matters: The implications of this gubernatorial race could help candidates from both parties decide how to handle the 'Trump question' in 2018.
What to know: 11 races to watch tonight
The gubernatorial race: Northam v. Gillespie
Northam leads by 3% in the RCP polling average. Turnout drops from presidential election year rates of 70% to about 40% during off-year elections in Virginia, and when some polls have used that data to model results, Gillespie wins.
Virginia has tinted blue over the last several years and it's the only southern state that went for Hillary Clinton last year. If this was purely a referendum on Trump, polls wouldn't be nearly as close, especially given Trump's approval in Virginia is just over 30%.
Northam communications director David Turner tells Axios he thinks that Trump's unpopularity will turn out the vote on the Democratic side, but "I don't think you can rely on just Trump."
The 2017 volunteering numbers for Democrats and Republicans alike have been higher than in 2013, the last time Virginia held a gubernatorial race.
In 2014, Gillespie was polling double digits behind Mark Warner for a Senate seat, but he came back and ultimately lost by just 0.8%.
How the ad wars are playing out:
Gillespie has painted Northam as responsible for MS-13 gang violence in Virginia.
Northam has linked Gillespie to white supremacists with mailers including Gillespie, Trump, and tiki torches evoking the Charlottesville protests. Just last week, an ad from a group opposing Gillespie seemed to paint his supporters as racists. In it, a truck with a Gillespie bumper sticker chases minority children. It was pulled from the air after the NYC vehicular terror attack last week, and Gillespie issued a response ad claiming Northam "disdains" Virginians.
Meanwhile Northam has been aggressively linking Gillespie to Trump, who has endorsed Gillespie.
Trump tweeted Tuesday morning that Northam "will allow crime to be rampant" and that he has been "horrible" for the economy, adding he thinks Gillespie will "totally turn around" crime and the economy. The president has endorsed Gillespie, but has not campaigned for him in Virginia.
The wild card in the race is how sanctuary cities rhetoric plays. Northam's comment that he would sign a bill banning sanctuary cities in the state last week has potentially put some votes in play given how electorally important that issue is, although there are are no "sanctuary" jurisdictions in Virginia currently.
On voting
The campaigns have already garnered a record amount of absentee ballots — 147,000 per Friday's numbers, but there's still time for Virginians to cast votes. Polls are open 6am - 7pm Tuesday (find your polling location here). Voters must bring a photo ID, but can use IDs up to one year after the expiration date (student photo IDs and employer-issued photo IDs will work), per The Washington Post.
As results stack up tonight watch the bellwether counties, which usually predict the outcome of elections in Virginia: Prince William County and Radford City are the two most reliable, but it could also be worth watching Loudon County, Harrisonburg City, Albemarle County, Henrico County, Sussex County, and Northampton County. Keep in mind, the Democratic-leaning Washington suburbs tend to report later, so if Gillespie is ahead at first, it doesn't mean the jig is up yet, according to FiveThirtyEight.
Go deeper