Uber board splits difference with Travis Kalanick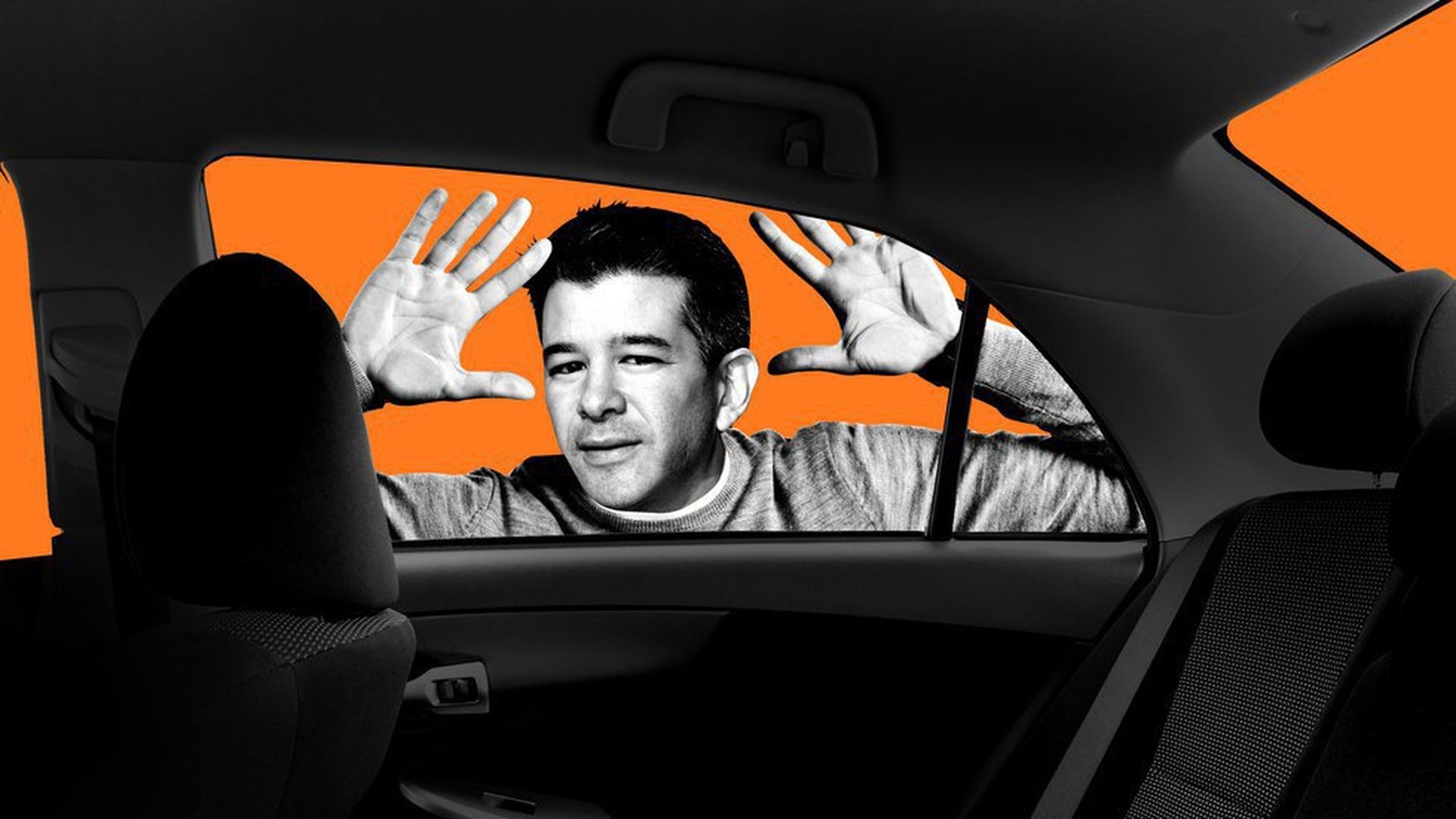 Uber's board of directors today failed to approve governance changes that would have formally prevented former CEO Travis Kalanick from ever again taking charge of the company, according to sources familiar with the situation. It did, however, unanimously agree to reduce Kalanick's board power and help better clear a path toward IPO. In short: Everyone feels like they won, although the biggest victor is new CEO Dara Khosrowshahi.
Why it matters: Uber is the most valuable private tech company in the world, and has revolutionized urban transportation. But it has been stuck for months in a board battle that has risked putting the company's progress in neutral.
Who was in the room? New board member Ursula Burns called into today's board meeting. So did Khosrowshahi, who was in London trying to get Uber's license renewed. John Thain, who joined the board with Burns at Kalanick's request, was there in person.
What passed?
Super-voting rights are gone, which means shareholders are all "one share, one vote." Note that only early employees actually have shares, whereas over 90% have restricted stock units (which don't have any voting rights).
The board will be expanded significantly, which means Kalanick would need support of a majority of independent directors to ever regain the CEO spot or be named chairman.
If Uber doesn't go public by two years from now, share transfer restrictions are lifted.
What didn't pass:
Eliminating any path to the CEO or chairman seat for Kalanick, although it's now a much higher hurdle.
Uber statement: "Today, after welcoming its new directors Ursula Burns and John Thain, the Board voted unanimously to move forward with the proposed investment by SoftBank and with governance changes that would strengthen its independence and ensure equality among all shareholders. SoftBank's interest is an incredible vote of confidence in Uber's business and long-term potential, and we look forward to finalizing the investment in the coming weeks."
Kalanick statement: "Today the Board came together collaboratively and took a major step forward in Uber's journey to becoming a world class public company. We approved moving forward with the Softbank transaction and reached unanimous agreement on a new governance framework that will serve Uber well. Under Dara's leadership and with strong guidance from the Board, we should expect great things ahead for Uber."
It's still complicated: Just because Uber plans to move forward with the SoftBank investment, that doesn't mean it necessarily happens. The Japanese tech giant still needs to figure out pricing, and then effectively launch a tender with eligible sellers (i.e., investors and early employees, not RSU-holders). No guarantees that it will get anywhere near enough sell-side interest to finalize the deal, as SoftBank requires a minimum ownership stake of around 14%, inclusive of co-investments from firms like Dragoneer and General Atlantic (it had been 17.3%, but got lowered after Didi Chuxing dropped out of the buy-side consortium). Moreover, Uber's board can't actually approve the deal — that would require a shareholder vote, although Benchmark is now likely to vote its shares in favor.
Update: Some additional details reported by Bloomberg.are that Kalanick and Khosrowshahi are barred from chairing board committees. Also, were Kalanick to become CEO again, Benchmark would effectively be allowed to sell all of its shares. A source confirms these changes to Axios, adding that they apply to any current and former officers of the company, which also includes Khosrowshahi and current board members Ryan Graves and Garrett Camp.
Go deeper