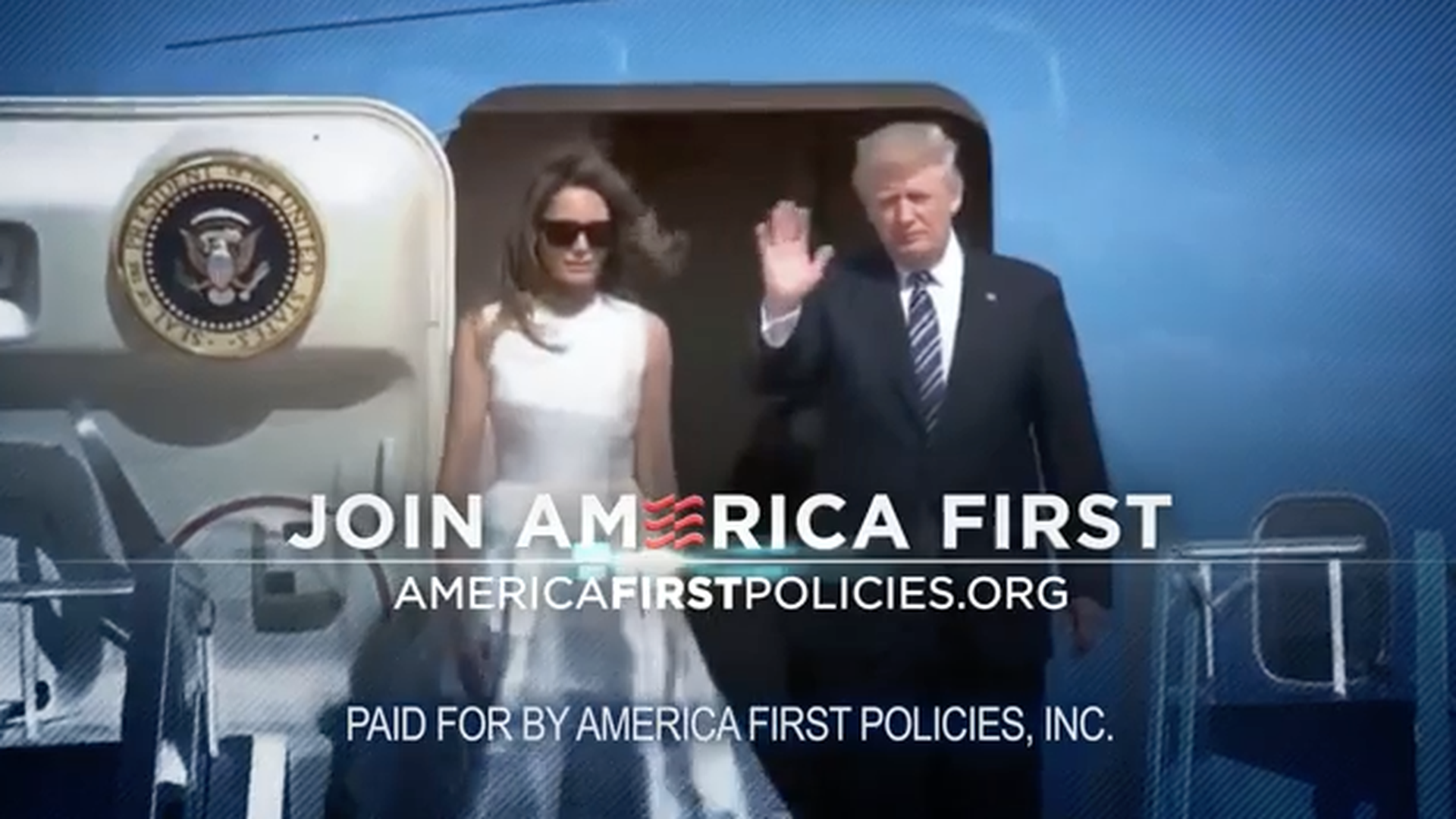 America First Policies, a non-profit organization run by Trump insiders, is rolling out a nationwide cable ad campaign this week to promote the President's first trip abroad. I spoke with the group's leaders Katie Walsh and Brian O. Walsh (no relation) to hear what they're doing, and how they're thinking about the fights ahead:
Data points:
The group is putting $400,000 behind a weeklong TV ad, "Safe Again," which promotes the President's work in the Middle East and Europe — with a focus on fighting terrorism.
The new ad takes America First's spending this year to roughly $5 million, with campaigns to support the Republican healthcare plan and the special election in Georgia.
America First gave a $3 million outside push to help get healthcare through the House. They ran TV, phone and digital and key districts and they tell me they'll likely adopt the same strategy to help in Senate target states.
Inside the group's thinking:
The ad ends by asking people to join America First. The Walshes tell me this is the beginning of a much broader effort to engage national audiences and re-energize those who voted for Trump in November but have slipped away from political activity since then.
"This is about collecting information and mobilization," says Katie Walsh, who recently left her post as deputy chief of staff in the White House to join America First. "We strongly believe that for us to get the President's policy agenda passed we need to harness millions of voices."
White House officials like Chief of Staff Reince Priebus and chief strategist Steve Bannon were frustrated at the lack of support from outside groups during the healthcare fight. America First is now trying to correct that and counter what the administration views as a lopsided cultural fight in the media.
Reflecting the view of many in Trumpworld, Katie Walsh says "the professional Left has a real advantage because the media is lined up behind them." America First will give voters who backed Trump in November "an avenue to stay in the fight."
The first big test of America First's effectiveness: the Senate healthcare vote, which the White House expects will happen before the summer recess. When members — whether they be Democrats or Republicans — block Trump's policy agenda, expect these outside groups to encourage Trump supporters to bombard these members with phone calls and to show up at their town halls and district offices.
Go deeper