Trump's foreign debut follows brutal week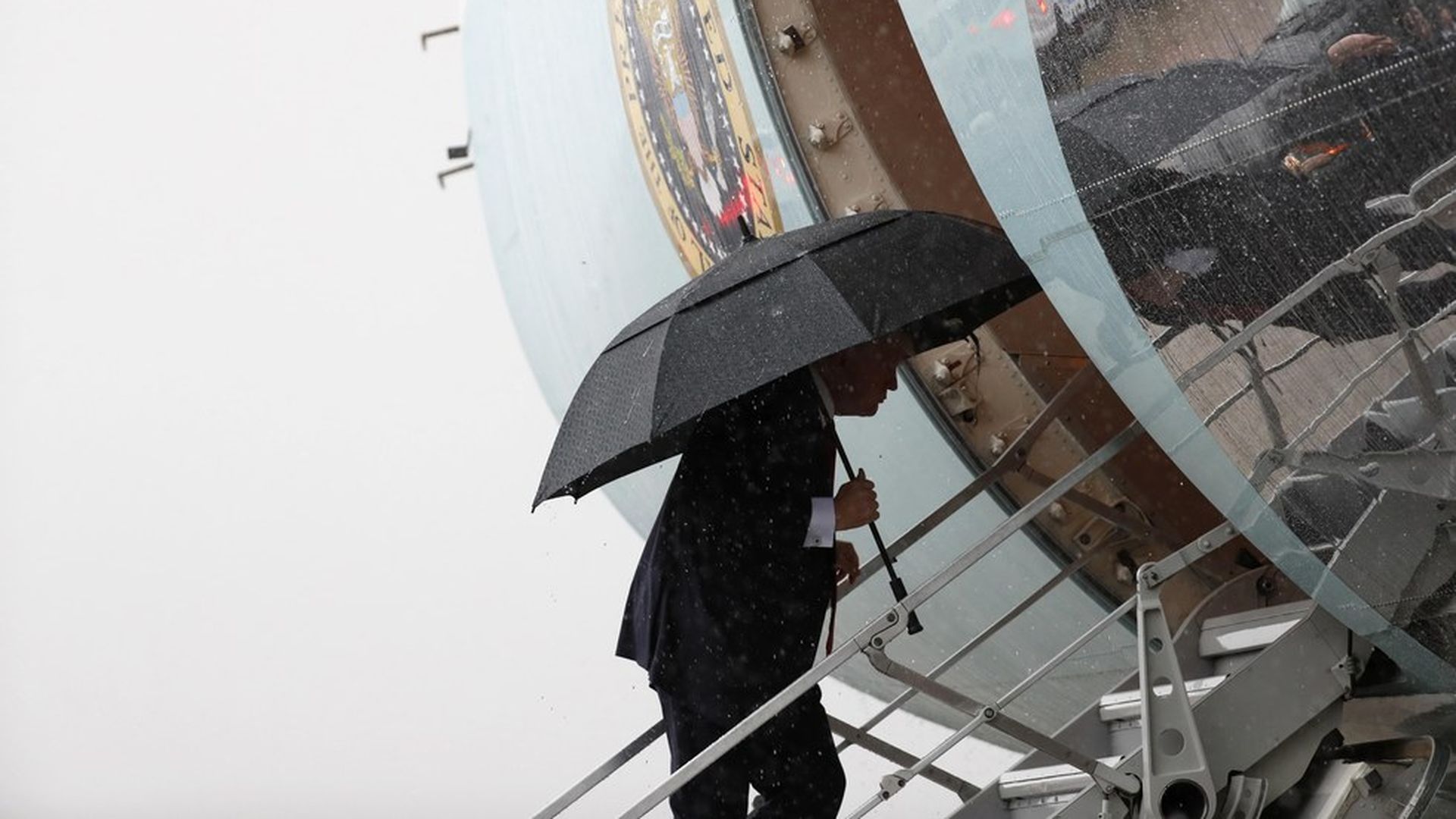 After a week in which the White House seemed to be collapsing around him, President Trump will depart Friday on his first foreign trip as president, beginning in Saudi Arabia.
Over the course of 49 hours starting Monday night, reports emerged that 1. He disclosed top secret intel to Russia 2. He asked James Comey to stop investigating Michael Flynn 3. A special prosecutor had been appointed in the Russia probe.
Thursday didn't bring a bombshell on that scale, but Trump took questions about those potential crises for the first time, and there were a number of significant developments. For one, it became clearer than ever that Trump has not heard the last of James Comey.
Trump takes questions...
From a joint press conference with the president of Colombia:
Was appointing a special prosecutor the right move? "I respect the move but the entire thing has been a witch hunt and there is no collusion between certainly myself and my campaign, but I can only speak for myself, and the Russians- zero. I think it divides the country."
Did you do anything to impede the investigation into Michael Flynn? "No, no next question."
Do you think you've done anything criminal? "I think it's totally ridiculous, everybody says so."
Comey, line 1...
The NY Times Michael Schmidt reports President Trump called James Comey "weeks after taking office" to ask when the FBI would state publicly that he was not personally under investigation, and Comey told Trump not to take such questions up with him.
2. Troubled by Trump…
Benjamin Wittes, senior Brookings fellow and friend of Comey's, writes that Comey told him Trump had "asked for loyalty" soon after taking office and been "perceptibly uncomfortable" when Comey offered only honesty.
"Ever since, the President had been trying to be chummy in a fashion that Comey felt was designed to absorb him into Trump's world — to make him part of the team."
A wild anecdote: Per Wittes, Comey wore a dark blue suit and "tried to blend in with the blue curtains" at a White House reception in January to avoid Trump's attention. Trump eventually spotted him and called him over, leading to a "one-sided" embrace.
"Comey was disgusted. He regarded the episode as a physical attempt to show closeness and warmth in a fashion calculated to compromise him before Democrats who already mistrusted him." Read the full article.
3. Preparing for dinner...
The Washington Post reports that Comey prepared "extensively" for meetings with Trump, brainstorming ways to maintain ethical boundaries without dealing the commander-in-chief a "slap in the face."
Before the dinner in which Trump reportedly asked for a loyalty pledge, Comey "practiced Trump's likely questions and his answers with a small group of his most trusted confidants."
Ominous notes: "Another associate said the notes of the January dinner conversation contained very nuanced quotes from the president and a high level of detail."
Huddling with the lawyers…
Trump met with his legal team Thursday, a day after a special prosecutor was named in the Russia probe, according to Politico. A White House official said the discussion "centered around the nuts and bolts of how the investigation would work – and how the administration will need to handle the inquiry."
White House Counsel Don McGahn has reportedly been telling Trump to be guarded when talking about the appointment of a special counsel, and informing aides of records retention guidelines.
Pence in the dark…
A source "close to the administration" tells NBC News the VP was not told Michael Flynn was under federal investigation prior to his becoming national security adviser, despite Flynn reportedly having made a disclosure to the transition team, which Pence was nominally leading. The source says that's part of a "pattern" of Pence being out of the loop:
"... it's also a fact that not only was Pence not made aware of that, no one around Pence was as well. And that's an egregious error — and it has to be intentional. It's either malpractice or intentional, and either are unacceptable."
Pushing back…
Per Foreign Policy:
"President Donald Trump's inner circle is war-gaming how best to respond to the Washington Post's bombshell report that he shared classified intelligence with the Russians .... One option under consideration? Attack former President Barack Obama and his administration over their handling of sensitive data, in particular through one information-sharing program regarding cybersecurity threats."
What to watch for...Trump could name the next FBI director as early as this morning. Axios' Jonathan Swan confirmed that, as of Thursday afternoon, the leading candidate was former Connecticut Senator Joe Lieberman.
Go deeper