Trump's dark view of North Korea options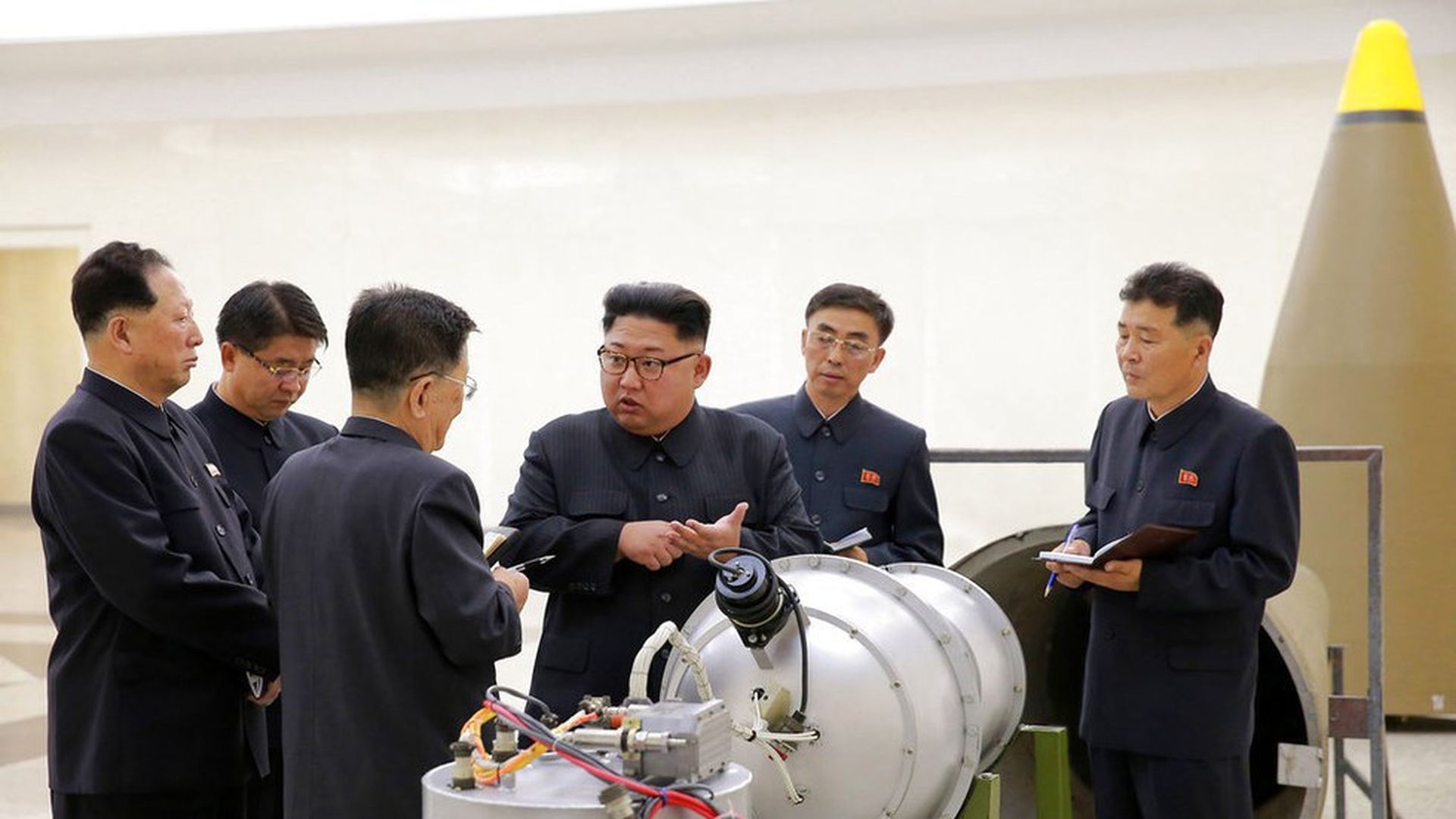 Forget DACA or tax reform. One topic consumes the vast majority of President Trump's inner circle: North Korea.
Contrary to the president's breezy tweet this morning, in which he refers to Kim Jong-un as "Rocket Man," top administration officials have a dark view of how this plays out. They believe the confrontation with Pyongyang's portly dictator will define Trump's first term in office.
The consensus view among Trump, Mattis and McMaster, according to several officials briefed on their thinking, is that this conflict is heading towards two options, both with high risks: escalated confrontation with China and the military option.
1. Direct pressure on China:
Administration officials believe it will take intense financial sanctions and tariffs to pressure the Chinese to do a lot more to choke off the North Korean economy. The Chinese insist in private they don't have has much clout as the U.S. thinks. The Trump administration thinks that's nonsense.
Officials are waiting to see how the latest United Nations sanctions agreement affects North Korean behavior, but if the regime keeps firing rockets and testing nukes, watch for escalated tension with China. Especially over Beijing's refusal to stop exporting oil to North Korea — a remaining pressure point that's preoccupying Trump's national security team.
2. The military option(s):
If pressure on China fails and North Korea gets close to having a nuclear missile that can hit any U.S. state, top officials insist they will take action.
Trump sounded the war drums early on because he was told this is a very live, if super dangerous and difficult, option.
Officials have not laid out to us how this could unfold without putting millions of South Koreans and thousands of Americans at risk for deadly retribution.
Note of caution: Trump hasn't yet concluded that he needs to take extreme measures against China. The national security team still believes there's room to bring more pressure to bear on North Korea and the clients supporting the state before launching a full-scale economic confrontation against China.
Alaska's Republican Sen. Dan Sullivan, whose state is likely within Kim Jong-un's missile range already, told me he believes Congress should invest more heavily in missile defense and work on legislation to approve "a preventive ground war by the U.S. on the Korean Peninsula."
"The model there is either the first Gulf War or the Second Gulf War," Sullivan said in an interview Saturday. He said Trump would need this congressional authority — an Authorization for Use of Military Force (AUMF) — to abide by the Constitution but it also makes sense politically and diplomatically.
Politically, because he believes the White House should want the American people to endorse, via their congressional representatives, such a momentous decision as a Second Korean War. An AUMF would also, Sullivan argues, "provide the administration with additional leverage as they're trying to resolve this in a way without going to war."
Sullivan said he raised this issue with the administration but didn't want to get into details of the discussions. (An official I spoke to Sunday cautioned that such an AUMF is not on the administration's radar.)
Sullivan said missile defense is the other crucial component of the North Korea policy, "not just in the region but our own homeland." He said the new National Defense Authorization Act (NDAA) — the law specifying the Defense Department's policy priorities — that should pass either Monday or Tuesday, "has real big plus-ups for missile defense for the homeland."
"Alaska has the element of being on the front lines but also protecting the rest of the nation," due to its missile defense, Sullivan said. "If [Kim Jong-un] knows there's no way he's going to get it through, even a madman won't do it."
Go deeper