Trump's big climate change splash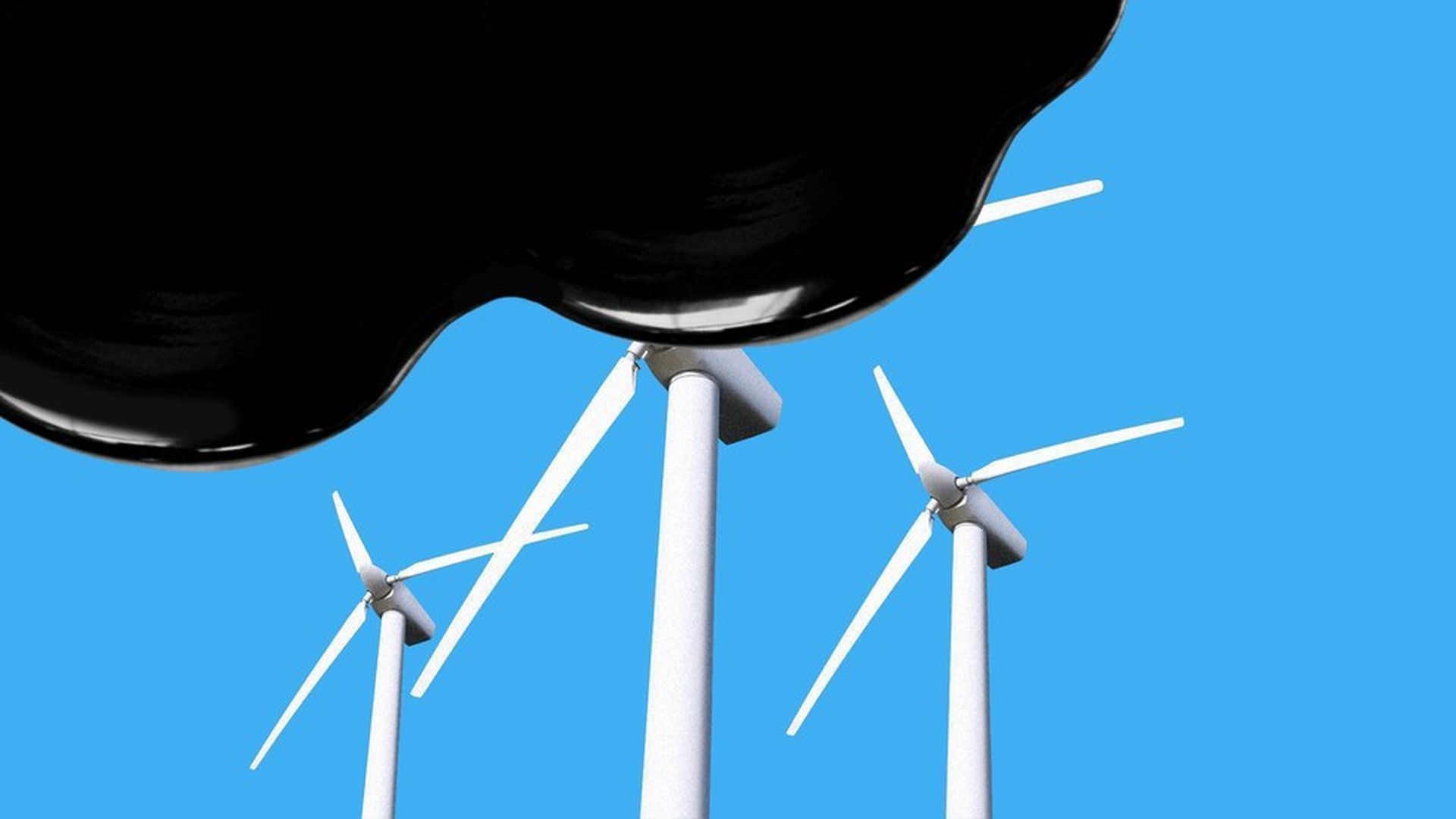 Today at the EPA President Trump is acting on a pledge to unravel several parts of the Obama-era climate change push. He'll sign an executive order that will:
Begin undoing the EPA Clean Power Plan than mandates cuts in carbon emissions from coal-fired power plants.
Undo several policies that wove climate change into federal decision-making, such as the Obama administration's tally of a metric called the social cost of carbon, and a White House directive that agencies factor climate change into a range of permitting decisions.
End an Interior Department policy that froze issuance of new coal leases on federal lands.
Reconsider EPA and Interior rules that govern oil-and-gas development.
Make several other policy changes, which we describe here.
Where all this matters and where it doesn't: Before today Trump had killed an Interior Department regulation on coal mining waste, approved the Keystone XL and Dakota Access pipelines, signaled he'll ease auto mileage rules, and called for faster infrastructure permitting overall. So two months into his presidency, how much impact is he having? Easing environmental protections can affect how industry operates, but not necessarily how much it operates. Fossil fuel production is pretty resilient to policy shifts unless they really mess with the underlying market fundamentals. So let's look at where Trump's actions to date will or won't move the needle . . .
Oil and gas production. These changes are unlikely to have an outsized effect, but could influence drilling and production decisions a little. Easing regulations matters much less than fundamentals. While lots of Washington is paying attention today, a date that matters way more is May 25, when OPEC meets to decide whether to extend production cuts that have helped prices rebound from the dumps of 2015 and 2016 and helped put the U.S. oil boom back in motion.
Infrastructure. This matters. Industry is more bullish here about a meaningful change from the Obama era — especially if the early moves on Keystone and Dakota Access are replicated more broadly. "Of all those things, the one that might matter the most, just because it might pull (oil) production forward a little quicker, is the whole permitting issue around infrastructure," veteran oil analyst Bobby Tudor said on a podcast released Monday from the Columbia University Center on Global Energy Policy.
Coal. Coal stocks could get a bump from the order, just like they did when Trump won in November. Trump may slightly alter the rate and trajectory of the industry's long-term projected decline in the U.S., where mining and power generation faces headwinds from inexpensive natural gas, earlier air pollution rules, renewables and other factors. But he probably can't really turn things around. Let's turn it over to the consulting firm ClearView Energy Partners: "[W]e see few policy levers available to either Congress or the Trump Administration sufficient to offset organic, power-sector coal displacement by modestly priced natural gas," they said in a recent research note.
Renewables: Killing the Clean Power Plan (which has already been frozen by the Supreme Court) doesn't help renewables, but probably doesn't hurt much either, at least not for a while, thanks to other forces like tax credits that were extended for five years in late 2015, state green energy mandates, and falling costs. "We expect there to be a relatively, strong continuing build of renewables over the next several years regardless of what happens with the CPP," Ethan Zindler, a senior analyst with Bloomberg New Energy Finance, tells Axios.
What's next: Bureaucracy, and lawsuits.
Some of the policies that the order targets, such as the White House guidance on factoring climate change into National Environmental Policy Act reviews, can be largely undone pretty fast.
But final regulations like the Clean Power Plan will take a long time, perhaps years, to formally unwind under the detailed requirements of administrative procedure. Look for environmental groups to battle the outcome in court.
What's outstanding: The executive order is the most aggressive move to date, but a lot remains undecided too.
Paris. The Trump administration still hasn't decided whether it will begin the process of abandoning the international Paris climate change pact, even as it takes steps that undercut U.S. carbon emissions pledges. Walking away would have an unknown effect on the global push toward low-carbon energy sources.
Federal R&D investments. The initial White House budget plan would cut Energy Department programs deeply, but it's unlikely Congress is willing to go as far.
Go deeper