Trump's American Pipe Dream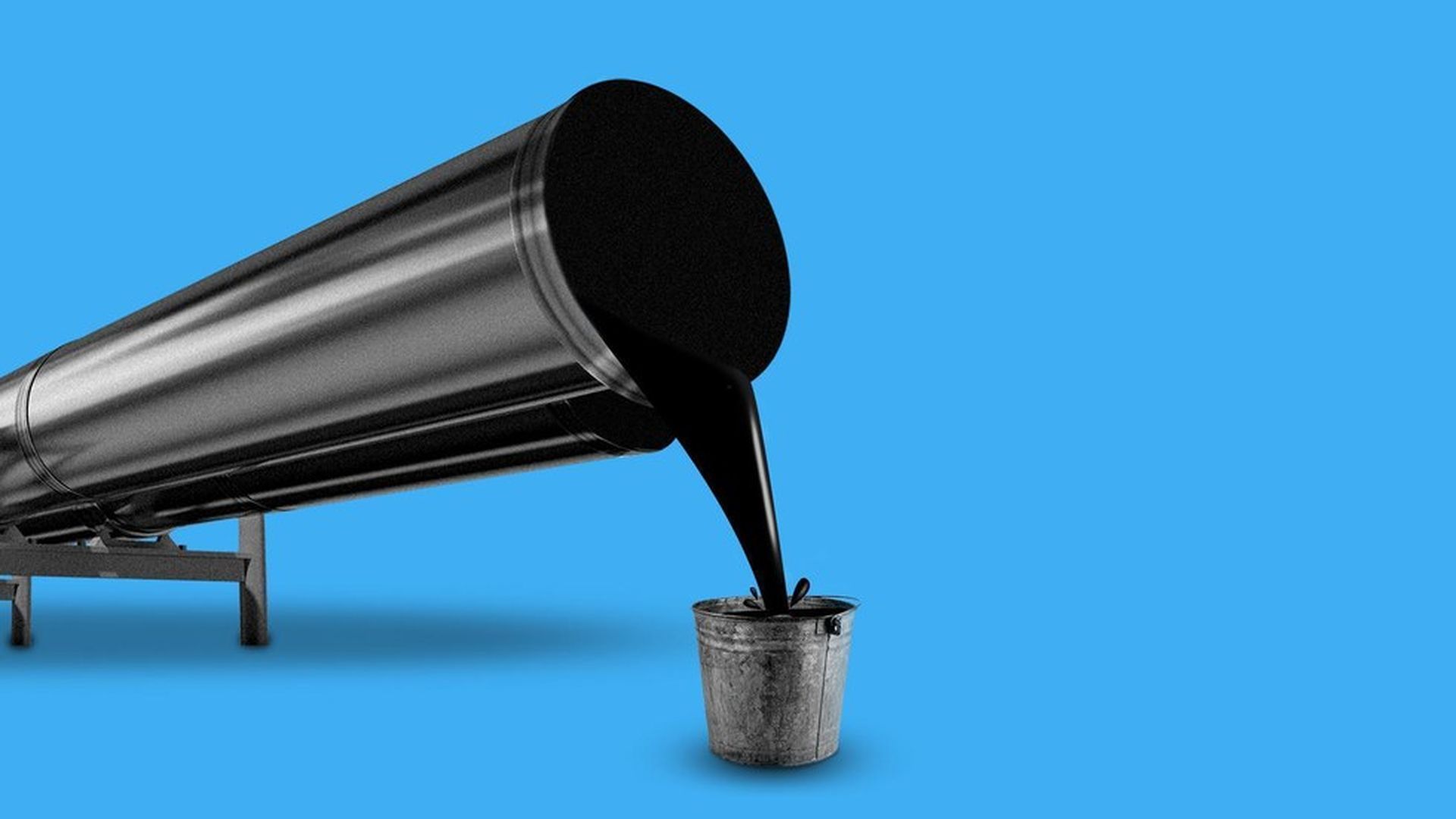 President Trump wants American pipelines to be built with American steel. American energy companies are telling him "no thanks."
Pipeline, oil and gas companies—along with their Beltway lobbying groups—are telling the Trump administration that domestic steel requirements would be almost impossible to meet and prohibitively expensive, letters reviewed by Axios show.
Why it matters: Reviving the U.S. steel industry is at the heart of Trump's governing mantra, but so is supercharging domestic oil and natural gas production. Doing the former by requiring pipelines to be made of U.S. steel counteracts the latter, energy industry officials say. How the administration goes about seeking to achieve both of these goals will help reveal which Trump cares about the most.
"There's a mismatch in agendas here if a key goal is to facilitate American energy production and distribution," said Dave Conover, vice president for corporate communications at Houston-based Kinder Morgan, which bills itself as North America's biggest energy infrastructure company.
Reality check: On average, U.S. pipelines are made with about 30% domestic steel components, according to data by IHS Global Insight and the International Trade Association. There are very few, and in some cases zero, U.S. companies that make steel for the parts required by large pipelines, so companies look abroad, according to a letter the American Petroleum Institute and four other groups recently sent to the Commerce Department, which is studying the issue at the request of Trump.
For example: No U.S. companies make valves that meet the requirement set by API, which issues industry-wide standards, and more than 60% of steel fittings sold to the U.S. energy sector come from two companies, and they import steel from South Korea, Japan and Italy, according to the letter.
What they're saying:
Energy Transfers Partners, the company behind the Dakota Access pipeline said in a letter to the Commerce Department that requirements to use domestic steel for its pipelines would "severely delay project schedules, drive up costs, decrease availability, and lower quality."
Williams Cos., a large natural-gas pipeline company, said in a letter that "any sort of requirement to use U.S.-sourced steel or pipeline materials manufactured in the United States has the potential to cancel or delay projects."
The letter API helped lead has a similar laundry list of concerns, concluding that domestic requirements could ultimately block new jobs, kill existing ones and prevent "further domestic energy infrastructure buildout that benefits U.S. businesses and consumers."
Here are the 3 things Trump has done to promote American-made steel over foreign imports:
Called on the Commerce Department to study how feasible it would be to require domestic steel in pipelines, and Trump repeatedly said he was going to require all U.S. pipelines, including the Keystone XL pipeline, to be built with domestic steel. The White House ultimately reneged on that, arguing that because Keystone has already been in the works, it was exempted from any requirements.
Ordered a review of "Buy American" law enforcement. This order doesn't actually create any new requirements.
Called for investigation into whether foreign imports of steel are flooding the U.S. market. The investigation could result in tariffs on foreign imports of steel. Trump in the past has accused China of flooding global markets with its steel production. But in fact, the U.S. imports most of its steel from other allies: Canada, Brazil, South Korea and Mexico, according to a Barclays study issued in January. China comes in 10th on the list, right before the Netherlands.
What's next: The Commerce Department study is set to be complete by July 23.
The takeaway: Without new policies, much of Trump's rhetoric backing the steel industry won't produce any change, which could be good for the energy industry but bad for the U.S. steel industry looking for a revival.
Ultimately, you have to have some bite to the rhetoric ... these executive orders help, but you need tariffs to really strengthen the U.S. steel industry. — Barclays analyst Dane Davis
Go deeper