Trump vs renewable energy: not as bad as it looks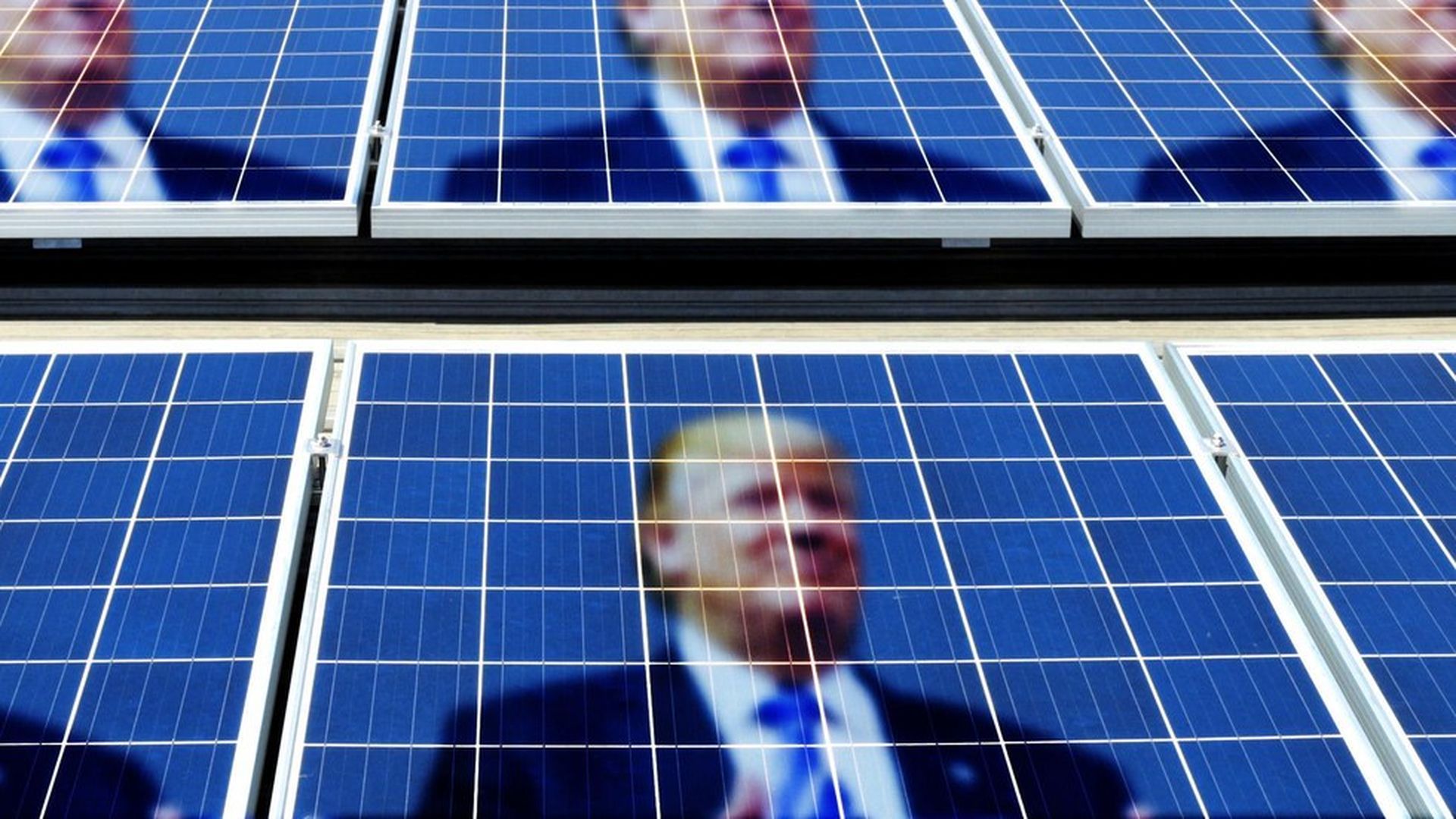 Behind President Donald Trump's dismissive rhetoric of renewable energy is a muddled picture. Executives in the industry are seeing signs the administration won't actually be as bad for them as feared.
Why it matters: Wind and solar power use skyrocketed across the U.S. over the past decade thanks in part to tax incentives and friendly policies by former President Obama. Growth in the industries led to job creation and political clout, and now renewable power is cost-competitive with other sources of electricity in some parts of the U.S., though fossil fuels remain America's dominant source of electricity. To what extent the Trump administration seeks to undermine these trends could slow, but not reverse, renewable growth.
A mix of uncertainty, chaos and ambivalence is how industry insiders attending the American Wind Energy Association's annual conference last week in Anaheim, Calif., described the Trump administration's position on renewables. In meetings with industry executives, agency officials haven't been antagonistic toward renewables, but coordinated attention isn't there either.
"Initially there was this 'sky is falling' type of discussion juxtaposed with a fossil-fuel based focus with the new administration, but we haven't seen that," said Stephen Bull, senior vice president for wind at Statoil, a Norwegian-state owned oil company that has in recent years invested in wind and is now bidding for offshore wind leases in the U.S.
The most imminent concern for the industry is an Energy Department study on reliability of the electric power grid. That's because in a memo requesting the study and in a speech in late April, Energy Secretary Rick Perry has implied a preference for fossil fuels and nuclear power and suggested state policies supporting renewables may need to be preempted for the sake of grid reliability.
Criticism about the study's purpose from renewable-energy advocates has affected the Energy Department's ability to recruit national labs to help with the study, according to a senior agency official. "We're just trying to get the work done and all the noise on the outside is impacting that," the official said in an interview.
Here are some signs the renewable-energy industry shouldn't be too worried--yet anyway.
The Energy Department official said people are reading too much into the memo Perry sent and that staff working on the study, nearly all of whom are career level and not political appointees, are working with no bias or preconceived notions.
The department is working with seven federally-funded national labs to get data for the study, according to the official.
In separate interviews, the head of the wind group, Tom Kiernan, and head of the Solar Energy Industries Association, Abby Hopper, spoke positively of their interactions with administration officials so far. The two groups had a joint meeting with top Energy Department officials earlier this month about the study.
"It was a really good dialogue about the various attributes that renewable energy brings to the grid," Hopper told Axios. "We talked a lot about the market and market rules. It was much more focused on that than any preconceived outcome."
What's next: The study is set to be published June 26 and will include policy recommendations for agencies like the Federal Energy Regulatory Commission, which regulates the electric grid and other energy infrastructure.
For the record: Trump himself has said either negative things or nothing at all about most renewable energy sources, instead focusing his energy talk for touting fossil fuels. He has also told confidants he's going to pull out of the Paris climate deal, which over the long-term bolsters renewables' place in the world's energy mix over fossil fuels. But in a statement, White House spokeswoman Kelly Love said Trump "supports the growth and expansion of America's renewable energy industry, and will implement policies to remove unnecessary regulatory barriers to innovation in the sector."
One other wild card: Renewable-energy executives are worried tax credits for wind and solar industries -- the most important federal policy for the sectors -- will be be axed before they're set to expire in coming years. This concern is compounded by the notion the Trump administration probably won't go to bat to save them from being used as a way to fund broad tax reform like an Obama administration would have.
What I'm hearing: Senate Finance Committee Chairman Orrin Hatch said in a statement elimination isn't a goal, but isn't ruled out. "We'll respect the 2015 policy and take a careful look at these preferences and how they fit into the code." Early elimination of the credits "could have a devastating effect," said Amos Hochstein, former President Obama's international energy envoy.
Go deeper