Trump v. Trump admin on foreign policy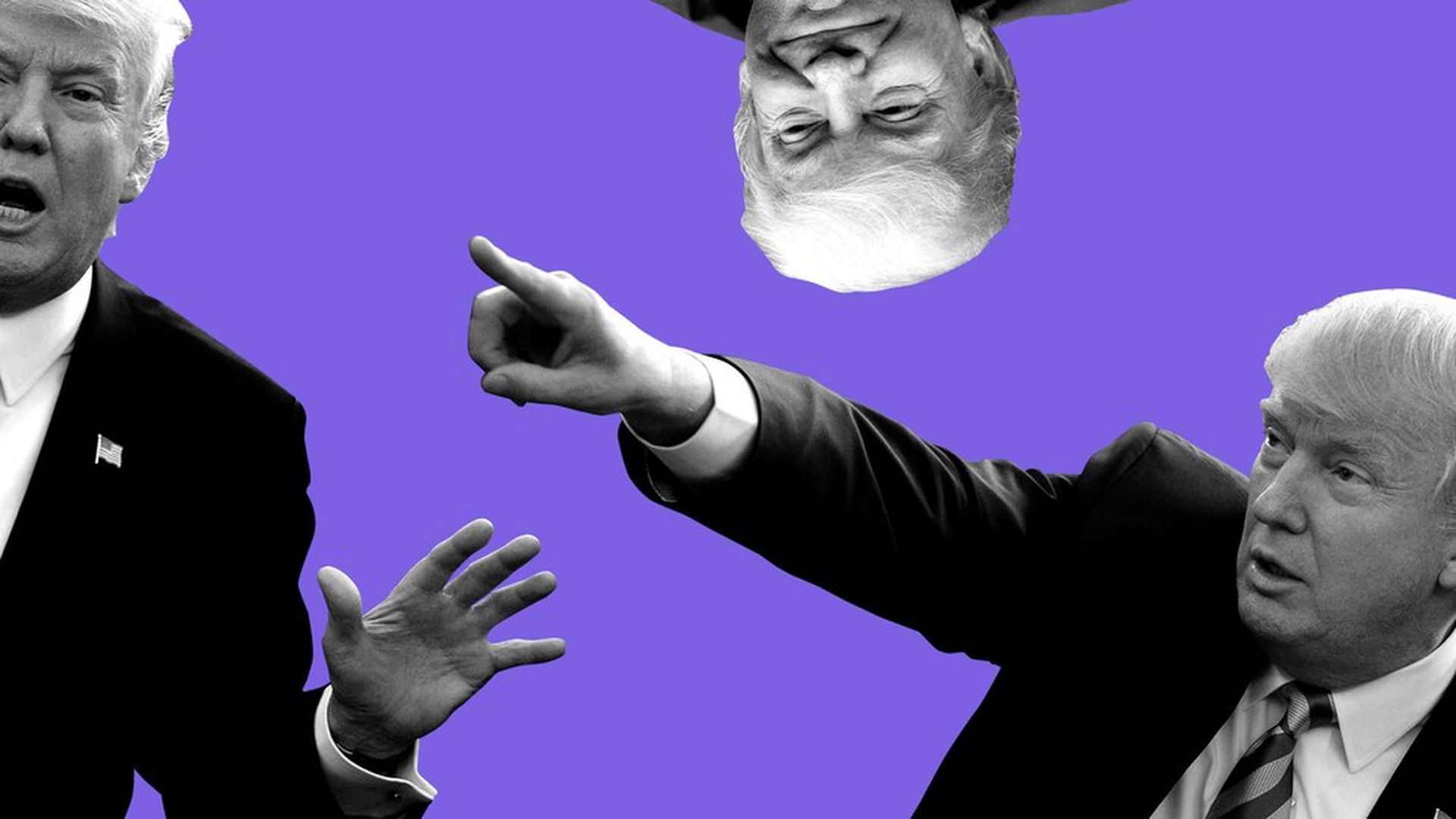 President Trump's public order to Secretary of State Tillerson to stop seeking dialogue with North Korea — just a day after Tillerson confirmed talks were taking place — follows a pattern noted by Tony Blinken, a top State Dept. official under Barack Obama, in a NY Times op-ed one month ago.
The bottom line: A series of highly significant foreign policy pronouncements have been almost instantaneously undermined as Trump and his top officials contradict one another.
Blinken writes...
"Mr. Trump threatens to make South Korea pay for missile defense and seems to invite Seoul and Tokyo to build their own nuclear arsenals; Secretary of Defense Jim Mattis jumps in to say never mind.
"Secretary of State Rex Tillerson seeks to calm the crisis between Saudi Arabia and Qatar; Mr. Trump's tweets embolden the Saudis to double down in the feud.
"Mr. Tillerson, National Security Adviser H.R. McMaster, Mr. Mattis and the chairman of the Joint Chiefs of Staff, Gen. Joseph F. Dunford Jr., advocate preserving the nuclear agreement with Iran; Mr. Trump scolds, 'If it was up to me, I would have had them noncompliant 180 days ago.'
"Mr. Trump calls for banning transgender people from the military; an array of senior Pentagon officials, including General Dunford, say the policy remains unchanged. When Mr. Trump finally issues a formal order weeks later, Mr. Mattis says it will require further study to implement.
"Mr. Pence, in the Baltics, praises tough new congressionally mandated sanctions; Mr. Trump tweets that the sanctions will send United States-Russia relations to 'an all-time & very dangerous low.'
"Thomas Bossert, the president's chief counterterrorism adviser, and other senior national security advisers back the intelligence community's conclusion that Russia sought to influence the election in Mr. Trump's favor. Mr. Trump equivocates: 'Well I think it was Russia, and I think it could have been other people and other countries.'
Blinken's conclusion: "Some read into these disconnects an elaborate good-cop, bad-cop routine. But the evidence suggests that Mr. Trump is actually a rogue cop, ignoring or remaining ignorant of his administration's policies. "
Our thought bubble: Trump's tweets were extraordinary for more than just their tone ("save your energy Rex") — allies and adversaries alike will soon have no idea who or what to believe.
Go Deeper: For an idea of how such comments will play in Pyongyang, check out Evan Osnos' excellent dispatch in the New Yorker.
Go deeper